2
min read
Sousão. Alvarelhão. Tinta Roriz. Touriga Nacional. Touriga Francesa. Tinta Cão. I didn't recognize any of these names. They may as well have been Brazilian fútbol clubs to me.
But of course, they were grapes; Portuguese grapes to be exact. Here I was in Oregon's Willamette Valley — a place that draws numerous comparisons to Burgundy — and I was sipping a Douro-style red.
I sought out Coelho Winery for this very reason — to drink something that stood out like a sore thumb — and so I made a point of detouring to their Amity tasting room on a 100-degree day in August. Sometimes, you need a break from racking your palate on the subtle comparisons of Pinot Noir vs. Pinot Noir. Other times, you just want to see more than YAC (Yet Another Chardonnay). Sure, Coelho offers up a fleet of Pinot Noirs (and they are quite good), but it was the Tradição that had me coming this far south to buy a bottle.
The Tradição is a New World wine in name only: its rustic, earthy, and begging for a porky dish to be served along side it. And while the grapes are grown near Lodi, California and shipped in refrigerated trucks to Oregon for vinification, there was at least one attribute that rooted it back to the Willamette Valley: a rich raspberry taste. By the time we opened the bought bottle on the Oregon Coast at the end of our vacation, we were also working our way through the last of our U-Pick berry farm stash of raspberries. I sampled one with a sip of wine, and it was like hearing two guitar strings come into tune.
I also bought a Pinot Gris from Coelho, and it too was extraordinary. Then again, Oregon Pinot Gris rarely fails to deliver. You expect it to be great. Instead, it was the Tradição that ended up as one of the top bottles of our time in Oregon. Was it Oregonian? Californian? Portuguese? Perhaps its 1/3 of each, and that's what makes it so unique.
2011 Coelho Winery Tradição Red Table Wine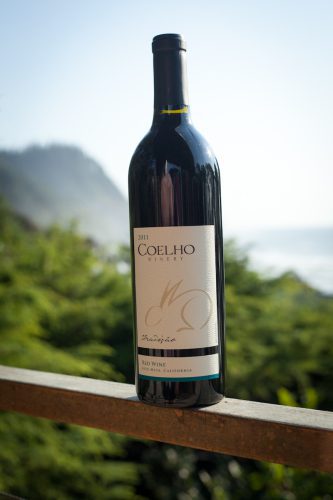 Alta Mesa, California
Grapes: Sousão (26%) / Alvarelhão (21%) / Tinta Roriz (21%) / Touriga Nacional (14%) / Touriga Francesa (10%) / Tinta Cão (8%)
Alcohol: 12.7%
Ratings: ★★★★ 1/2 (out of five)
• Profile: ★★★★ 1/2
• Food Friendliness: ★★★ 1/2
• Value: ★★★★
Recommended for: Hearty stews, rustic casseroles and casual snacking on raspberries.
Tasting notes: An appealing red color with edges of purple. The nose is like burying your schnoz in a berry patch. Very earthy and damp. Flavors of red raspberry, green bell pepper, spice, lavender, leather and a robust tannin that lingers at the front of the palate. Rich and lasting finish. Don't let this "table wine" fool you: it's pretty sophisticated.