3
min read
Of the readily available Old World wines you'll find at your local wine shop, Portuguese wines — particularly reds from the Douro region — are among the hardest to decode.
What exactly is a Douro red wine? Unlike Burgundy or Chianti, there is no regulated recipe of grapes to guide your shopping process. Besides, even if the grapes were disclosed, they'd most likely include such unfamiliar-to-the-layman names as Touriga Nacional, Touriga Franca, Sousão or Tempranillo's Portuguese pen name — Tinta Roriz.
What do these grapes taste like? How full-bodied or oaky will the wine be? There is no immediate way to tell by looking at the label; it is a bit of a blind leap.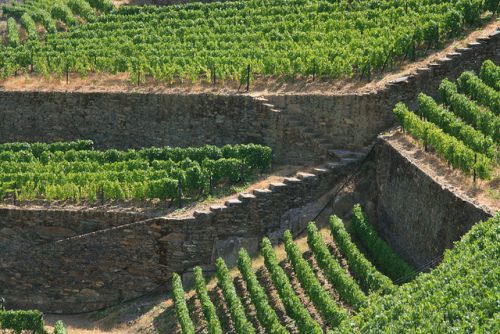 That's because — by European standards — these wines and their legacy are still emerging. It wasn't until the 1990s that this region started getting serious about producing red table wine. For centuries, what paid the bills in these parts was Port, the rich fortified wine that the world took a liking to in the 1700s (especially the British, who could no longer acquire their beloved Claret from Bordeaux because of wartime sanctions against France).
But as labor costs made cheap Port unfeasible in recent times, winemakers have been forced to find ways to diversify their offerings. What they lacked in the form of a time-tested formula for great red table wine, they have more than made up for with market savvy, old vines with low yields, and most importantly, families with generations of wine in their blood. All thanks to Port and its legacy.
This past weekend, we opened the 2009 Quinta de la Rosa Reserva, and if it is any indication of what Portugal reds from the Douro are capable of, it is going to be harder and harder to pass them over.
At $54, this is not the type of wine you bust into on a weeknight with burgers. I had been sitting on this one for a few months — not quite cellaring it, but looking for the right moment where I would have the space to appreciate it. On Saturday, such an occasion came up when my wife and I found the time to make a Ferran Adrià recipe: rack of lamb with pistachio pesto.
Heavy on blackberry fruit with a cranberry-like tartness, the most memorable aspects of La Rosa Reserva were (1) a pronounced aroma of violet flowers and (2) hints of bitter dark chocolate on the palate. An overlay of tannins made it complement the fattiness of the lamb nicely.
The Douro of today is completely unique to Europe. Traditional but unencumbered. Geographically isolated, yet completely attune to what modern wine drinkers are seeking: a sense of place. Next time you are in the wine shop, don't pass them over.
2009 Quinta de la Rosa Reserva
Cima Corgo, Douro, Portugal
Grapes: Touriga Nacional, Touriga Franca, Tinta Roriz (aka Tempranillo) and Tinta Cão
Alcohol: 14.8%
Rating: ★★★★ 1/2 (out of five)
• Profile: ★★★★ 1/2
Food-friendliness: ★★★★
• Value: ★★ 1/2
Recommended for: Spicy, herb-encrusted red meat; grilled vegetables; after-dinner games of gin rummy. 

Tasting notes: The gorgeous purple color of this wine is a tip-off of what's to come. Aromas of black cherry and roasted nuts are complemented by a distinct floral note of violets. On the palate, driven by blackberry and cranberry fruit, bitter dark chocolate, almond and a focused amount of tannin that does not overwhelm. Evenly balanced, enduring finish.
Top photo: Flickr user ©Ryan Opaz / Licensed via Creative Commons.
---
Additional Reading on Douro Reds