6
min read
Last week, news broke that Vietti, one of the most storied and revered winemaking houses of Piedmont (and rightly so), was purchased by Krause Holdings, a private company out of Iowa that is best known for the convenience store chain, Kum & Go.
Needless to say, the purchase sent shockwaves through the wine industry. Here was one of Italy's most famous and well-regarded winemaking families selling every stake in the business to foreign investment. It was emphasized that winemaker Luca Currado and his family would remain in charge of operations, but whether the same can be said for future Piemontese winemaking houses bought by foreign investment (an occurrence that is now expected to happen more regularly) remains to be seen. I could go into it in more detail, but Antonio Galloni's commentary on it is deeper and more informed than I ever could be.
On a personal level, I find this development intriguing. Here at Opening a Bottle, we play favorites (we're wine drinkers … what wine drinker doesn't have favorites?). And Vietti is right up there as one of my top 5 labels to look for. Their wines are consistently excellent, and Luca and Elena Currado are wonderful people. I'm a small fish in the wine world, and yet Luca took time away from his summer vacation last year to provide his perspective to me on Roero Arneis. When I met Elena in Denver in May, she wanted to take a picture of the two of us for Luca. They are not only warm-hearted and charming, they are passionate about Barolo and the wines they make. You couldn't draw up better ambassadors for the region.
But what makes Vietti — the wine in the bottle, that is — so special is that it tastes like Piedmont. Piedmont's cuisine is rich and decadent and wonderfully earthy. It is also inextricably linked to wine. You can't have one without wanting the other. Tasting Vietti's Barberas and Nebbiolos instantly transports me to that table. They have a sense of place.
And so, rightly or wrongly, many wine enthusiasts are worried that foreign investment as a whole — something that has been largely missing from Piedmont until this deal — might alter this link. Time will tell. When you engage with Luca and Elena, you can tell that their passion for what they do is ingrained in them. I'm optimistic that years from now, when I open one of their 2016 vintages — or more tellingly, a 2020 vintage — that hallmark of Piedmont wine (e.g. roses, ripe cherries, earth, truffles) will be as potent as ever.
---
As astonishing as the Vietti deal is, it is not even the first foray into Piemontese wine for the Krause family. Enrico Serafino is, which they purchased last year.
Several months back, I stumbled upon a bottle of their 2009 Roero Rosso, and found perhaps the greatest value Nebbiolo on the market. It was light and elegant, yet still massively aromatic and deep. I've since gifted it a few times to friends and family, knowing it will deliver without setting me back too much.
Then, a few weeks ago, my local wine shop had two other bottles from Enrico Serafino: a Barbera d'Alba and a Gavi di Gavi. Naturally, I picked them both up.
According to reports of the Krause-Vietti deal, the overlap with Enrico Serafino will expand Vietti's vineyard holdings and winery capabilities down the road. Whether that means Enrico Serafino will become more widely distributed, or that Vietti will bolster its Nebbiolo "Perbacco" with some of Serafino's better grapes, it isn't fully clear yet. But as they stand now — notably with the 2014 vintage — Enrico Serafino's Barbera and Gavi are solid and affordable.
Barbera is chronically underrated in my opinion; a grape with the potential for stratospheric heights when the yields are low and the site selection is ideal. Serafino's Barbera d'Alba comes from a mixture of vineyards in the Roero and the Langhe, with a soft and delicate plum-and-currants fruit note accented by whispers of smoke, licorice and cured meat. It is very smooth, very lively, and quite clean. It gets the job done but doesn't surprise nearly as much as their Roero Rosso — perhaps because it needs a little time to age.
The Gavi di Gavi on the other hand, is pretty distinctive, if for no other reason than it made me comment, "I kind of like it."
That's not a ringing endorsement, I know, but then again, Cortese di Gavi has never elicited much of a response from me before. While it has its admirers, I've found it to be too anonymous to justify the cost (usually between $18 and $25). Residing somewhere on a continuum between Pinot Grigio and Garganega (e.g. Soave), it is a typically crisp Italian white wine with moderate acidity that complements seafood and pesto nicely (which is interesting, since the appellation is closer to Genoa in Liguria than it is to the Roero and the Langhe in Piedmont). Gavi di Gavi (or "Cortese di Gavi" or "Gavi" — they're all essentially the same) is a wine that gets the job done, but rarely thrills.
If anything, Enrico Serafino's Gavi di Gavi gets higher marks than most for being so focused and precise. As I drank it, I had a hard time figuring out how it could be better (other than being a more complex and interesting grape variety … which is about as stupid as critiquing a flank steak for not being a tenderloin). It was easy and inviting at each sip, which on most nights, is all you can ask for.
---
What the acquisition of Vietti and Enrico Serafino means for Piedmont wine remains up in the air, but truthfully, Piedmont is so dense and rich with vino treasures, it would take a lot of tampering — over a lot of years —to screw it up.
In fact, I simply have a hard time picturing a decline in Vietti's quality as long as Luca and Elena are on board. Enrico Serafino, on the other hand, is a bit more of a wildcard. We'll just have to wait and see.
---
2014 Enrico Serafino Barbera d'Alba
Barbera d'Alba DOCG, Italy
Grapes: Barbera (100%)
Alcohol: 13%
Ratings: ★★★ 1/2 (out of five)
• Aromas, Flavors & Structure: ★★★★
• Food-friendliness: ★★★★
• Value: ★★★★
Tasting notes: Presents aromas recalling ripe plum and currant, traces of campfire, licorice, cured meat and a hint of vanilla. Very smooth on the palate, with a trace of tartness. Needs time to develop: ideally drink in 2017 to 2019.
Recommended for: Hard cheeses, game birds, hearty stews, or best yet, a burger layered with piquant peppers, sharp cheese and fresh basil.
---
2014 Enrico Serafino Gavi di Gavi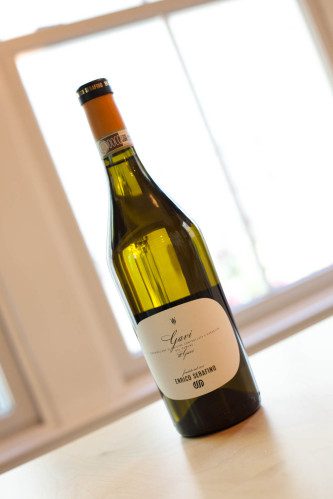 Gavi di Gavi DOCG, Italy
Grapes: Cortese (100%)
Alcohol: 13%
Ratings: ★★★ 1/2 (out of five)
• Aromas, Flavors & Structure: ★★★
• Food-friendliness: ★★★★
• Value: ★★★ 1/2
Tasting notes: Light-straw-green color. Offers mild aromas of pear, lemon and dried hay. Very pleasant on the palate with a wonderful precision of acidity and fruit. Refreshingly, clean, easy and pleasant.
Recommended for: Grilled white fish, pesto pasta dishes.