21
min read
So I had fun this year. Presenting our list of the best wines of 2015.
What started as an exercise in catharsis halfway through 2014 — to use writing about wine as an excuse to better understand wine — turned into a bonafide community of passionate winos in 2015. Many more people are now reading these posts, commenting on them, retweeting them and sharing them with friends, and (I can only hope) exploring new wines and new regions with me without intimidation. I sampled many more great bottles of wine this year than last. Having an audience to egg me on made it so. For that, I thank you. It's been fun.
Like a movie you have to watch a second time, a great bottle of wine is worth revisiting, which is why it feels necessary to offer up the 25 best wines of my year. They're stories worth retelling. And if you are making a last-minute run to buy wines for Christmas, this is your guide. Any one of these 25 will make your holiday dinner a little bit better.
Here is a quick breakdown on the ones that made the cut.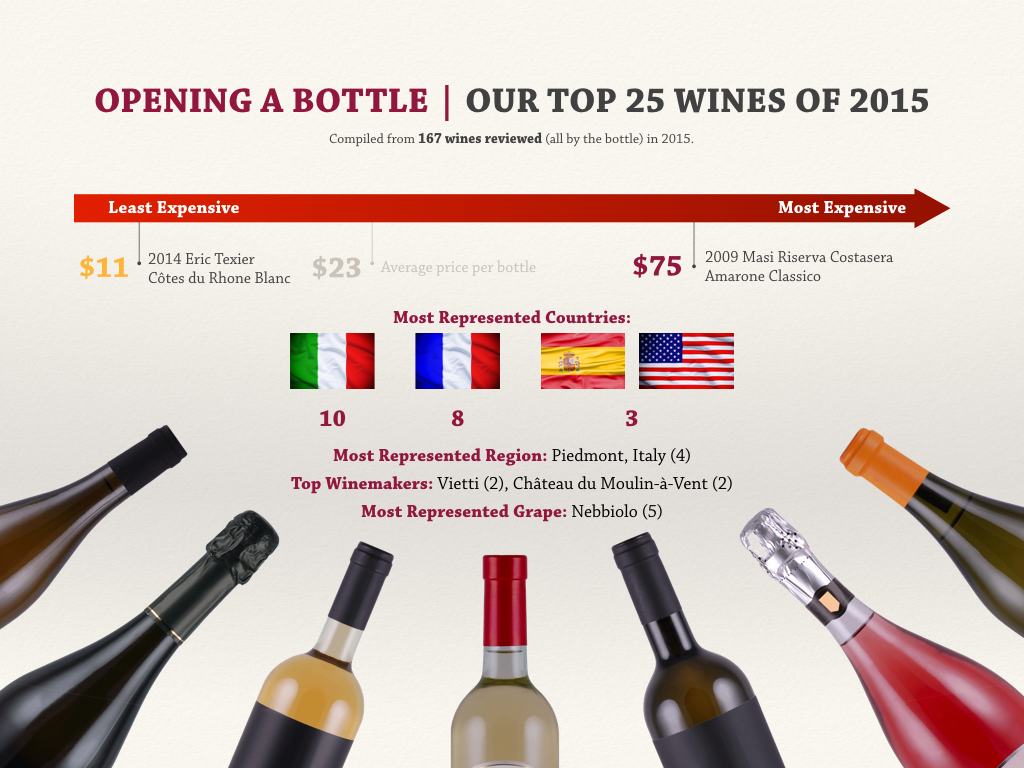 This was the year that I finally drank serious wines from Chablis, Châteauneuf-du-Pape, Pomerol, Friuli-Venezia Giulia, Valpolicella and a few outliers like Slovenia, South African Chenin Blanc and my own backyard, Colorado. But it was also a year that tested — and verified — some theories that I had developed in previous years. The best wines for my palate still come from Piedmont. The best wines for the money still come from Spain. And no matter how many times they are praised in the wine press, high-alcohol, high-tannin, high-oak wines just aren't my thing.
The below list of the best wines was compiled with a simple methodology: take the top rated ★★★★★ and ★★★★ 1/2 wines, and order them based on which ones I'm most eager to open again. Any list like this is a crap-shoot, but I'll be damned if its not a blast to compile.
I hope you enjoy our list of the best wines of 2015. Each wine has a quick summary and a link to the wine's inside story, where you can find info on buying the wine at the bottom. Cheers.
The Best Wines of 2015
Number 25.

2012 Pierpaolo Pecarari Ribola Gialla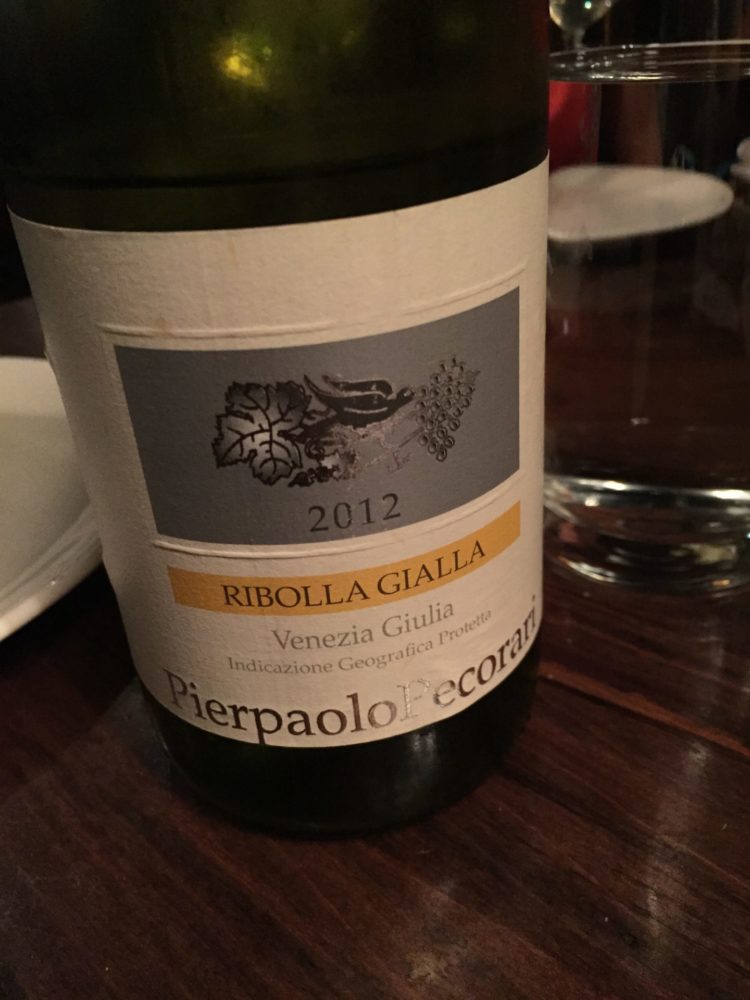 We'll start the list with my first-taste of the white wines of Friuli-Venezia Giulia: a bottle of Ribola Gialla from Pierpaolo Pecorari that introduced me to the region's crisp, refreshing, ever-so-food-friendly wines.
One sip of this beauty, and I was wondering what took me so long to explore this corner of Italy. Here there were traces of honeysuckle and ripe apples, and no matter what food I noshed with it — sweet-and-spicy hor d'oeuvres, rich-and-creamy pasta, savory roast — it complemented them beautifully.
There were other notable Friuli-Venezia Giulia wines this year — like Bastianch's Adrianico Friuliano, and Ronco delle Battule Refosco — but this one's versatility helped it make the cut.
Venezia Giulia (Italy)
Grapes: Ribolla (100%)
Alcohol: 12.5%
Rating: ★★★★ 1/2
• Aromas, Flavors & Structure: ★★★★
Food Friendliness: ★★★★★
• Value: ★★★★ 1/2
---
Number 24.

2009 Gulfi Nerojbleo Nero d'Avola
As with the wines of Friuli-Venezia Giulia, Sicily represented a lot of new territory for me at the start of the year, and no other Sicilian wine showed better than Gulfi's Nerojbleo Nero d'Avola. Here was a relatively high-alcohol wine that didn't knock you over the head with its ferocity or over-exuberant oak. It's surprisingly soft tannins countered big, bold flavors of blackberry, violets and mushroom, making it a wonderful companion for stroganoff. More of Gulfi.
Val Canziria, Sicily, Italy
Grapes: Nero d'Avola (100%)
Alcohol: 14%
Ratings: ★★★★ 1/2
• Aromas, Flavors & Structure: ★★★★ 1/2
Food Friendliness: ★★★★
• Value: ★★★ 1/2
---
Number 23.

2011 Rojac Istra Refošk Refosco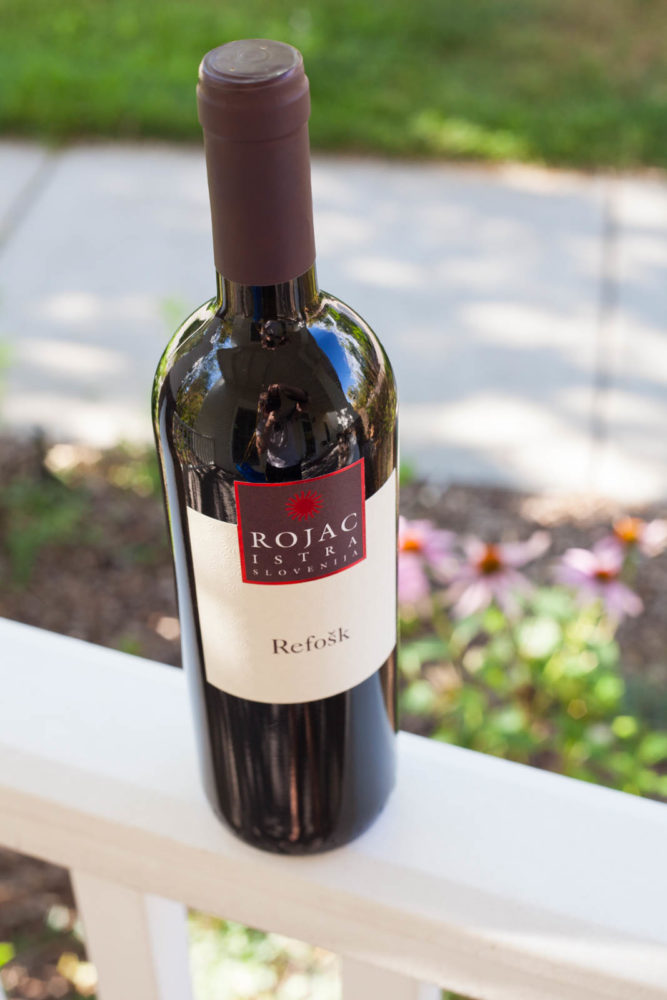 What defines Slovenian wine? If this one bottle is any indicator, its a world of delicate, supple wines with hidden surprises. But good luck finding it: Slovenia only exports 6 million of its 90 million liters of wine, and a fraction of that finds its way to the U.S. My memory of this wine is a color: purple. Purple, cloudy and unfiltered, it recalled purple fruits and violets on the nose and palate. Shortly thereafter, I drank a couple of Italian Refoscos, but this is the one that left an indelible mark on the year. More on Rojac.
Istra, Slovenia
Grapes: Refošk (Rofosco d'Istria) 100%
Alcohol: 14%
Ratings: ★★★★ 1/2
• Aromas, Flavors & Structure: ★★★★ 1/2
Food-friendliness: ★★★★ 1/2
• Value: ★★★★
---
Number 22.

2013 Clau de Nell Cuvée Violette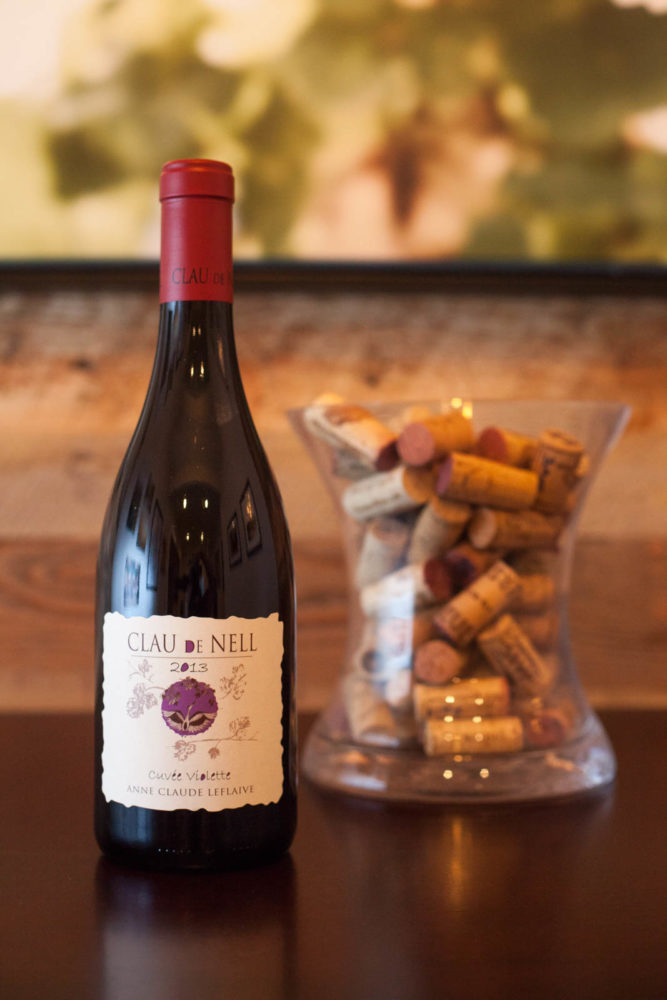 The Anjou appellation of the Loire River is perhaps best known for distinctive Chenin Blanc, but Clau de Nell has weaved some magic with a duo of Cabernet Franc wines from the area's gentle slopes.
Late in the year, I got to enjoy a bottle of their Cabernet Franc and their Cuvée Violette. Of the two, I enjoyed the Cuvée Violette just a little more, as we uncorked it as our centerpiece wine for Thanksgiving. A 60%/40% blend of Cabernet Franc and Cabernet Sauvignon, it displayed a delicate touch from the nose to the palate to the slightly drying finish.
But it was the notes it recalled that really got me nostalgic on this, the most nostalgic of holidays: equal parts raspberry and cranberry, cedar and roses, and that characteristic Cab Franc cut of bell pepper. More on Clau de Nell.
Anjou, France
Grapes: Cabernet Franc (60%) / Cabernet Sauvignon (40%)
Alcohol: 12%
Ratings: ★★★★ 1/2
• Aromas, Flavors & Structure: ★★★★ 1/2
Food Friendliness: ★★★★ 1/2
• Value: ★★★ 1/2
---
Number 21.

2010 Stoller JV Estate Pinot Noir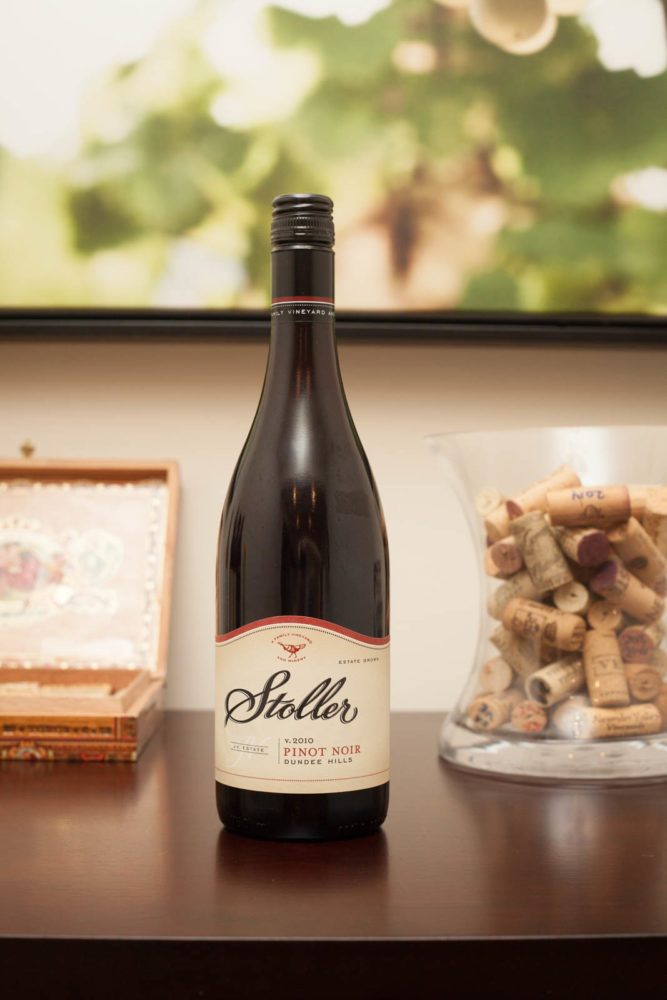 Sometimes a wine shows off more than just characteristics. The Stoller JV Estate Pinot Noir I had this spring was one of those instances. My first impression was "wow, they let nature do its thing with this one." To receive such a lightning-fast impression on how a wine was made — what a treat. I spent quite a bit of time (and money) on Oregon Pinot Noir last year, and due to cost, I didn't drink as many this year. But of those I did, this was the most memorable.
Dundee Hills, Oregon
Grapes: Pinot Noir 100%
Alcohol: 13.2%
Ratings: ★★★★ 1/2
• Aromas, Flavors & Structure: ★★★★ 1/2
• Food-Friendliness: ★★★★ 1/2
• Value: ★★★ 1/2
---
Number 20.

2009 Masi Riserva Costasera Amarone Classico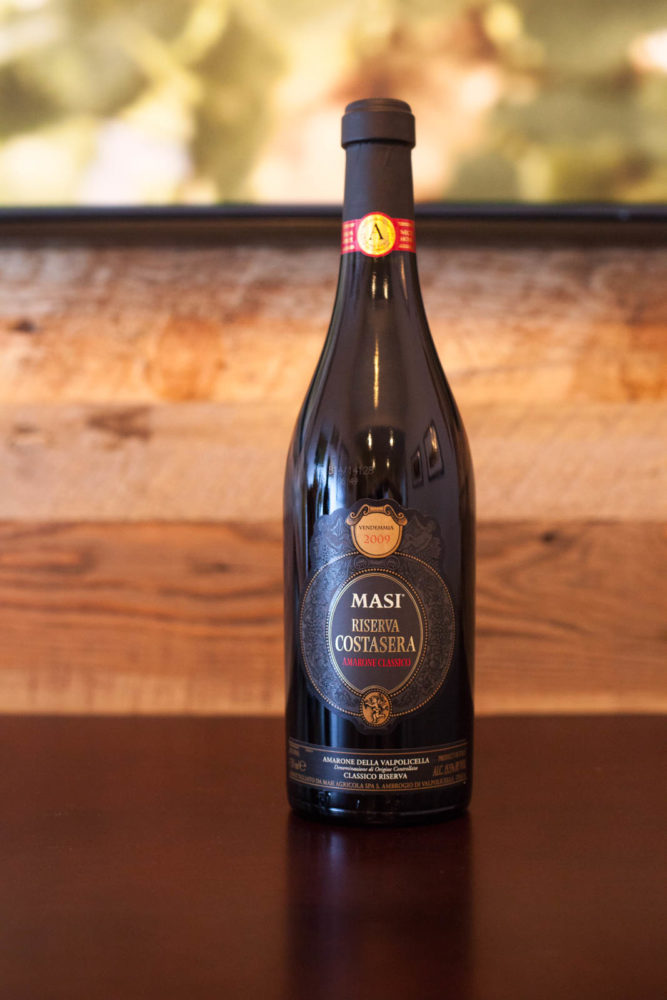 The priciest wine on this list is expensive for good reason, and no, its not just because its awesome. But in order to make Amarone Classico, you need (a) twice as many grapes and (b) a lot of space for laying out the grapes to dry. There's a lot of overhead in a single bottle, and this riserva required even more care, as the ripest fruit from the legendary Costasera vineyard in Valpolicella was sorted out and used. The end result: a completely distinctive taste that you couldn't engineer any other way. I picked up plums, black raisins, chocolate-covered cherries, coffee, mint and yes, even a hint of bacon.
Sometimes, an expensive bottle of wine is just that: expensive. Other times, you can appreciate just how rare the wine's attributes are, and the price just doesn't matter. The Masi Riserva Costasera Amarone Classico was certainly the latter. Read more about Masi.
Amarone della Valpolicella DOCG, Italy
Grapes: Corvina, Rondinella, Molinara and Oseleta
Alcohol: 15.5%
Rating:  ★★★★ 1/2
• Aromas, Flavors & Structure: ★★★★★
Food-friendliness: ★★★
• Value: ★★ 1/2
---
Number 19.

Lustau Oloroso Almacenista Juan García Jarana "Pata de Gallina"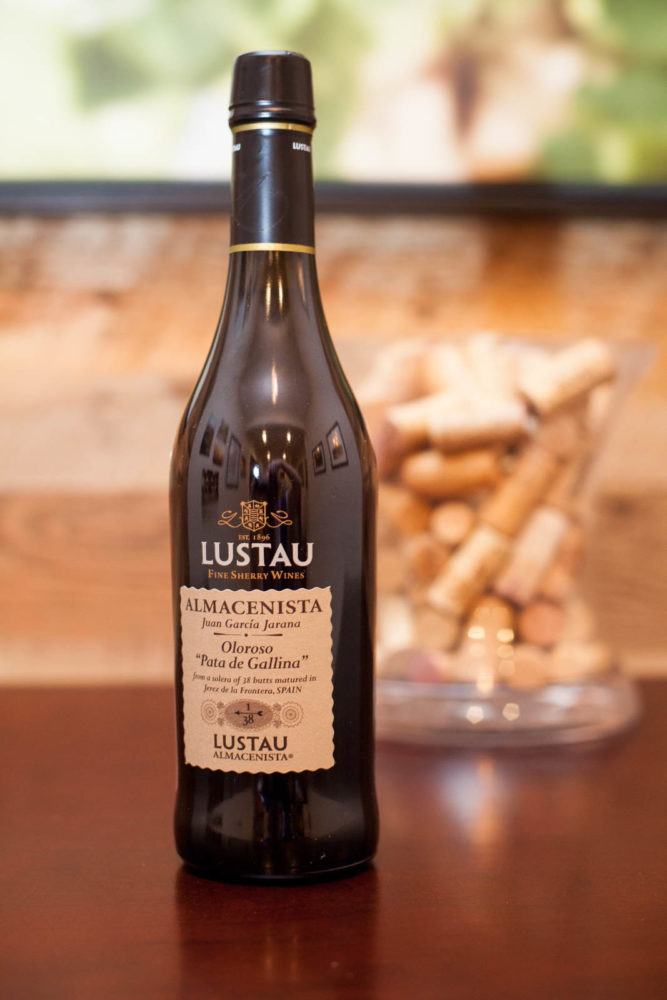 Of the many styles of Sherry, Oloroso suits me best, with its slightly oxidized flavors recalling roasted nuts and leather. It's a wine for rumination, and this Almacenista bottling from Juan García Jarana under the Lustau label is certainly one to look for. We savored it with friends on a beautifully crisp fall night by the outdoor fireplace, and yet its warming touch recalled bright flavors of lemon, golden raisins and almond.  More on Lustau Oloroso Almacenista.
Jerez de la Frontera, Spain
Alcohol: 20%
Grapes: Palomino, Pedro Ximénez and Moscatel
Rating: ★★★★ 1/2
• Aromas, Flavors & Structure: ★★★★ 1/2
• Food friendliness: ★★★ 1/2
• Value: ★★★ 1/2
---
Number 18.

2009 Hermosa Vineyards Cabernet Sauvignon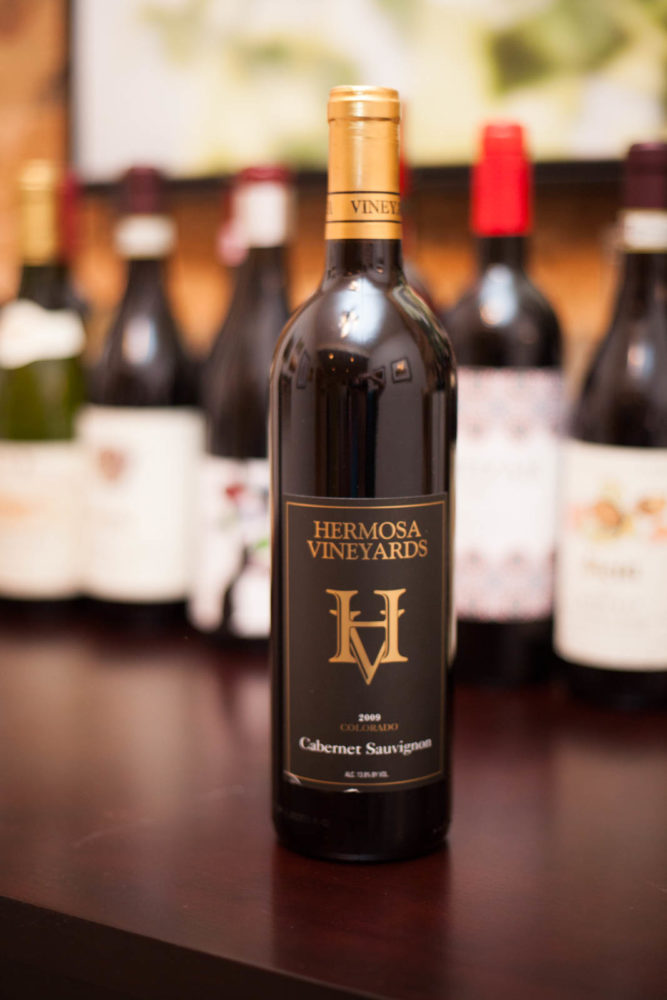 Delightfully surprised.
That's how I would describe this wine, and its presence in the Top 25. Surprised, for one, because it is a straight-up Cabernet Sauvignon (don't get me started on this grape). And two, its from Colorado! As much as I love my home state, its wines have often been flabby and forgettable.
But alas, this wine showed that we can produce more than just high-quality beer and locavore marijuana.
Offering powerful aromas but a mellow presence on the palate, it showed notes reminiscent of raspberries, game, dark chocolate and a hint of cola. And it was surprisingly restrained given the summer heat of the Grand Valley AVA, which regularly tops 100ºF in summer. There's that word again: surprise. More on Hermosa.
Palisade, Colorado
Alcohol: 13.9%
Grapes: Cabernet Sauvignon (100%)
Ratings: ★★★★★
• Aromas, Flavors & Structure: ★★★★★
Food-friendliness: ★★★★
• Value: ★★★
---
Number 17.

2011 Joan d'Anguera Planella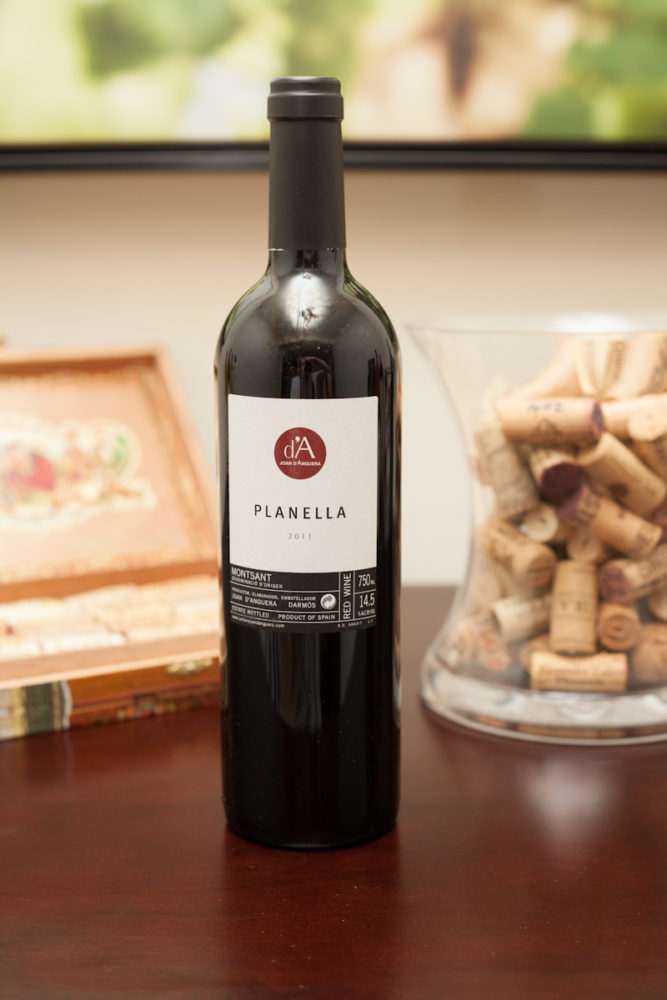 I enjoy wines of subtlety and nuance, but every now and then, I like a little bombast. For a few years, the wines of Priorat have provided that for me, but they tend to be expensive.
Earlier this year, I started to dive into its neighboring appellation, Montsant, and discovered this beauty (with the help of some Twitter friends).
Rooted in Syrah and Carignan, this wine demanded attention and conjured up intense aromatics: cherry, graphite, baking spices, flowers. It was as if the aromas couldn't be contained within the glass.
I'll be seeking out more of this winemaker's wines in the New Year, especially their Altaroses Grenache. More on Joan d'Anguera.
Montsant DO, Spain
Grapes: Syrah (45%), Carignan (45%), Grenache (10%)
Alcohol: 13%
Ratings: ★★★★★
• Aromas, Flavors & Structure: ★★★★★
Food Friendliness: ★★★★★
• Value: ★★★★ 1/2
---
Number 16.

2011 Vietti Barolo di Castiglione Falleto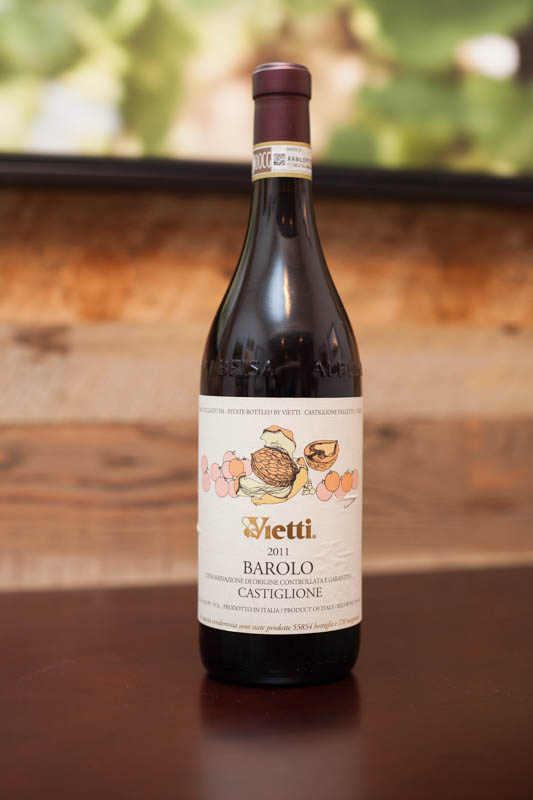 I've known the wines of Vietti for a few years now. When you are into Piedmont, they're hard to ignore. But this was the year that I came to truly love their wine (see also No. 12) and I even got to meet their head winemaker (albeit virtually via email), when I wrote about their Roero Arneis.
What Luca Currado has done with this wine is capture the mystique and brawn of Barolo, without closing it off in youth. At only four years of age, I found it to be an intriguing moving target, with distinct progressions as it opened up. And as far as length, that's where this Barolo really shines: the finish on the palate seemed to last forever, like a deep piano note at the end of a song.
We uncorked this Barolo to celebrate the completion of a major website project with my business, Headwaters Content, and it put an elegant luster on the festivities. More on Vietti Barolo.
Castiglione Falletto, Barolo DOCG (Italy)
Grapes: Nebbiolo (100%)
Alcohol: 14.5%
Ratings:  ★★★★ 1/2
• Aromas, Flavors & Structure: ★★★★ 1/2
Food friendliness: ★★★★
• Value: ★★★ 1/2
---
Number 15.

2011 Château du Moulin-à-Vent Croix des Vérillats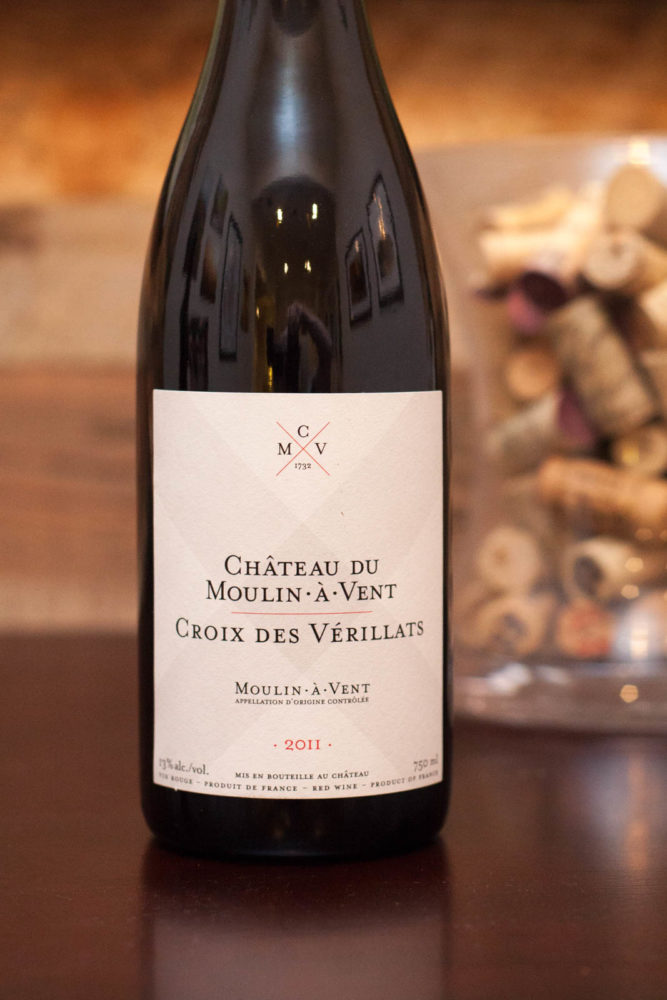 The Holy Grail for many wine drinkers is evidence of terroir, the French phrase that summarizes all of the natural elements that go into making a wine unique.
In the summer, I had two Moulin-à-Vent wines from the same winemaker — Château du Moulin-à-Vent — on the same night, and immediately, I saw what all the terroir fuss is about.
They were both remarkable wines, and in a way, they both deserve this spot on the list, but the single-vineyard Croix des Vérillats showed unbelievable character and depth. The signature Beaujolais cherry-watermelon-violets trio was present, but it was more robust, more structured, and more intense. There was clear aging potential here as well, as it revealed its character ever-so-slowly over the course of a long evening. More on Château du Moulin-a-Vent.
Moulin-à-Vent AOC, France
Grapes: Gamay 100%
Alcohol: 13%
Ratings: ★★★★ 1/2
• Aromas, Flavors & Structure: ★★★★ 1/2
• Food-Friendliness: ★★★★ 1/2
• Value: ★★ 1/2
---
Number 14.

2011 Pierre Sparr Schoenenbourg Grand Cru Riesling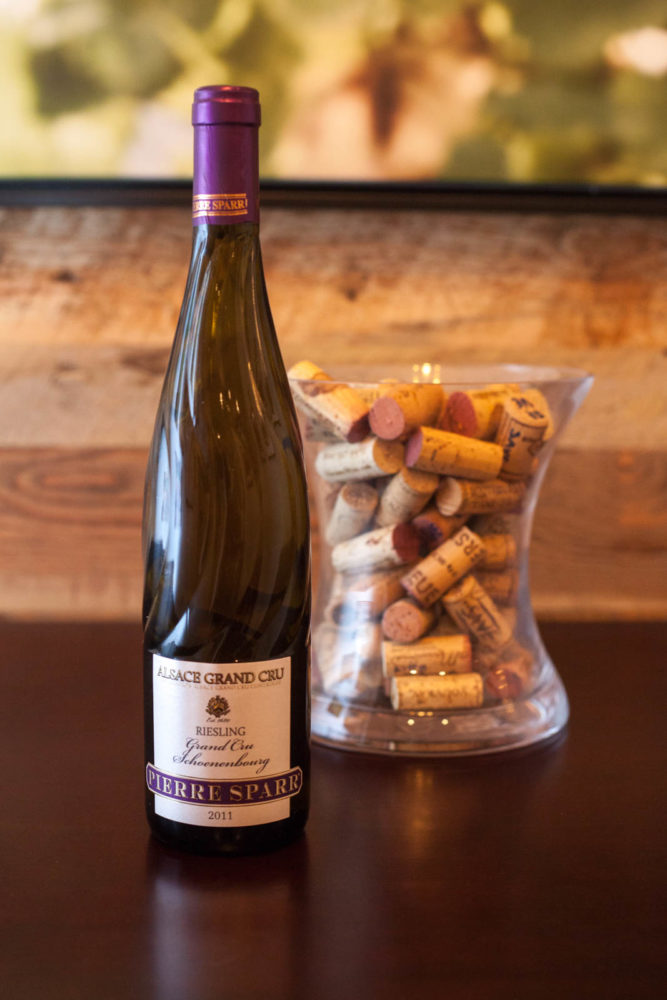 Grand Cru is not French for "always better," but in the case of Pierre Sparr's Schoenenbourg Grand Cru Riesling, it hooked me on exploring more Alsatian wines. Here was a Riesling of near-perfection: a faint whisper of sweetness with a counterpoint of acidity to invite another sip; aromas recalling the first scent of a cut apple, as well as honeysuckle and tea; and of course, "minerality" on the finish, that oddly pleasant sensation of flintiness on the aftertaste. This was a wine that embodied everything I hope for in a Riesling. More on Pierre Sparr.
Alsace, France
Grapes: Riesling 100%
Alcohol: 13.5%
Rating: ★★★★ 1/2
• Aromas, Taste & Structure: ★★★★ 1/2
Food friendliness: ★★★★ 1/2
• Value: ★★★
---
Number 13.

2013 Francine et Olivier Savary Sélection Vieilles Vignes Chablis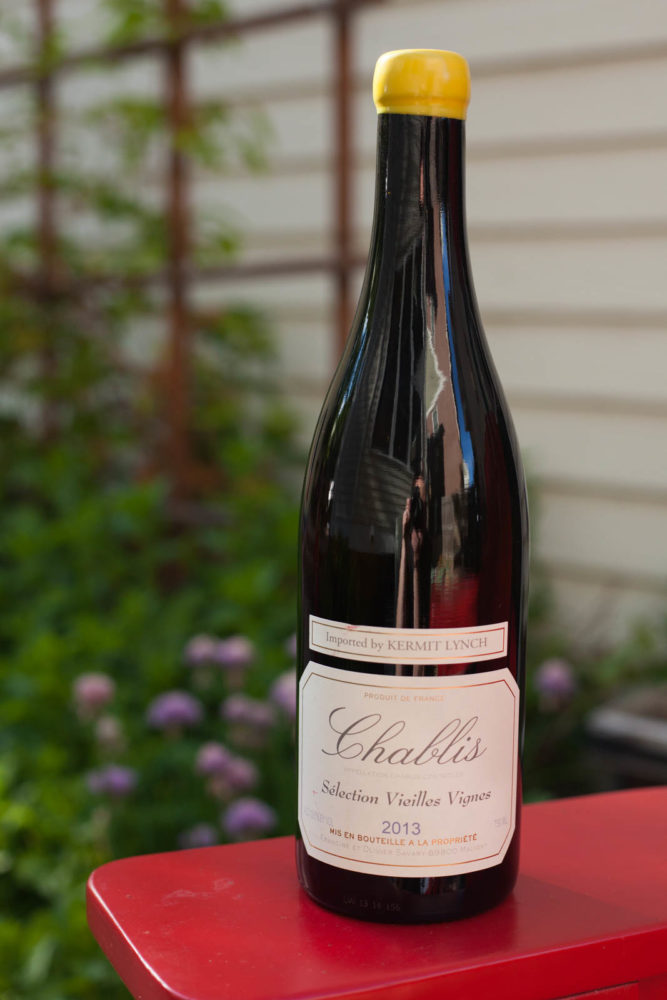 One of the year's biggest lessons for me was this: don't write off Chardonnay. For a couple of years, the world's most popular white wine has consistently struck me as an obnoxious wine. Overbearing, heavy, thick. As someone who puts a priority on the ability of a wine to complement food, many Chardonnay have behaved like the brat in class who talks over everyone.
Despite trying, I couldn't ignore what I was reading about Chablis, northern France's exquisite little pocket of ancient seafloor soil, cool-climate conditions and amphitheater hills. So I gave this bottle a try, and (like the Hermosa Vineyards Cabernet Sauvignon) a grape was redeemed for me. Subtle and elegant, it revealed aromas and flavors that worked beautifully together: lemon custard and baked bread, honeysuckle and herbal tea. Given Chardonnay's usual fatigue, I never grew tired of this one. New Year's resolution: drink more Chablis, and pony up for some White Burgundy. More on Domaine Savary.
Chablis, France
Grapes: Chardonnay 100%
Alcohol: 12.5%
Rating: ★★★★ 1/2
• Aromas, Flavor & Structure: ★★★★ 1/2
Food-friendliness: ★★★★ 1/2
• Value: ★★★
---
Number 12.

2013 Vietti Barbera d'Asti Tre Vigne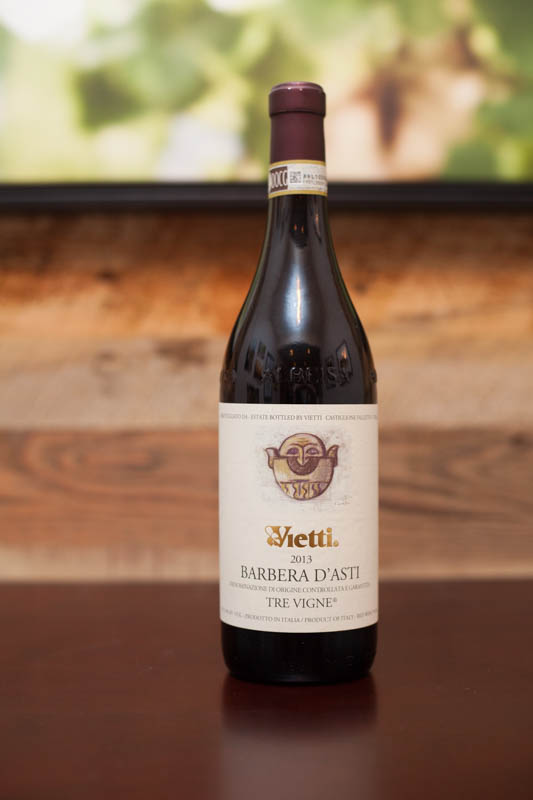 Excellent Barbera checks all the boxes for me. It's easy to drink, it's low in tannin yet full-bodied, it has high acidity to pair well with lots of different foods, and its often affordable.
As I explored the wines of Vietti this year, the Barbera d'Asti Tre Vigne emerged as my favorite in part because I would drink it any night of the year. Awash in cooked strawberry and sour cherry fruit on the palate, it offered up earthy aromas that got me nostalgic for fall, with hints of savory flavor that screamed for a nice cut of red meat. And a second tasting this week at a holiday dinner verified that first impression.
Is it a finer wine than the Vietti Barolo Castiglione Falleto (at No. 15)? Probably not, but I enjoyed it even more and will certainly be buying more of it in the future. More on Vietti.
Asti, Italy
Grapes: Barbera 100%
Alcohol: 14%
Ratings:  ★★★★ 1/2
• Aromas, Flavor & Structure: ★★★★ 1/2
Food friendliness: ★★★★★
• Value: ★★★★★
---
Number 11.

2014 Abbazia di Novacella Kerner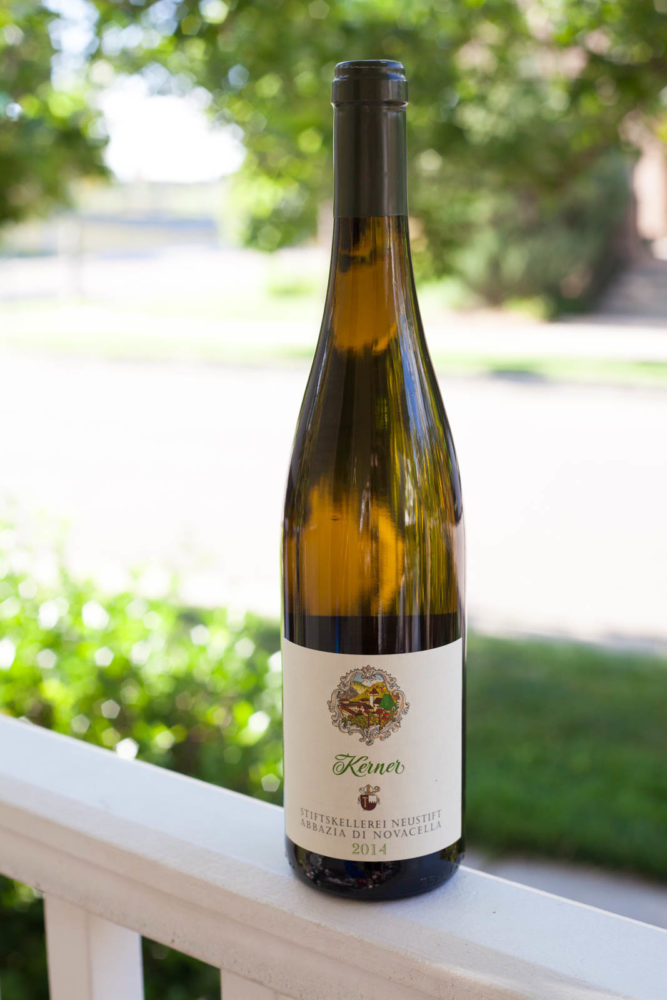 One of the most obscure grapes I came across this year also happened to be one of the most enjoyable. Kerner — the illegitimate child of Riesling and Schiava — is named after a drinking-songs poet named Justinus Kerner. (You know, that Justinus Kerner). You could argue that Kerner fills the exact same role in your wine rack as a dry Riesling — it is crisp, pairs with everything, requires little thought — but it offers a nuttiness and savory quality that I found surprising and unusual. At least, the Abbazia di Novacella version does. With only 90 hectares in Alto-Adige planted in Kerner (and less in Austria, Switzerland and Germany), its a rare wine worth seeking out. More on Abbazia di Novacella.
Valle Isarco (Alto Adige, Italy)
Grapes: Kerner (100%)
Alcohol: 14%
Rating: ★★★★★
• Aromas, Flavor & Structure: ★★★★ 1/2
Food friendliness: ★★★★★
• Value: ★★★★
---
Number 10.

2013 Domaine de la Mordorée "La Damme Rousse" Tavel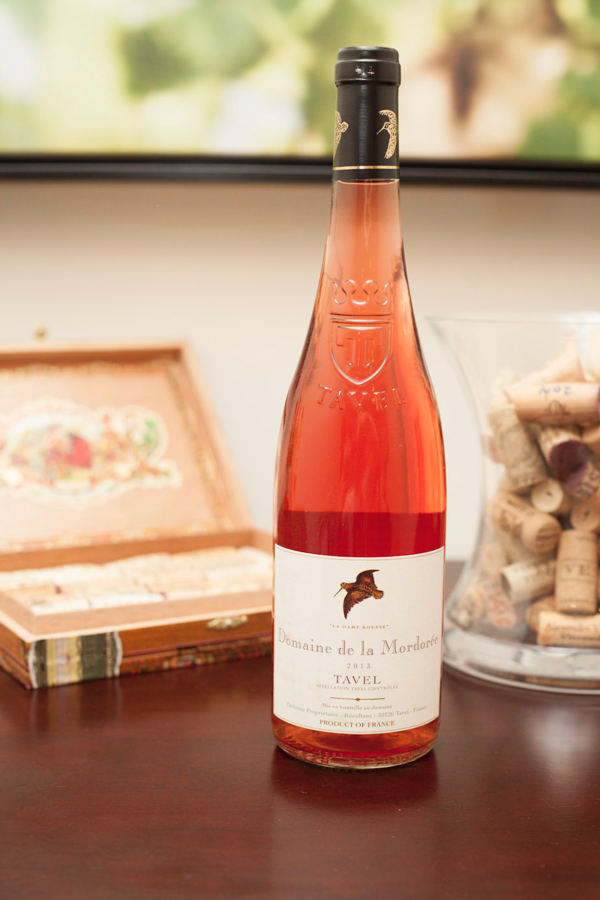 If this were the 25 best-looking wines of 2015, than then "La Damme Rousse" would be No. 1. With its electric watermelon color — and that elegant bottle and label — I was suckered into buying this wine.
Lo and behold, it was one of the most refreshing rosé wines I've ever had, and when it comes to rosé, that's all that matters: refreshment. Recalling white peaches, crushed hazelnuts and flowers on the nose, it delivered on the palate in a way that was smooth, thirst-quenching and capable of cutting through fatty foods like a machete.
Subsequent bottles of Tavel proved that this little, Southern Rhône town makes some of the most consistently excellent rosé on earth — but this one still remained the most indelible of the year. More on Domaine de la Mordorée.
Tavel, Southern Rhône, France
Grapes: Grenache (60%), Syrah (20%), Cinsault (20%)
Alcohol: 14.5%
Ratings: ★★★★ 1/2
• Aromas, Flavors & Structure: ★★★★ 1/2
Food friendliness: ★★★★ 1/2
• Value: ★★★★
---
Number 9.

2012 Château du Moulin-à-Vent Couvent des Thorins Moulin-à-Vent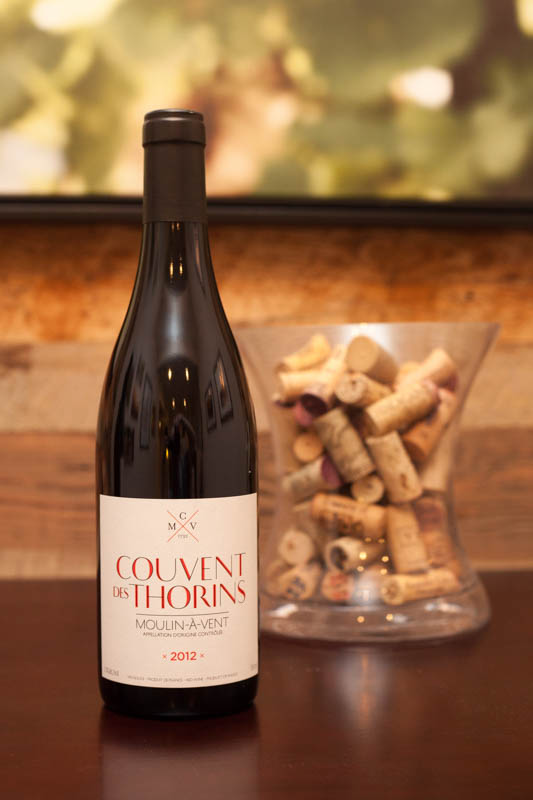 A year ago, the 10 Cru villages of Beaujolais piqued my interest. This year, I immersed myself in their wine and discovered that — contrary to continued popular opinion — Beaujolais can make some seriously nuanced and interesting wine. To prove this point, I invited some friends over for a wine-tasting in May, a horizontal tasting of four different villages, and this wine turned more heads than any other (and yet, wasn't quite my favorite … see No. 2 for that).
Served in such a comparative setting, it was clear why Moulin-à-Vent is the most highly regarded Cru: with its amplified notes, shape-shifting complexity, and completely refreshing finish, its a wine that more people ought to be drinking. The Couvent des Thorins Moulin-à-Vent — yet another wine from Château du Moulin-à-Vent — is the best I've had from this hillside crowned by a windmill north of Lyon. More on Couvent des Thorins.
Grapes: Gamay 100%
Alcohol: 13%
Rating: ★★★★★
• Aromas, Flavors & Structure: ★★★★★
• Food friendliness: ★★★★★
• Value: ★★★★
---
Number 8.

2011 Breggo Pinot Noir "Savoy Vineyard"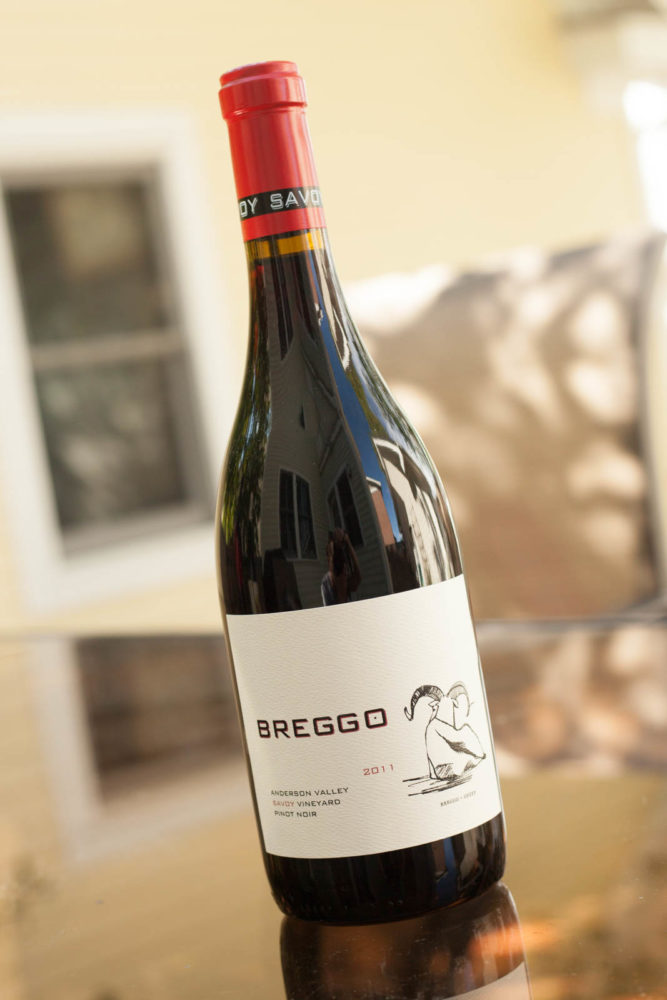 Single-vineyard wines are suppose to demonstrate a purity of place. The variables of a blend are left in other barrels, and what you get is a complete expression of an individual area — its soil, its sun and wind exposure.
At least, that's what you are suppose to get. But sometimes, its muddled, and other times you need a comparative wine to really show the differences.
In November, I had such a comparative tasting at home, but it was between two vintages of the same Pinot Noir from Anderson Valley's celebrated Savoy Vineyard. I preferred the older wine — it seemed more complete and nuanced — but what was clear in both was how special this piece of land is for fostering cool-climate Pinot.
The biggest surprise was a note of Red Zinger tea on the finish, which winemaker Ryan Hodgins gets as well. He told me his best guess is that this singular, distinctive note comes from the Pennyroyal plant, a member of the mint family which grows in abundance in the vineyard. Somehow, it interacts at bud-break, possibly through bees.
Whether his theory can be proved or not is beside the point. Wine is simply an expression of nature, and just thinking about bees and Pennyroyal and Red Zinger tea made this Pinot Noir infinitely more rewarding. More on Breggo/FEL Wines.
Anderson Valley, California
Grapes: Pinot Noir (100%)
Alcohol: 13.9%
Ratings: ★★★★★
• Aromas, Flavor & Structure: ★★★★★
Food-friendliness: ★★★★ 1/2
• Value: ★★★★
---
Number 7.

2013 Descendientes de J. Palacios "Petalos" Bierzo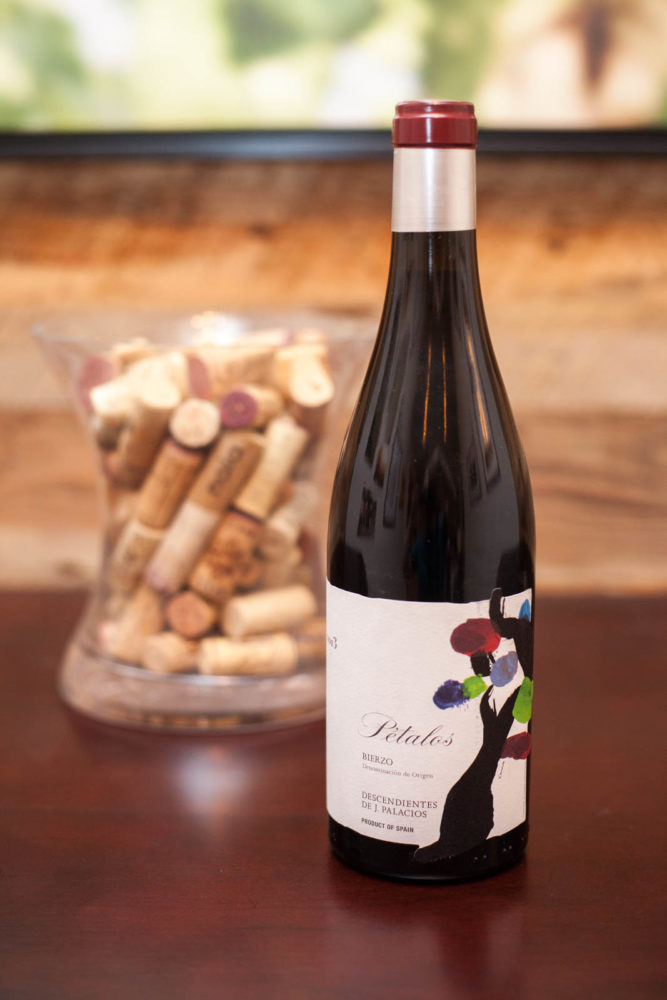 I had this wine in 2013 (from the 2011 vintage) and it simply astonished me then. What is this? I remember thinking, before not writing a single thing down and watching the premier of Season 6 of Mad Men. (Ahhh, the days before I tried to write about wine … so much free time!). But the name stood out to me: this was a wine of real substance, uniqueness and beauty. Come back to it someday, I thought.
That "someday" came this fall, when we hosted a wine-tasting party at our house centered on "Unheralded Wines of Spain." It was easily the best wine of the night, showing the precise yet delicate structure of a well-crafted Pinot Noir, with the bombastic aromas of a wild Syrah from the Rhône. For me, it brought to mind roses, mocha, smoke and walnuts, which — when mashed together into a single perfume — is a pretty intoxicating combo. This is a wine to swish around the palate for a few minutes. It just goes on forever. More on Descendientes de J. Palacios.
Bierzo, Spain
Grapes: Mencia (100%)
Alcohol: 14%
Rating: ★★★★★
• Aromas, Flavors & Structure: ★★★★★
• Food friendliness: ★★★★★
• Value: ★★★★ 1/2
---
Number 6.

2013 Eric Texier Côtes du Rhône Blanc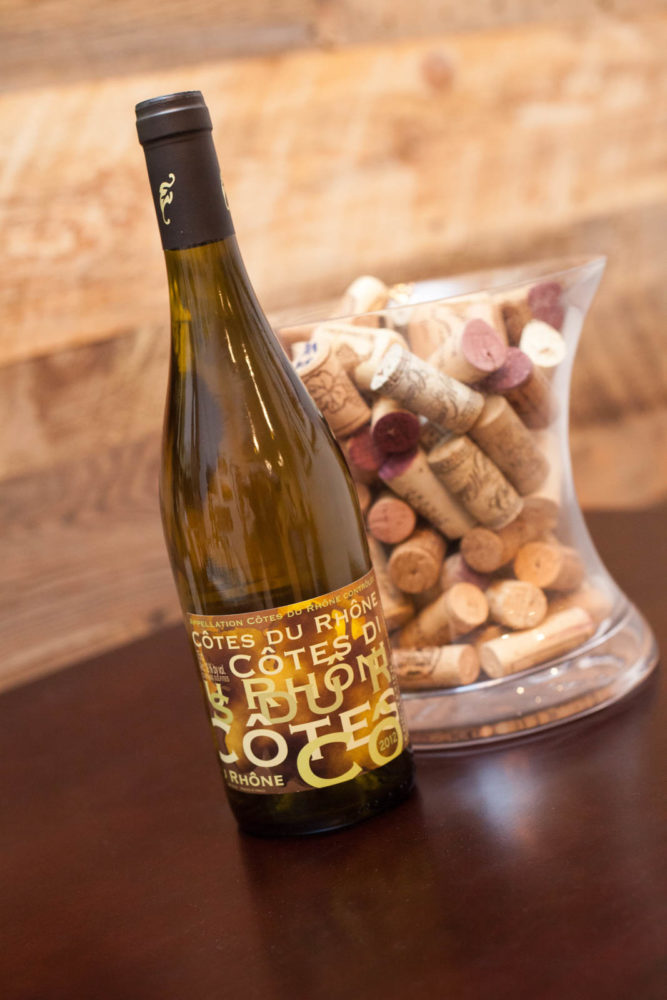 The best white wine of the year also happens to be the best value wine on this list. In August, my brother celebrated his 40th birthday, and when we took him out to dinner, his friend (who happened to be the sommelier) served us a glass each of this wine with his compliments. One whiff, one sip, and immediately I wanted to know more: more about the blend, more about the winemaker, and more about where I could find a bottle.
A few months later, I found it in a bottle shop in Colorado Springs and we ended up serving it with Thanksgiving dinner, where it managed to outshine another great wine (the 2013 Clau de Nell Cuvée Violette, see No. 22), even for a crowd of fervent red-wine drinkers.
Made from 90% Clairette (with 5% each of Marsanne and Grenache Blanc), the wine presents a wonderful and inviting aroma that is all at once earthy and citric. The palate was round and full, recalling peach, orange, lavender and cedar with a gentle finish. If you buy one white wine by the case to have on hand in 2016, make it Eric Texier's Côtes du Rhône Blanc. More on Eric Texier.
Côtes du Rhône, France
Grapes: Clairette (90%), Marsanne (5%), Grenache Blanc (5%)
Alcohol: 12%
Ratings: ★★★★★
• Aromas, Flavors & Structure: ★★★★★
Food-friendliness: ★★★★ 1/2
• Value: ★★★★★
---
Number 5.

2009 Enrico Serafino Roero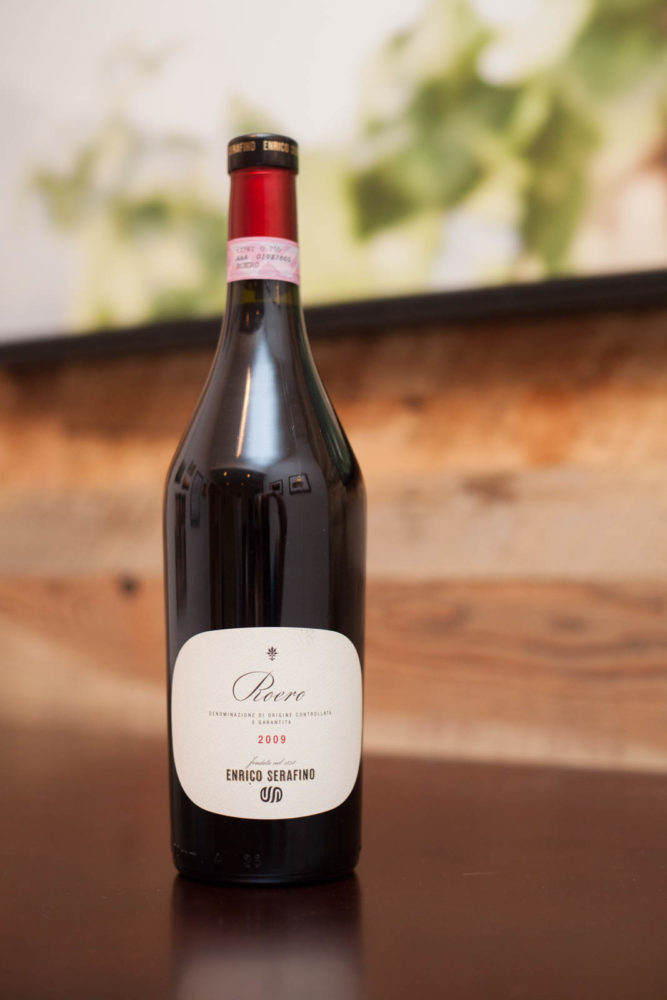 This wine was the year's biggest surprise, and the only wine I have ever rated with straight ★★★★★.
A last-minute, "what-the-hell, why-not" kind of purchase during a big stock-up run this summer, the Enrico Serafino Roero is a 100% Nebbiolo for $13. But if I were drinking it blind, I would have said it was one of the best Barbarescos around.
With enormous aromatics of wildflowers, cherry, wet earth, licorice and baked bread, it left an indelible imprint. The fruit-to-acidity balance and the lingering finish amazed me. Not because its from Roero (a region whose white wines I'm intimately familiar with), but because it cost only $13. Given the fickleness of Nebbiolo, and how highly regarded it is as a grape, they could charge twice that and I'd be fine with it.
But its from Roero — not Barolo or Barbaresco — and brand recognition is everything in this business. Which only means we're the winners. Buy a case of this wine. It's an incredible value, and you could spend the next 10 to 15 years drinking it. More on Enrico Serafino.
Roero DOCG, Italy
Grape: Nebbiolo (100%)
Alcohol: 13.5%
Rating: ★★★★★
• Aromas, Flavors & Structure ★★★★★
• Food friendliness ★★★★★
• Value ★★★★★
---
Number 4.

2010 Nino Negri "Inferno" Valtellina Superiore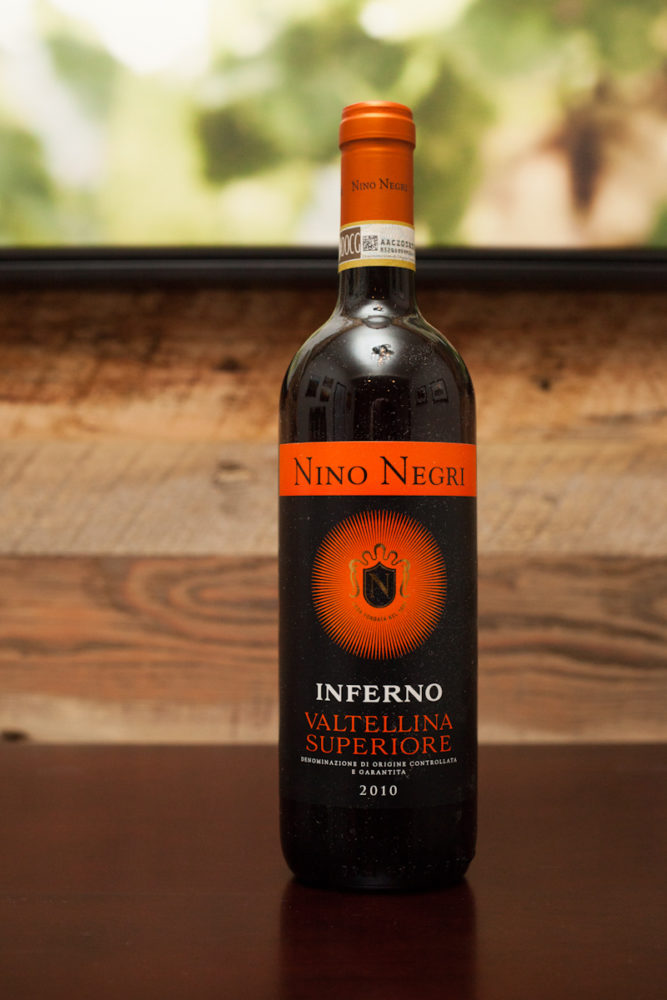 Another Nebbiolo? Really?
Yes, really (and there is one more on this list). For me, 2015 was a year of validation for my favorite grape. After a series of duds in late 2014 and early 2015, I was beginning to wonder if my love for Nebbiolo was objective or purely nostalgic.
Then along came this wine from Lombardy's Valtellina, north of Lake Como. Harvested from the Inferno vineyard — where temperatures regularly reach 90-plus degrees Fahrenheit in summer — this wine managed to be a completely different expression of the "tar and roses" so often associated with Barolo and Barbaresco.
Nebbiolo is a lot of things, but "easy to drink" is never one of them, right? I thought so, until I tried the Inferno. To the eyes (orange-garnet color) and to the nose (cherry, rose, thyme) it recalled its Langhe cousins, but on the palate, it reminded me more of a razor-sharp Pinot Noir. There was a distinct lightness and cherry-rhubarb subtlety to it, with a bit of herbs and savoriness to enjoy as well.
Oh, and then there's the small fact that in order to harvest the incredibly steep Inferno vineyard, Nino Negri has the grapes airlifted out by helicopter.
This is one badass wine. More on Nino Negri.
Valtellina Superiore DOCG, Italy
Grapes: Nebbiolo or "Chiavennasca" (100%)
Alcohol: 13%
Ratings: ★★★★★
• Aromas, Flavors & Structure: ★★★★★
Food Friendliness: ★★★★★
• Value: ★★★★
---
Number 3.

2011 Zenato "Ripassa" Valpolicella Superiore Ripasso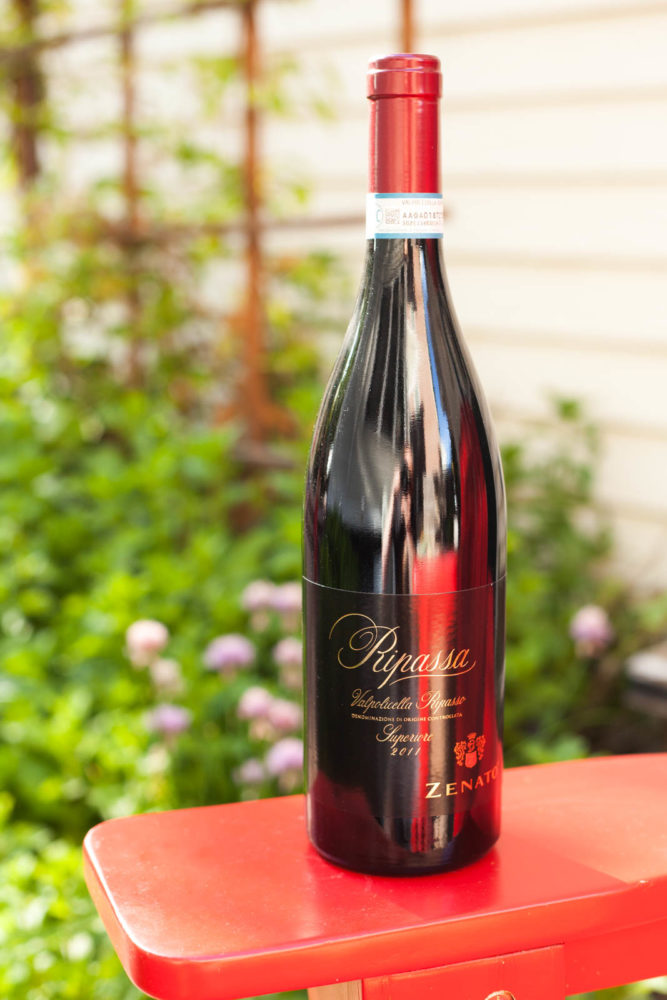 How doesn't love leftovers? If you are serious about food and wine, then you most certainly do. And sometimes, leftovers are better than the first serving, like when you've created a homemade broth whose flavors have melded over 24 hours.
Zenato's "Ripassa" reminds me of this because (a) it is passed through the leftover skins of Amarone grapes when it is made, and (b) it is better than any Amarone I've ever had. It's as if Amarone kissed a Valpolicella Superiore: I found the plush richness of the former, and the food-friendly, easy-breezy drinkability of the latter, all integrated into a seamless bottle of goodness.
Fabulously dark in color with aromatics on steroids (violets, boysenberries, vanilla and raisins), I'd gladly buy this wine again and again and again. More on Zenato.
Valpolicella, Italy
Grapes: Corvina (80%), Rondinella (10%), Sangiovese (10%)
Alcohol: 14%
Ratings: ★★★★★
• Aromas, Flavors & Structure: ★★★★★
Food-friendliness: ★★★★ 1/2
• Value: ★★★★
---
Number 2.

2011 Chateau de Fuissé Domaine de la Conseillière Juliénas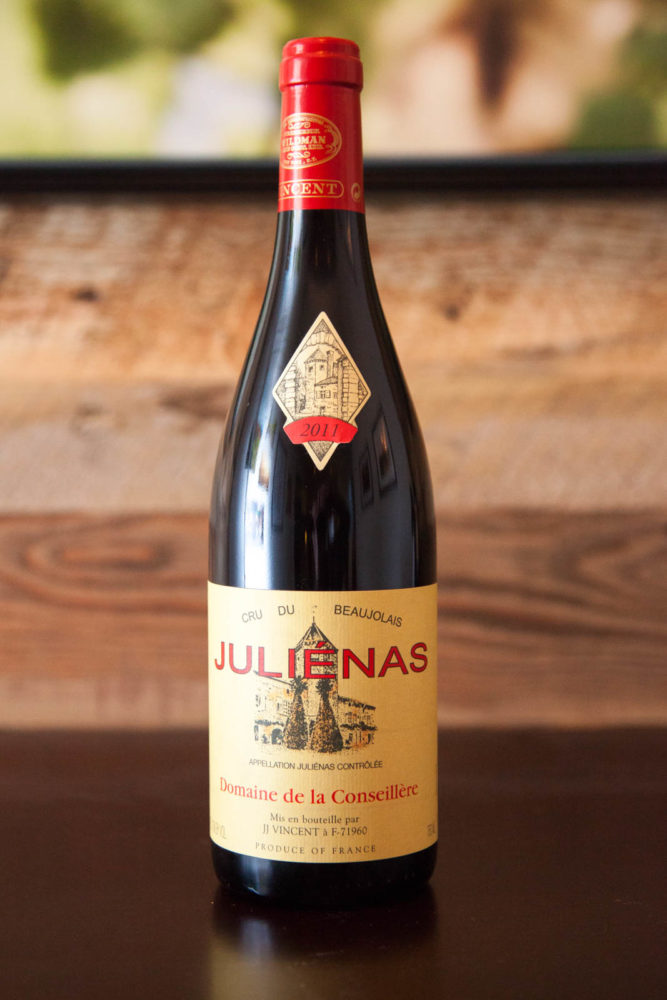 Served at our horizontal tasting of Cru du Beaujolais that we hosted back in May, the Domaine de la Conseillière Juliénas lingered with me all year long, and a second tasting recently verified that this is a great, great wine.
Why? Let's just say I knew it the moment I poured it: this was my kind of wine. It's aromas didn't elicit notes as much as they elicited a sense of place. This was a wine that had one foot in the orchard and another in the forest, and it kept revealing itself until it was gone. For the first hour, those aromas kept morphing into new and exciting terrain: cherry and strawberry with licorice and rosemary one moment, then cherry and apricot and white flowers and walnut the next.
With the second tasting, some six months later, I returned for another glass four hours after the bottle was open. It was only then that this Juliénas reminded me of its peers. It was as if in the first few hours it found a stratospheric cruising altitude and then, hours later, descended to the still-rarified air of other Cru du Beaujolais wines.
The bar has been set for future Cru du Beaujolais with this one. More on Chateau de Fuissé.
Juliénas AOC, France
Alcohol: 13% 
Rating: ★★★★★
• Aromas, Flavors & Structure: ★★★★★
• Food friendliness: ★★★★★
• Value: ★★★★
---
Number 1.

2010 Pio Cesare Barbaresco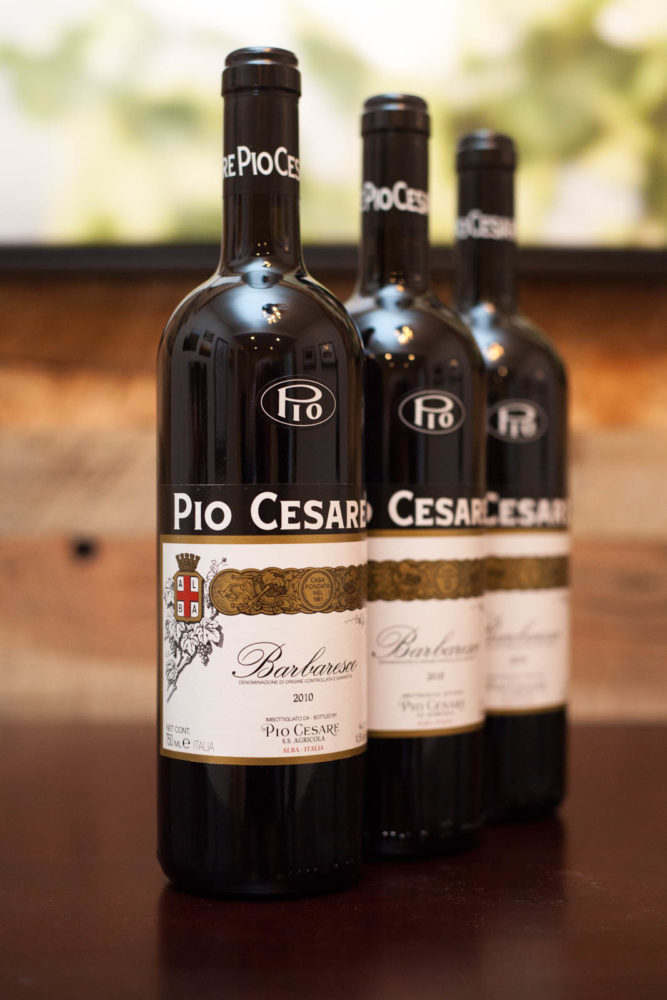 I have my reasons for loving each of the wines on this list, but only one wine — a 2010 Barbaresco from one of Italy's best winemakers, Pio Cesare — made me wonder out loud "could any wine be better than this?" It was as if I'd hit the ceiling and there was no where else to go.
For my palate, this Barbaresco was the closest I've come to a perfect wine. One whiff of that aroma — thick with juicy cherries and raspberries as well as roses, gingerbread, nettles, licorice and vanilla — and I was back in the Langhe Hills of Piedmont, my happy place.
It didn't hurt that I opened this wine with the same close friends who accompanied me and my wife to Piedmont a few years ago, and it didn't hurt that they were as enthusiastic about it as I was ("Pio! You brought Pio?!" Adam said when I showed him the bottle). And it didn't hurt that we finished the bottle around an outdoor firepit in the autumn air of Tennessee, because — after all — Nebbiolo is a cool-weather wine, best enjoyed when its brisk. And it doesn't hurt that I have one more bottle of this vintage, which I will sit on and enjoy with them the next time we get together. More on Pio Cesare.
Barbaresco, Italy
Grapes: Nebbiolo 100%
Alcohol: 13.5%
Ratings: ★★★★★
• Aromas, Flavor & Structure: ★★★★★
Food-friendliness: ★★★★★
• Value: ★★★★
---
As the year wraps up, there is no sense in pretending that wine is a scientific good that can be objectively and empirically assessed. Bullshit. Wine is a story in the bottle, and when you uncork that story and it resonates with you on such a deep level, that's when you find "greatness." Several of these wines made me realize this, and for that, I'll keep writing and publishing on Opening a Bottle about the subjective, context-rich things that surround great bottles of wine.