4
min read
Moscato d'Asti sneaks up on you. It's ultra-sweet sunshine can offend at first, but in the right context and especially from the right winemaker, it can envelope the palate in delight. After dinner, in lieu of dessert, I would argue that few wines are more agreeable.
I've learned to love Moscato d'Asti because of my fascination with its region of origin — Northwestern Italy's Piedmont. Many of Moscato d'Asti's best producers are better known for their Barolo or Barbaresco, two wines I have praised so frequently, it's kind of embarrassing. For me personally, Moscato d'Asti has always been overshadowed by these titans. However, for a vast majority of American drinkers, it is much more familiar.
Getting on the Bandwagon
As recently as 2012, Moscato was the third most popular white wine variety in the United States, and the version from Asti continues to reign supreme. Popularized by hip-hop, and commodified by the likes of Barefoot, Cupcake, Yellow Tail and a Real Housewife of Atlanta (a real one!), Moscato blew up. It is cheap, sweet, low in alcohol and moderately fizzy. In other words, it has a recipe for printing money.
Personally, it took a few years for me to come around to it. A big part of my problem stemmed from serving it in the wrong context. Despite conventional wisdom that sweet wines pair well with spicy food, I just didn't love the combination. Time and time again, opening a Moscato d'Asti with dinner proved to be troublesome.
This year, I've discovered how to best serve it: by itself. And this past weekend, I had my most memorable moment with Moscato d'Asti.
As usual, we were at home and hosting friends. After a dinner that featured steak, potatoes and one of the best wines I've had all year (Nino Negri's "La Tense" Valtellina Superiore Sassella — more on that wine at a later date), we moved outside to enjoy a backyard fire. Since everyone was still in the mood for a drink — yet leery of getting drunk after sharing two bottles — I selected Vietti's Moscato d'Asti.
What Great Moscato is Like
When Moscato hits the nose, it is unlike any other grape. The best ones smell like a peach that creates a trail of juice on your chin with each bite. More complex versions will offer aromas recalling honeysuckle, roses, mint and even ginger. In fact, studies have found that Moscato grapes share a chemical compound (linalool) with mint, citrus flowers and cinnamon.
Vietti's Moscato reminded me at times of peaches, pears, honeysuckle and ginger. To keep this sweetness from running away, a parade of light bubbles made it dance. The Italians call this degree of sparkling wine frizzante. I'm not fluent in Italian, but I'd have a hard time finding a word that sounds more perfectly matched to what it is describing.
My interest in Moscato d'Asti started in earnest in spring and his lead me to a few other good producers. At a dessert bar here in Denver, I skipped over the panna cotta and bread pudding and opted for a glass of Saracco instead, which was bright if a bit saccarine. Better yet is the Moscato d'Asti from Michele Chiarlo called "Nivole," which is notable for its silkiness and clean finish. And another favorite Piedmont producer — Marchesi di Grésy — makes an exceptional Moscato d'Asti called "La Serra" that sits on the palate like an illusion. It is sweet in nature, but it somehow doesn't coat the sides of your mouth. Bright tones of peach, apricot, vanilla bean and hay round it out. If you see any of these on a dessert wine menu, place an order.
You can do this with Moscato as much as you like, because unlike many dessert wines, the alcohol is incredibly low. After all, when you are out at a restaurant and still need to drive home, finishing your night on a 5% ABV cup of sunshine is probably a better idea than a 20% ABV glass of Port.
---
2015 Cascinetta Vietti Moscato d'Asti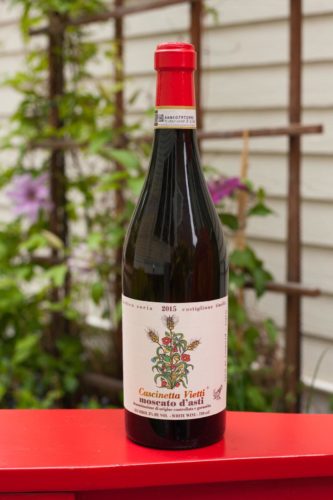 Moscato d'Asti DOCG
Grapes: Moscato 100%
Alcohol: 5%
Rating: ★★★★ 1/4 (out of five) (out of five)
• Aromas, Taste and Structure: ★★★★ 1/2
• Food-friendliness: ★★★
• Value: ★★★★
Tasting notes: A delightful and jolly dessert wine to share with friends. Simple, approachable and dazzlingly sweet at first, it reveals quite a bit of character after several sips. The aromas are ripe and full: pears mingling with peaches, honey and a quick cut of ginger root. Its real beauty comes on the structure of the wine, with a silky body and just-right frizzante. Serve slightly chilled and drink young.
Recommend for: Best after dinner and by itself. My palate prefers not to match sweet with sweet, but the Italian way with Moscato d'Asti is to pair it with a fruit tart or panna cotta. If anything, in my book, it goes well with a slice or two of aged Parmigiano-Reggiano.
---
Essential Winemakers
Two of the four winemakers featured in this article — Vietti and Marchesi di Grésy — are listed on our roster of Essential Winemakers of Italy.


Open a Bottle in Your Email
Subscribe to our monthly email digest.
---