3
min read
Provence is the land of rosé. Be it pinkish, orangish, pinkish-orangish or the occasional radioactive carnation, the color palette of these wines undeniably suits the sunny personality of vacationing in the South of France.
But when Provence's red wine comes up, the story is nothing like what you'll find elsewhere in France. Elsewhere, you can buy a bottle of Saint-Joseph or Moulin-a-Vent or even Côtes du Rhone and know what to expect, but with Provence's variety of terrain and lack of red-wine tradition (at least compared to other French regions), selecting an excellent red requires the same snooping skills you would use to buy an excellent New World wine.
In other words, if you are accustom to wines that follow the rigid form of a sonnet, these wines will feel like free verse.
This past week, I got a recommendation from the online wine shop VinoVinOnline.com about a Provençal wine — the 2012 Mas de Gourgonnier Les Baux de Provence — and so I pursued it. If ignorance is bliss, then I approached this wine with a heap of it. Not knowing the grapes, the oak aging, the story of the winemaker, or even the tasting notes in advance freed up my exploration.
Tasting a wine without expectation is every bit as important as researching the hell out of a wine. By "going ignorant," you gain clarity on what the wine is offering, rather than bias from what you already know about it. Sometimes, its impossible to hide from expectation (to follow an earlier example, "the label says Saint-Joseph so expect Syrah"), but when you are drinking the red wines of Provence's Les Baux de Provence or Coteaux d'Aix-en-Provence regions, anything goes, and that's part of the fun.
With the Mas de Gourgonnier, it was showing like a Grenache blend (tip-off: up-front fruit and baking spice aromas), but it was also bright and airy. There's no Syrah, I thought, it's not gamey or deep enough. Mourvèdre?
Yes, it was focused on Grenache, but needless to say, I was astonished to learn the remaining grapes not only included Syrah, but Cabernet Sauvignon as well. These are three of the four grapes used in various proportion to make Priorat, the Catalonian wine I always associate with depth and enough power to melt a porterhouse.
But this beautiful wine would be happier with a roast chicken, or a homemade pizza topped with sausage. It was lively, refreshing and had a finish that reminded me more of rooibos tea than red wine — the way its tannins quietly hung around. What accounts for this difference from the handful of deep, explosive Priorat I have had before? That's a question that's above my head, but given how my expectations were so thoroughly rattled by this wine, I'll be coming back for more.
2012 Mas de Gourgonnier Les Baux de Provence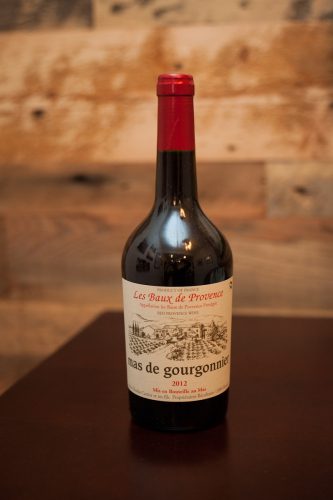 Les Baux de Provence, France
Grapes: Grenache, Syrah, Cabernet Sauvignon
Alcohol: 13%
Ratings: ★★★★ 1/2 (out of five)
• Profile: ★★★★ 1/2
Food Friendliness: ★★★★
• Value: ★★★★ 1/2
Tasting Notes: A lovely blend of grapes more commonly associated with Spain's Priorat, this wine is much more delicate and bright than its Spanish counterpart, but no less subtle. Aromas are very floral, concentrated on rose, cherry and baking spice. On the palate, offers a light raspberry touch, graphite, roast hips, almond extract and toast. The tannins are more reminiscent of tea than wine in how they lightly coat the palate. Perfume-like finish.
Recommended for: Definitely chicken saltimbocca. Definitely sausage pizza. Definitely a medium rare burger.
---
Note: This bottle was provided as a sample from VinoVinOnline.com.
Learn more about our editorial policy.