3
min read
In the Old World, we seek tradition and stability. In the New World, creativity and freshness.
Perhaps it is because of this that I rarely rely on any regional-varietal combo from the New World. I buy Chianti Classico, Chinon, and Austrian Grüner Veltliner because I know what to expect. I buy Lodi Zinfandel, Mendoza Malbec and Marlborough Sauvignon Blanc because I'm curious of each individual bottle.
However, one New World wine has bucked this trend for me lately: Pinot Gris from Oregon. They have their subtle differences, but every single one I've tasted has been vivid, bright and refreshing, with noticeable traces of lemon and honeysuckle.
They may not be the most exciting wines, but dare I say it, they're reliably good. Ideal for weeknights, they pair nicely alongside such quick-and-easy dinners as sautéed fish, breaded chicken breast, couscous-stuffed peppers and other vegetarian fare. They're far from fussy and usually cost less than $20, and better yet, they are the anti-Italian Pinot Grigio, which is far-too-often either saccharine or coarsely bitter and underripe.
I've sampled ten of them in the last year alone, and the following four have struck me as terrific buys. Given their low price point and easy-going nature with weeknight meals, I'd recommend a half case of any of these.
---
King Estate Acrobat Pinot Gris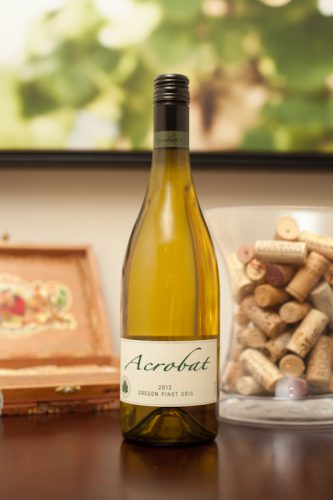 Perhaps the best value of the one's I have sampled, the King Estate Acrobat Pinot Gris is mild and creamy in texture, with wonderful aromas of lemon, honeysuckle and orange zest
But its the touch of tangerine and custard on the palate that I like most. It's regal enough for roasted pork loin in sage, but modest enough to party with mac-and-cheese. Not bad for a $10 wine. More on King Estate.
Eugene, Oregon
Rating: ★★★★ (out of five)
• Profile: ★★★★
• Food-Friendliness: ★★★★
• Value: ★★★★★
---
Coehlo Winery "Renovaçao" Pinot Gris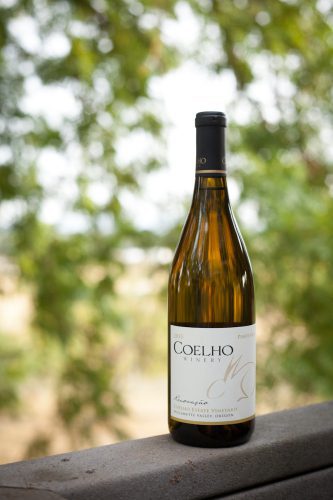 The best Oregon Pinot Gris I've come across so far comes from Coehlo Winery, the Portuguese winemaking family of Amity. Their "Renovaçao" Pinot Gris (which translates as renovation in Portuguese) is medium to full in body, revealing a wonderful texture and flavor that recalls lemon custard. Pear, herbal notes and lychee add dimension, as does a surprising finish reminiscent of butterscotch. Best enjoyed on a hot summer day. More on Coelho.
Amity, Oregon
Rating: ★★★★ 1/2 (out of five)
• Profile: ★★★★ 1/2
• Food-Friendliness: ★★★★ 1/2
• Value: ★★★★ 1/2
---
Adelsheim Pinot Gris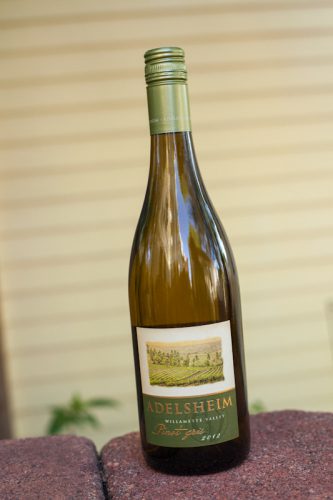 One of the most established winemakers in Oregon, Adelsheim's Pinot Gris is among the most aromatic, with lovely peach and lemon aromas that leap from the glass. Slightly tangier than other Pinot Gris, its undertones of green apple and honeysuckle add a distinguishing touch. We served it with Jamaican jerk chicken, and it accentuated the clove, cinnamon and nutmeg spice of the marinade nicely.
Newberg, Oregon
Rating: ★★★★ (out of five)
• Profile: ★★★★
• Food-Friendliness: ★★★ 1/2
• Value: ★★★★
---
Elk Cove Vineyards Pinot Gris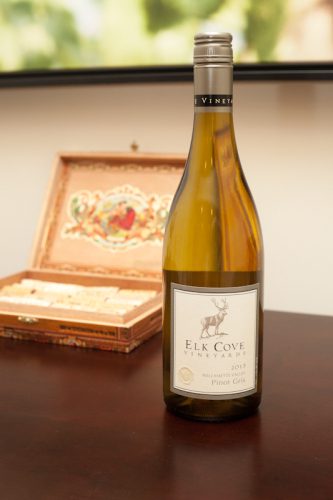 Some wineries can do no wrong, and I'm beginning to think Elk Cove is one of them. Their estate Pinot Noir has one of the lightest touches of any I've had, and their Late-Harvest Riesling came in as my No. 3 wine of 2014. Their Pinot Gris isn't quite in the same orbit, but its wonderfully complex as far as Pinot Gris is concerned, with aromas of pineapple, lemon and almond. The flavors of peach and pineapple are following by a noticeable minerality on the finish. Works gorgeously alongside a salad decked with a pungent cheese. More on Elk Cove.
Gaston, Oregon
Rating: ★★★★ (out of five)
• Profile: ★★★★
• Food-Friendliness: ★★★★ 1/2
• Value: ★★★★
---