3
min read
Late last year, I read an article on Punch — a great online magazine devoted to wine and spirits — in which writer Jon Bonné shared what he thought would be the wine stories to shape 2016. Of the trends he noted, the one that quite my attention the most was "Oregon Embraces Its Loire Fetish."
By and large, I love both Oregon and Loire Valley wines. The plush textures and rich rosiness of aromas in a Willamette Valley Pinot Noir is a constant delight, while the clear and refined reds of the Loire are among the most food-friendly wines I've come across.
If there has been a problem with Oregon Pinot Noir for me, its been cost: it is exceedingly rare to find an intriguing bottle for under $35. And if you were to draw conclusions from the shelves of most wine shops (and the search engines of most online retailers), you would think that Pinot Noir is the only red grape grown in Oregon.
So it was an exciting prospect to think that Oregon winemakers were increasingly tinkering with the Loire's varietals of Cabernet Franc and Gamay. Both grapes make a lot of sense for Oregon and its climate, which is fairly similar to Northern France (ergo the original "fetish," Burgundian wines). Pursuing Loire-style reds from Oregon became a New Year's resolution, which I gladly added to my list.
Thanks to a few links in Mr. Bonné's article, I came across a few such wines, all sold by Europa Wine Merchant in Portland, Oregon (update: this store is now closed). Most intriguing was Leah Jørgensen's blend of Cabernet Franc and Gamay, playfully named "Tour Rain" — after Oregon's official weather forecast and the Loire region of Touraine. I was so excited to order this bottle, that I used it as an excuse to order five other wines from Europa Wine Merchant just to offset shipping costs (admit it: you've done this, too).
This week, we opened the "Tour Rain" and I loved every sip of it. If you could imagine a Chinon and Moulin-à-Vent having a baby, you'd have this wine. Made from 66% Cabernet Franc and 34% Gamay, it presented an ideal amount of acidity for flexible food pairing. But it was the aromas and flavors that sustained my interest; despite its medium body and the reputation of its two grapes, this was an amplified wine that wanted attention. The Gamay spoke up with the first glass, broadcasting notes reminiscent of Cru du Beaujolais with aromas of red berries and a hint of candy. But steadily, the Cabernet Franc took over, and I was picking up more distinct rushes of strawberry, plums and violets with a hint of spice.
I might be coming late to the party by calling out Leah Jørgensen's wine (the San Francisco Chronicle recently named her one of its winemakers to watch), but based on this one bottle, there is good reason people are buzzing about her work. And if the "Tour Rain" is any indication of what Loire Valley varieties can achieve in Oregon, than certainly the next chapter in the state's history of winemaking is going to be an exciting one for wine drinkers like me, who prefer food-friendliness in a wine over everything else.
2014 Leah Jørgensen "Tour Rain" Cabernet Franc-Gamay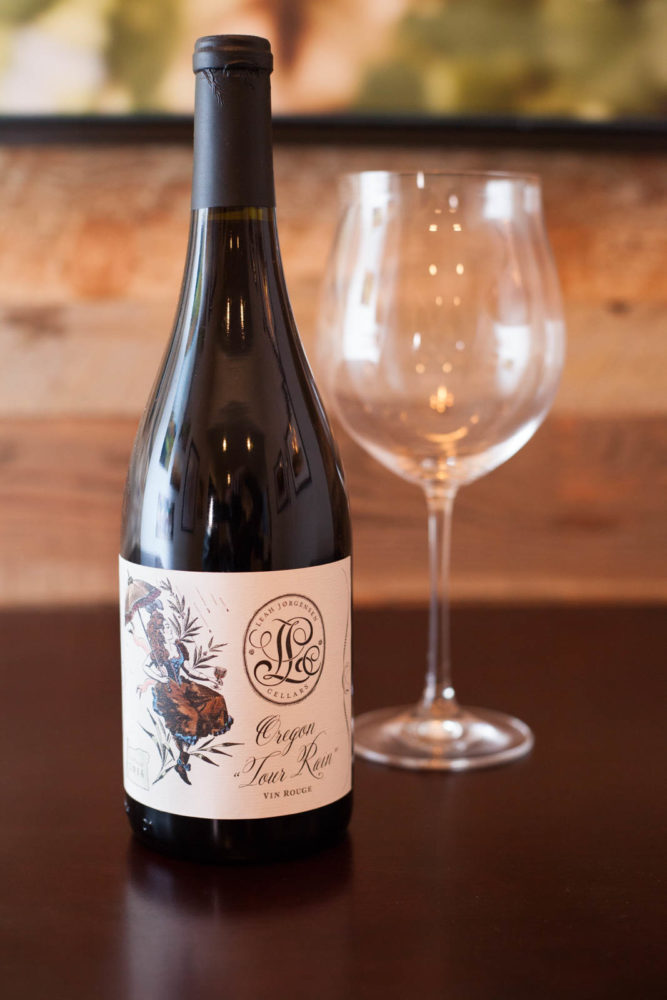 Yamhill County, Oregon
Grapes: Cabernet Franc (66%), Gamay (34%)
Alcohol: 13.8%
Ratings:  ★★★★ 1/2 (out of five)
Aromas, Flavors & Structure: ★★★★ 1/2
Food-friendliness: ★★★★ 1/2
Value: ★★★★
Tasting notes: A fascinating wine with a lot of texture, complexity and shape-shifting. Reveals a good deal of Gamay character at first, then more Cabernet Franc as you go. Waves of aroma recall strawberry, violets and rose, with a plum-like note carrying baking spice on the palate. Medium-bodied but surprisingly bold (amplified is a better word, really). Clean, refreshing and pure acidity. Medium length.

Recommended for: Roast chicken with thyme and fingerling potatoes, or a simply plate of charcuterie.