3
min read
Few wines have flummoxed me more at the liquor store than buying a good rosé. It seems that — more than with reds or whites — the variance from one to the next can be so great, you're almost stabbing in the dark. For years now, I've taken comfort in Old World appellations while shopping, but rosé-focused appellations (especially Côtes de Provence) seem to be too broad to really help the consumer much.
The exception may be Tavel AOC, a commune in the southern Rhône northwest of Avignon and southwest of Châteauneuf-du-Pape. Highly regarded by such winos as the Popes of Avignon and Ernest Hemingway, its decadent, silky strawberry flavors and radiant color have made many a Proveçal vacation that much more jolly. With its relatively small size, storied tradition and collection of committed winemakers, its a region to seek out. I'm just getting to know these radiant blends of Grenache and Cinsault (and sometimes Mourvedre and Syrah), and with summer and its fresh produce and carefree backyard barbecues upon us, its the perfect time to start uncorking them.
Last night was such an occasion. We celebrated the first day of May with my wife's parents, and grilled a cedar-planked sockeye salmon with asparagus and wild rice. Before the grill could get hot enough, however, we had dug into a lavish cheese plate and uncorked a bottle of Tavel from Domaine de la Mordorée.
With an electric watermelon color showing tinges of orange-rose on the edges, "La Dame Rousse" may be the prettiest wine you drink all year. "Pretty" could also describe the wonderful aromas that rise up in the glass. I picked up peach and strawberry, a honeyed floral quality, and a very specific note that took some decoding: crushed hazelnuts. But when the meal is done, the hallmark of an excellent rosé is how refreshing it is. At 14.5% alcohol (higher than the Barbera d'Alba I'm enjoying tonight), that's a dangerous proposition with "La Dame Rousse" because it is damn refreshing and drinkable.
So have it with something fatty to slow yourself down. It's the only way to handle this remarkable rosé with any grace.
2013 Domaine de la Mordorée "La Dame Rousse" Tavel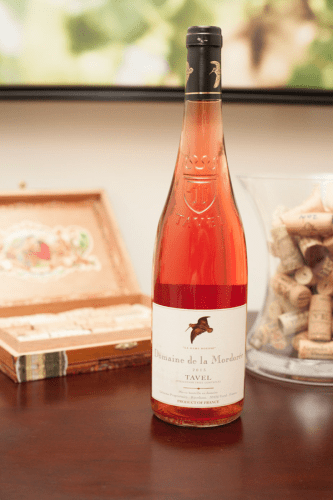 Tavel, Southern Rhône, France
Grapes: Grenache (60%), Syrah (20%), Cinsault (20%)
Alcohol: 14.5%
Ratings: ★★★★ 1/2 (out of five)
• Profile: ★★★★ 1/2
• Food friendliness: ★★★★ 1/2
• Value: ★★★★
Tasting notes: Color is electric watermelon with tinges of orange-rose on the edges. Aromas are wild, exotic, amplified and intense, predominantly hovering on ripe peach and crushed hazelnuts with a hint of honeysuckle. Very round on the palate with a silky smooth texture and hints of strawberry. Finely balanced.
Recommended for: The ultimate cheese-plate wine. With its high alcohol, wild aromatics and silky, refreshing quality, it cleanses the palate nicely while noshing on manchego or brie.