2
min read
On a swing through southern Spain many years ago, I fell in love with a Berber dish known as tajine. Popular in nearby Morocco and culturally engrained in Andulusia because of the Moorish dynasty, the dish is essentially a slow-cooked stew spiked with spices and frequently inflected with chickpeas, fruits and vegetables. My favorite recipe includes cinnamon, turmeric, cumin, ginger, prunes and carrots served over couscous. It's so good, we make it almost monthly.
Not long after I was introduced to the joys of tajine, I quickly realized that its ideal wine partner is Grenache and Grenache-based blends. Grenache has a fruit-forward profile and — in the best examples — a lean acidity to rinse the spices around beautifully.
For this dish, I've had the best luck with a simple Côtes du Rhône, but last week, it was a wine from Sonoma that may have taken the perennial pairing to a new level. The 2013 Donelan Wines Cuvée Moriah is taunt like an athlete, with a core of acidity that makes it downright refreshing. Complex aromas of raspberry, pomegranates, anise seed, black pepper and beeswax give it enough intrigue to be wonderful on its own … but then you'd be missing out on the magic it makes with tajine.
All I can say is "go out and get some."
2013 Donelan Wines Cuvée Moriah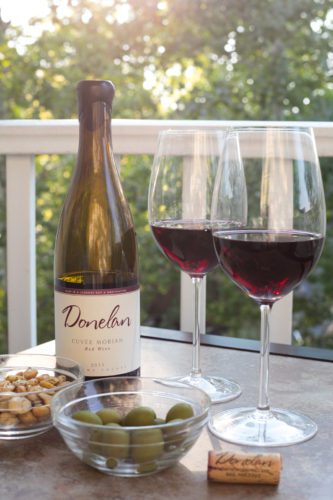 Sonoma County, California
Grapes: Grenache (87%), Syrah (13%)
Alcohol: 14%
Ratings: ★★★★ 1/2 (out of five)
• Aromas, Flavor & Structure: ★★★★ 3/4
• Food-friendliness: ★★★★ 1/2
• Value: ★★ 3/4
Tasting notes: An intriguing Southern Rhône-style wine from Sonoma, with slightly darker fruit tones than expected, yet a persistent level of acidity and freshness. Presents aromas similar to raspberries and pomegranates, anise seed, black pepper and a hint of beeswax. Delightful edge of bitterness on the palate, mildly tannic and full of character. Moderate alcohol. Conducive to easy drinking due to its refreshing finish. Note: the 2014 (also released) has Mourvèdre instead of Syrah, so expect some vintage variation.
Recommended for: As noted above, spicy turkey tajine with prunes is a perennial winner with Grenache, especially with the Cuvée Moriah's peppery notes.