2
min read
Like Barbera, Cabernet Franc is more of a mood than a grape for me. If I want Cabernet Franc, we're having Cabernet Franc — food pairings be damned.
Such was the case a few weeks back. We were dining out with close friends at our favorite local restaurant, Annette Scratch-to-Table. Annette has a killer, focused wine list and the shared plates format that is ideal for a table of four.
As our group ordered dishes that screamed for white wine, I kept zeroing in on a Cabernet Franc from the Central Coast of California. Ultimately, we ordered a white Burgundy, but as that bottle started to "evaporate," I convinced my friends we needed to order a plate of the beef tongue so we could justify the Cabernet Franc. This is how restaurant bills quickly exceed $200.
The Cabernet Franc was delicious. Made by winemaker Ian Brand of Le P'tit Paysan and La Marea, the wine hails from a remote vineyard near the town of Paicines east of Monterrey. Brand likes to work with vineyards that are heavily influenced by the cool air of the coast, and while this vineyard is a ways inland, it still gets bathed by oceanic influence. The result is a red wine with beautiful aromatic details, and a hint of California plushness on the texture. Mood: satisfied.
2014 I. Brand & Family Bayly Ranch Cabernet Franc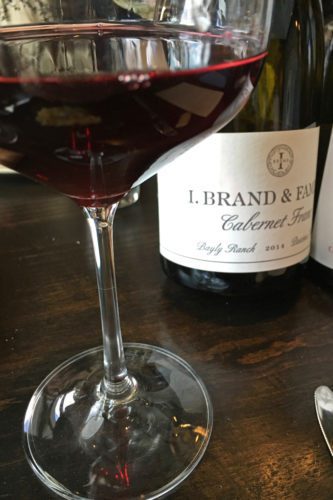 Paicines, California
Grapes: Cabernet Franc (100%)
Alcohol: 13.7%
Rating: ★★★★ 1/2 (out of five)
• Aromas & Structure: ★★★★ 1/2
• Food-friendliness: ★★★★ 1/4
• Value: ★★★★ 3/4
Tasting notes: Here's a beautiful, brawny, athletic wine that neatly balances dark fruit with aromas of nature. It is the kind of wine you want to enjoy outside surrounded by fresh air — you want to give it justice. Aromas brought to mind currant, raspberry, violets and anise seed. Indicative of a California Cabernet Franc in that its body was robust, but struck me as more gastronomical than most, with a sleek trace of acidity. Oh, and did I describe the nose? Yes, it's a bouquet you will return to over and over until the bottle is drained. Fat, satisfying finish.
Recommended for: The great outdoors, backyard living, and beef tongue on toast with a side of leek gratin. (Is that specific enough?)