2
min read
There is a reason I keep coming back to the Cru wines of Beaujolais. For one, they're friggin' delicious. (They're "Gamay-zing," as one friend recently called them). Secondly, they seem like spring's perfect partner on the red-wine spectrum: light(ish), playful, yet still savory and potent enough to ward off that vernal chill at night.
My personal Beaujolais craze was solidified when I finally got a chance to visit the region a few weeks ago. There will be more on that visit in the coming weeks, but I have to say, the landscape of Beaujolais' ten Cru villages is captivating. It is an undulating terrain decorated with cute villages and covered with stubby old vines. In the distance: the Alps. For a photographer with an inclination toward wine, it is heaven.
Last week, my wife and I went to our favorite restaurant in Denver and ordered a bottle of Charly Thévenet's "Grain & Granit," from the Cru village of Régnié. This whole-cluster fermented Gamay featured a surprisingly firm structure, and an exhilarating bouquet that stopped our conversation a few times. Best of all, it had the modesty to work with four very different dishes. Gamay-zing indeed. Go get some.
2015 Charly Thévenet "Grain & Granit" Régnié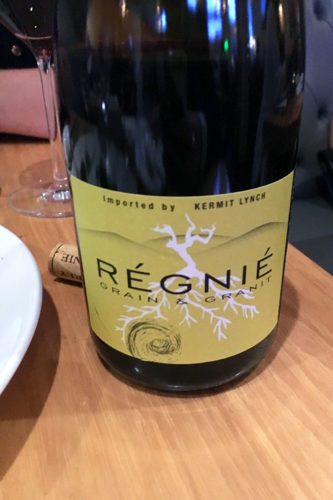 Régnié, France
Grapes: Gamay (100%)
Alcohol: 14%
Ratings  ★★★★ 3/4 (out of five)
• Aromas, Flavor & Structure: ★★★★ 1/2
• Food-friendliness: ★★★★★
• Value: ★★★ 3/4
Tasting notes: A gorgeous, shape-shifting bottle of Bojo that demands respect from gastronomes. It's blossoming aromas bring to mind bing cherries, violets and a sharp note of anise seed. As it passes over the palate, it maintains its elegance while surprising with its upright structure. Fans of Cru du Beaujolais will recognize this trait; those more familiar with Beaujolais Nouveau (you're still drinking that?) won't.
Considering its versatility, I give it my highest rating for food-friendliness. Buy a case and play recipe roulette. It'll do just fine.
Recommended for: We enjoyed this wine equally with such divergent dishes as burrata salad with green strawberries and black garlic, Colorado lamb agnolotti, spring risotto with truffle egg, and braised short rib.