New Years has come and gone, and with it, our focus turns to enduring what's left of winter. In terms of wine, I'll be finding a lot of comfort in bold red wines and oaky whites — or at least, that's my inclination. But a recent bottle — on New Years Eve no less — has me wondering if I should zig the other way. Perhaps to endure winter, I ought to be drinking more bubbly.
On the evening before New Years, I realized our basement stash of wines was devoid of anything sparkling. So I rushed to my local wine shop and came home with a compelling bottle of Cremant d'Alsace. For some time now, this wine has been trending up: it's made in the Champagne méthode, it costs half the price, and …
Well, yeah: it costs half the price. Of course it's popular.
3 Reasons to Try Cremant d'Alsace
You have a thing for Champagne, but you want something with rounder, fuller flavors.
You are on the hunt for an excellent sparkling wine with good value.
You only know Alsace's still wines, such as Riesling and Pinot Blanc.
About the Cremant d'Alsace
The word cremant is used across France to describe a sparkling wine made using the same process as that of Champagne. Think of Cremant d'Bourgogne, Cremant d'Savoie, Cremant d'Jura, Cremant d'Loire and — the most popular — Cremant d'Alsace. The name was a compromise to Champagne producers who wanted to protect their brand by making sure it didn't appear on other labels — even if it was a simple proclamation of using the "Champagne méthode." This method entails hand harvesting of grapes, whole-cluster fermentation, and most importantly, a secondary fermentation in the bottle (versus in the tank), which leads to a wonderfully creamy, somewhat toasted character.
Like other cremant wines, Cremant d'Alsace is a strictly regulated Appellation d'Origine Contrôlée wine, but with a wide-open extravaganza of grapes. In Alsace, winemakers can explore combinations of Pinot Blanc (most common), Auxerrois, Pinot Gris, Riesling, Chardonnay and Pinot Noir.
To ensure quality, winemakers wishing to use the term Cremant d'Alsace on their label need to declare which vines will go toward its production in March of each year. Given the demands of fostering good grapes for good bubbly, this changes the viticultural strategy in the vines for winemakers. It would be all-too-tempting in a bad vintage to simply jettison a block of poor grapes for bubbly, hoping to disguise their flaws in a cloud of fizz. But this rule helps ensure that doesn't happen, and gives Cremant d'Alsace a level of quality assurance that is nice for wine shoppers like you and me.
The occasional Cremant d'Alsace Rosé is made as well (such as our first taste, see below), and in those cases, only Pinot Noir is allowed.
Alsace is just as far north as Champagne, but its climate is warmer and sunnier, which allows these grape varieties to ripen more. This does not necessarily translate into a sweeter wine. It simply means the vintners add less sugar before bottling — a process called dosage. In some cases, they skip that step entirely because a warm vintage has made it unnecessary.
Furthermore, with each passing year, vinters are making more and more Cremant d'Alsace because it makes good financial sense. Not only is the wine increasingly popular, but winemakers can harvest the grapes earlier, allowing them to avoid the risk of late-season rains that would otherwise ruin a crop.
From a historical perspective, Cremant d'Alsace is one of the region's youngest wines. It made its debut in the early 20th century. (Considering that Alsatian wine is part of a vine-growing lineage that dates back to 60 BC … yes, you can comfortably say that Cremant d'Alsace is a rather "new" phenomenon).
Around that time, Champagne winemakers began exploring the idea of making their sparkling wine in Alsace as well, just to get around German export duties since Alsace was part of the German empire. It was also during this time that winemaker Julien Dopff — inspired by a Champagne demonstration in Paris — became the first Alsatian vintner to make Cremant d'Alsace when he decided to apply the same methods with his wines.
My First Taste
Looking for a delightful, creamy, complex sparkling wine at my neighborhood wine shop, I opted for the non-vintage Gustave Lorentz Cremant d'Alsace Brut Rosé, which is made from 100% Pinot Noir.
I found the wine to be joyful. Much of this feeling came from its visual splendor, with a peach carnation color embellished by tantalizing bubbles. It was a wine that felt perfectly appropriate for celebrating the start of a new year — or better yet, the end of a terrible one.
Several hours after opening it, I returned for a final glass, and the bubbles had refused to die down. It was as lively as ever. If anything, it revealed a little more: traces of rosehips and cocoa on the finish, and a lighter, softer touch on the palate.
The winemaker of this particular bottle — Gustave Lorentz — is based in Bergheim, and like many Alsatian counterparts, their family business has roots in the 1800s. Since that time, Alsace bounced between Germany and France six times, ultimately staying with France since the conclusion of World War II. Their wines are completely organic, with several Grand Cru, single-varietal white wines that I'll need to hunt down next.
In the meantime, given the mid-$20 price range of Cremant d'Alsace, I'll certainly be returning for a second and third taste in the near future. But perhaps before then, I'll seek out a first taste of Cremant d'Loire or Cremant d'Jura. A pandora's box has been open.
NV Gustave Lorentz Cremant d'Alsace Brut Rosé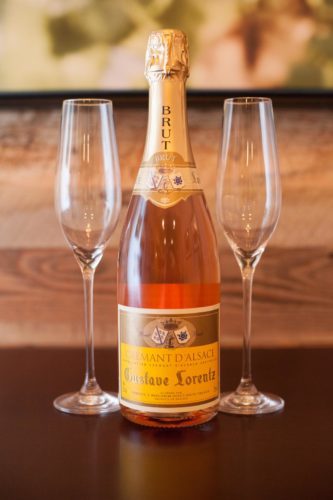 Cremant d'Alsace, France
Grapes: Pinot Noir (100%)
Alcohol: 12%
Ratings: ★★★★ 1/4 (out of five)
• Aromas, Flavor & Structure: ★★★★ 1/2
• Food-friendliness: ★★★★
• Value: ★★★ 3/4
Tasting notes: With its beautiful peach carnation color, this Cremant d'Alsace rosé is — if nothing else — gorgeous to look at. I found the aromas to be a little suppressed — if anything, recalling apples and lemons, but little else. However, on the palate, it was captivating, triggering thoughts of apple pie, rosehips and cocoa on the finish. The beading refused to die down over the entire evening, and it held on to its structure to the last drop. Fun, inviting, and incredibly versatile with food.
Recommended for: Toasting and special occasions, but also it worked remarkably well with a light dinner of Indian simosas and sautéed spinach.
Open a Bottle in Your Email
Subscribe to our monthly email digest.
---