7
min read
Côte-Rôtie had me at its name.
In French, it means "roasted slope," a wonderful descriptor — if there ever was one — for a vineyard's identity. Located in the Northern Rhône River valley just south of Lyon, this series of angled hills, which face the south and harness the sun, has become synonymous with some of the world's finest Syrah.
3 Reasons to Try Côte-Rôtie
For a love of Syrah – Frequently ascribed the moniker of the world's "ultimate Syrah," the red wines from Côte-Rôtie are hyped to the limit — and sadly, their price reflects this. The prevailing style of blending a small amount of Viognier (up to 20%) into the blend is oft-imitated (especially in California and Australia) yet never duplicated because of the appellation's unique combination of climate, soil and sun exposure.
For a love of French wines – If you find yourself falling for French wines — and naturally gravitating to a French wine "bucket list" of bottles you need to try at least once — then Côte-Rôtie has got to be in the top 10 right up there with first-growth Bordeaux, Grand Cru Burgundy (red and white), Grand Cru Chablis, Hermitage, Châteauneuf-du-Pape, Champagne and Sauternes.
For a love of bacon – The smell of bacon creates an aphrodisiac-like response in most warm-blooded humans, doesn't it? Syrah can often have gamey, meaty aromas, and if our first taste of Côte-Rôtie is any indication, then the ones from the roasted slope skew decidedly to the world of bacon.
About the Appellation and Its Wines
The divide between the fine wines of the Rhône River Valley of France is fairly stark. While the southern Rhône wines (e.g. Châteauneuf-du-Pape, Gigondas, Lirac and Côtes du Rhône) are often blends of Grenache, Syrah, Mourvedre and a host of other grapes, the wines of the northern Rhône are just Syrah, with only a tiny amount Viognier for blending. Of the Northern Rhône regions, Côte-Rôtie is the furthest north. In fact, it is one of the world's northernmost Syrah-growing appellations.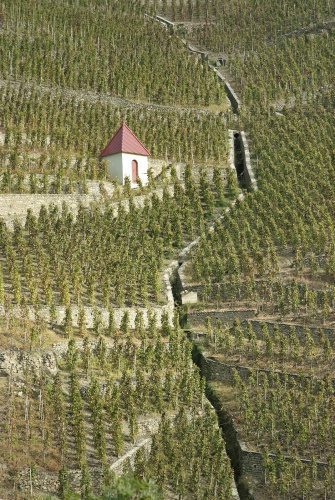 Despite the singularity of its name, Côte-Rôtie isn't a single slope. At least not by legal definition. The appellation boundaries include a series of slopes and plateaus surrounding the small town of Ampuis.
But at its heart — and the origin of the area's appeal — lies the Côte Brune and the Côte Blonde, two sculpted ridges that have given life to the area's most renowned wines. While wines grown on adjacent slopes, and even on the plateau above, can be labeled as Côte-Rôtie, these two specific sites "roast" the best in summer, and yield optimally ripened clusters of grapes. And they are quite different.
The Côte Blonde is granite with a topsoil of sand and slate. The Côte Brune is clay, schist and rich with iron. Similar to La Morra in Italy's Barolo — where the sandy slope delivers a softer Barolo — the Côte Blonde fosters a more delicate version of Syrah. The Côte Brune creates tougher, fiercer wines (analogous to Barolo's Serralunga d'Alba).
Like many of Europe's greatest wine regions, Côte-Rôtie has a stylistic opposite in nearby Hermitage. Both specialize in Syrah, and both are quite expensive. But Côte-Rôtie sees more fog, is brutalized by rough mistral winds and is doused with rain in winter — getting the grapes to ripen in Côte-Rôtie is a significant challenge. But don't confuse this with inconsistency. A bad vintage here usually means less wine is made — not poorer wine.
Côte-Rôtie is a high-wire act of precision. So many variables in the region's climate can ruin a vintage, and yet, the area's skilled winemakers are highly regarded for their ability to get the most from difficult circumstances. In addition to the temperamental weather, grape growing here is back-breaking, with some of the slopes reaching 60% gradients. As we saw with some of the famed vineyards along the Mosel River, pulleys, trellises and monorails are essential at harvest time.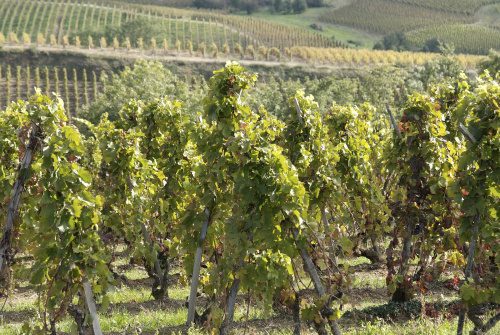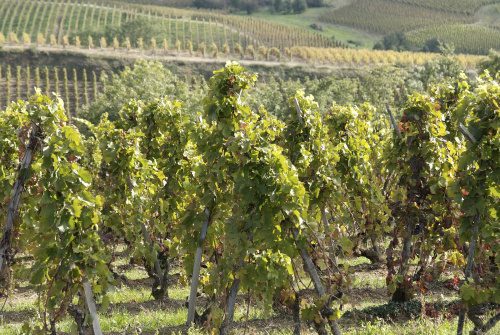 Brutal weather … even more brutal working conditions — it would hardly seem worth it. Yet one of the greatest things about difficult-to-make wines is that they are often the best, as if they convey the personality of the landscape and the men and women who tend the vines. A sip of this Syrah shows the tightrope it walks — Côte-Rôtie is highly aromatic, full of finesse, but just barely fruity enough to be delicious. It's an excellent wine, and totally unique, but not far off from being a complete disaster. Think of it as the mad genius of French wines.
One last distinction to make with Côte-Rôtie lies in the traditional versus modern schools in winemaking. Again, the parallels to Barolo holds. On the traditional side, you'll find winemakers such as Bernard Levet (who we review below), Xavier Gerard and Joseph Jamet. On the modern side, look for the widely found E. Guigal (side note: Guigal's Côte-Rôtie of the 1980s was among the appellation's first to garner international accolades and high-point scores. Not surprisingly, it is known for being big, ripe and oaky).
The traditional versus modern debate could fill another article entirely, but typically, the traditional approach aims for higher acidity and a "greener" profile to the wine because they will leave some stems in the winemaking process. Traditional Côte-Rôtie can be wild, expressive and in need of aging (or lots of aeration). Modern Côte-Rôtie has a more familiar quality to it.
My First Taste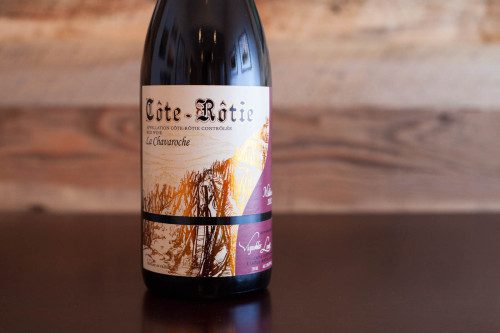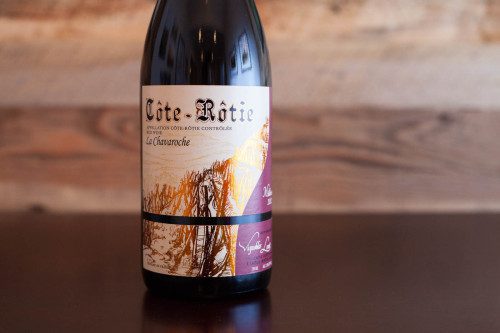 My curiosity with Côte-Rôtie finally got the best of me around Christmas, and so, I paid up for a $63 bottle a 2012 Bernard Levet "La Chavaroche" Côte-Rôtie, which I stowed away until last weekend.
Bernard Levet's wines are not for the faint of heart. He is among the most staunchly traditional winemakers in Côte-Rôtie, relying heavily on fastidious tending of his vineyards, as well as leaving the grapes on their stems during the initial press, which not only adds tannin to the juice, but also a certain wild greenness to it. He also ascribes to a longer fermentation for his wines — the better to draw out all of the nuance and character in the juice.
Pair all of this with the "La Chavaroche" vineyard's location on the Côte Brune — where it draws from the unique soil that is high in iron — and you have the ingredients for a complex, wild, even ferocious wine.
As I poured it into the decanter and buried my nose into a glass of it, I immediately felt like this wine was unlike anything I'd tried before. It was intensely fragrant, but the aromas were equal parts familiar and strange. Bacon and violets? Flint and smoked wood? And what kind of fruit does this recall? Plums? Figs? It may have been that the wine needed more years of development to become something exceptional.
As is often the case, it settled down with some air, and proved to be a tremendous partner with scottadito lamb chops. Of particular note was the wine's body. It was full yet smooth, tannic and dry, yet not searingly so.
A final point to make about this wine is its value. As startling as it may sound, at $63, "La Chavaroche" is a great value for Côte-Rôtie. These wines carry great expense because of the significant labor involved in tending the steep vines of the Côte Blonde and Côte Brune, and given their small production — for example, Bernard Levet only makes between 12,000 to 15,000 bottles annually — their rareness and the demand for these wines drives their prices well into the hundreds. Sixty-three dollars ain't bad.
But it's not accessible, either. Côte-Rôtie will never be an everyday wine. It's too expensive (and too complex and wild to suit everyday purposes). But every now and then, it's OK to get caught up in the mystique of such a distinctive and wonderfully unique place.
2012 Vignobles Bernard Levet "La Chavaroche" Côte-Rôtie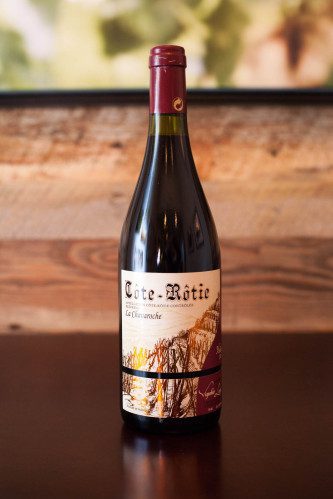 Côte-Rôtie AOC, France
Grapes: Syrah and Viognier
Alcohol: 13%
Ratings: ★★★★★ (out of five)
• Aromas, Flavor & Structure: ★★★★★
Food-friendliness: ★★★★ 1/2
Value: ★★★ 1/2
Tasting notes: Wild and unexpected on the nose with prominent notes of bacon, smoked wood, flint and violets that somehow all works together. On the palate, the predominant fruit recalls figs and plums, with a bold statement on the body, yet real smoothness on the finish. Massively tannic and dry.
Recommended for: The no-brainer pairings for this wine fall on the red meat spectrum — things like the aforementioned scottadito lamb chops, braised short ribs, or venison. But I think it would be best served along something that's been slow-cooked in a smoker.