12
min read
Raise your hand if you have never tasted Chianti Classico? As I turn the attention of our First-Taste Guide series to central Tuscany, I can't help but wonder: Who hasn't had a first taste yet of this historic, ubiquitous red wine?
Chianti Classico is Italian red wine to many people. From your neighborhood pizzeria to the Olive Garden next to your local mall, the wine selection is guaranteed to have at least one Chianti Classico.
Or is it?
Check that laminated wine menu again. Do you see the word "Classico?" Without that word, its a different wine. There is Chianti, Chianti Superiore, Chianti Rùfina, Chianti Colli Senesi and five other name combos that you'll possibly see — all of them Tuscan, all of them predominantly Sangiovese, but none of them from the original zone that gave these wines their name.
And this is where people trip-up with one of Italy's most recognized products: they don't even know what it is, and who could blame them?
Chianti Classico has been a moving target since the Middle Ages, and it has only found its current form in the last few years. In fact, recent changes to the code indicate that the appellation is still sorting out what's more important: winemaking process or the geographic position of the vines? (Correctly, it appears to be the latter). Winemakers have gained a better understanding of Sangiovese's diverse clones, and with these improved regulations, the Chianti Classico DOCG is vying to be the wine to best showcase Sangiovese's diverse potential.
If you want more good news, know this: the area is a leader in organic viticulture. Plus, you can still drink a solid Chianti Classico for a decent price. Let's explore the wines with the black rooster on the label.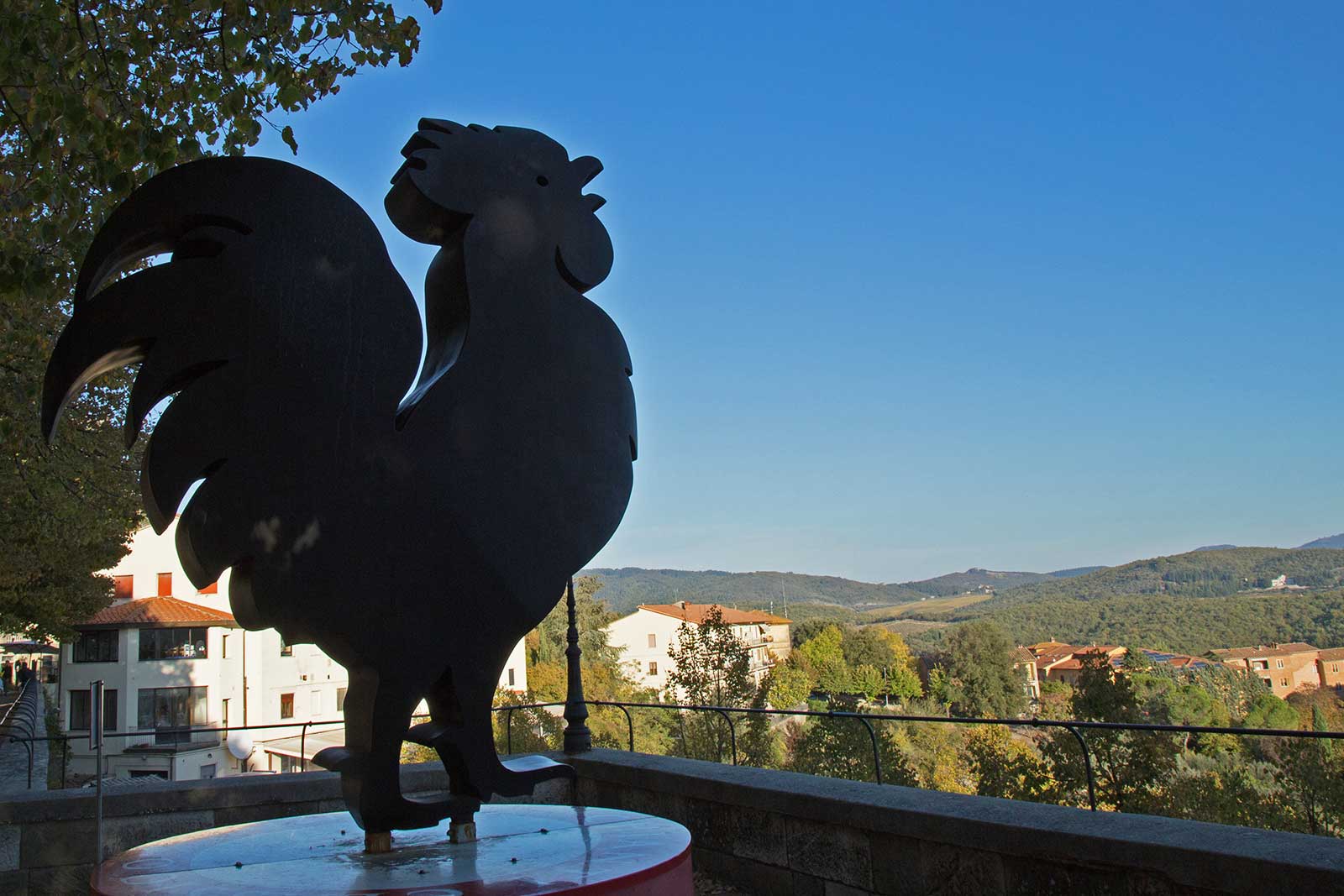 3 Reasons to Drink Chianti Classico
It is One of Italy's Iconic Red Wines – Brunello di Montalcino may fetch the higher price, but Chianti Classico's top wines often better showcase Sangiovese's inherent soul: a mix of flavors and aromas reminiscent of sour cherries and citrus with a savory meaty hint that can sometimes feel leathery.
It Can Be Fresh and Vibrant, or Structured and Age-Worthy – Chianti Classico is a spectrum, and three categories classify their seriousness. If you fall in love with it, you'll find a huge diversity of wines.
It is the History Channel in a Glass – Some of Chianti Classico's wineries are among the oldest family-owned businesses in the world. To open these bottles is to participate in a story that stretches back to the Middle Ages.
What is Chianti Classico DOCG?
Truthfully, this is one of Italy's hardest wine appellations to explain. Simply put, it is a region of regulated red wines from the hills between Florence and Siena, encompassing a varied collection of distinct terroirs centered on historical villages, broad mountain valleys, and rolling hillsides. The wines can be a blend or varietal, but Sangiovese is always in the lead, and blending partners are strictly limited to set proportions. Unlike many appellations, aging requirements are for time in bottle rather than time in oak. Three distinctive categories define the aging of the wine and are becoming a suggestion for serving context. (See section below on categories). Winemakers can choose to make wines in any of those categories as long as they meet the requirements. This, as well as the oak-aging flexibility, affords winemakers ample latitude on the outcome of their wines.
However, because of this variety, Chianti Classico offer a very wide range of wines. For some people, its a muddled picture because of this diversity, but increasingly, the region is honing its focus more and more on elevating the varietal characteristics of Sangiovese: dark and succulent cherry-fruit flavors, a citric-like acidity, and savory tones that can range from leather to bacon to smoked meat. Not all Chianti Classico wines showcase this triumvirate, but the best ones do. (See Your First-Taste section below for our suggestions).
About the Appellation and Its Wines
Before we dig into the details, it is important to refer you to our article on Chianti Classico's lengthy history.
Throughout their time, the wines of Chianti Classico have taken on many different forms. Documentation shows that many of the esteemed regional wines from the 12th century were actually white. Red wines increasingly took over, and through the 1800s there is good reason to believe that many were Canaiolo dominant. Eventually, Sangiovese's charisma won out, but not after it was blended with other indigenous red grapes, Bordeaux varieties and even white grapes at different periods of time.
Understanding this history helps explain why today's wines have such variety.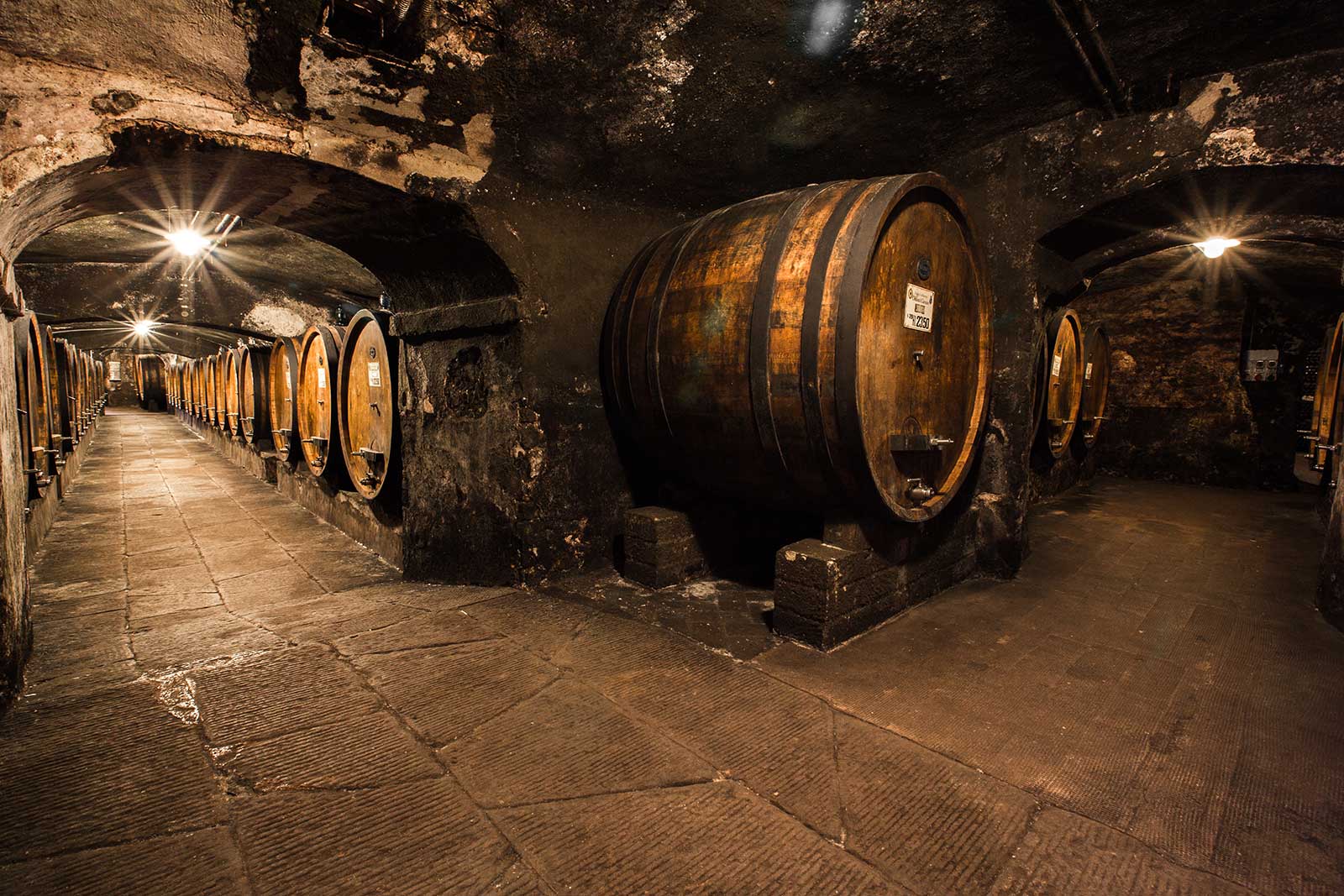 Now, on to the details on how these wines today are comprised, categorized and the contexts with which they are best served.
Blend vs. Varietal
Presently, the laws governing current releases demand that wines must contain a minimum of 80% Sangiovese with a maximum of 20% auxillary grapes allowed under the legal code.
These auxillary grapes can include Canaiolo, Colorino, Ciliegiolo, Fogliatonda, Mammolo, Malvasia Nera and Pugnitello, although Canaiolo and Colorino are the most common you will see. Canaiolo softens the edges, while Colorino adds exactly what its name suggests. In small amounts, neither grape take much away from Sangiovese, lending them a natural alchemy. However, one winemaker — Enrico Pozzesi of the fantastic estate Rodáno — told me that the warming climate of Chianti Classico is giving Sangiovese more balance and color, rendering these grapes less necessary in future blends.
There are also a few international varieties allowed as auxiliary blending partners, including Merlot, Cabernet Sauvignon, Cabernet Franc and Syrah. What these assertive and strong-willed grapes lend to Sangiovese is the subject of much debate. To my taste and interests, it is very little. The wonderful personality of Sangiovese is predicated on its orange citrus-like flavor and those distinctive meaty, savory tones. Whether its Merlot's body and tannin, Cabernet's peppery spice, or Syrah's depth, the traits of these assertive French grapes tend to render Sangiovese's most distinctive attributes mute. These wines can still be outstanding examples of the structured, robust style that has defined international taste for decades, but for a closer look at Chianti Classico's terroir, it is best to seek out the varietal or local-grape blends.
Categories
Chianti Classico also has three levels of aging requirements that producers can select. Frequently, a winery will produce two or three different Chianti Classico wines set to these categories. Some go a step further and produce multiple wines within a single category.
To explain these categories, listen to the president of the Consorzio Vino Chianti Classico, Giovanni Manetti, in this video we filmed in April 2022. A cheat sheet follows:

Chianti Classico (Annata)
Price range: typically $11–$25
Annata bottlings are simply labeled as "Chianti Classico" and require the least amount of aging before release (no sooner than October 1 of the year following harvest)
Since these wines see the least amount of oak, they often show Sangiovese's lighter side with fresh red fruits, savory inflections, and a thread of citrus through the middle that holds everything together. These wines have the widest range of versatility with food pairings.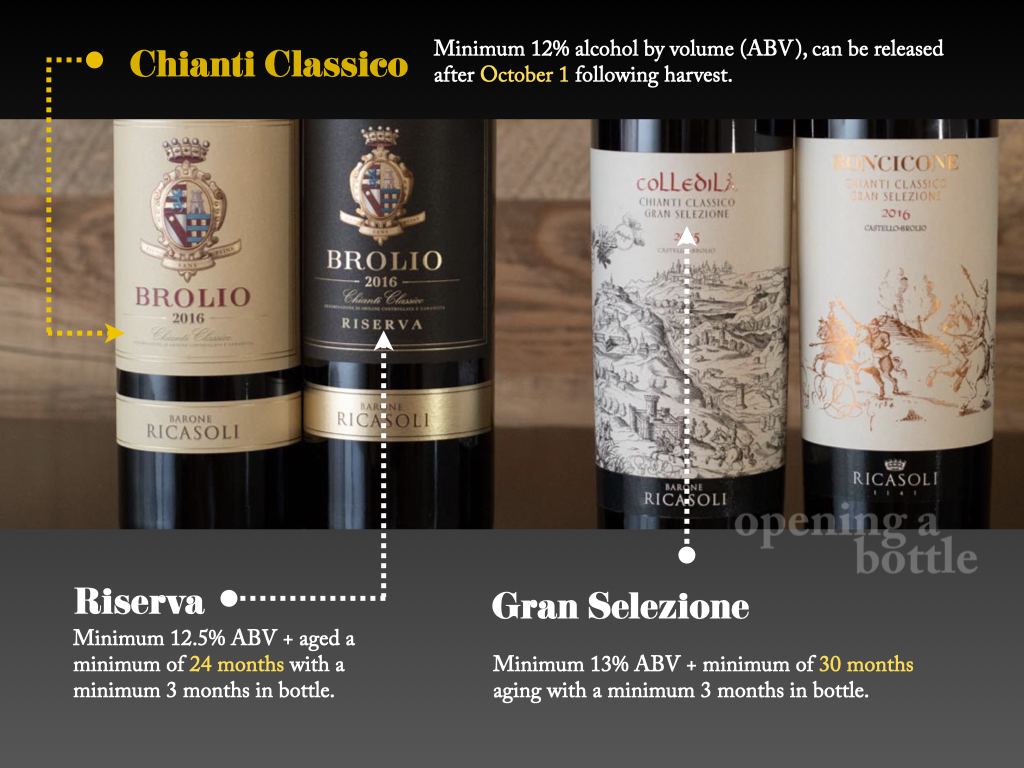 Chianti Classico Riserva
Price range: typically $25–$45
Chianti Classico Riserva requires a minimum of 24 months of aging, of which a minimum of three months must be in bottle.
Until the recent introduction of the Gran Selezione category in 2013, the Riserva category was at the top of heap. Initially, the only real distinction between the two wines was the extra six months of aging and the caveat that Gran Selezione could only be made with estate fruit. However, many producers decided to keep their top wine as Riserva, so while it would be easy to assume these wines are a "middle child," in many cases, they are the showpiece wine.
Flavors and aromas tend to be more concentrated with the Riserva category, and more structured. For food pairings, lean toward heartier and fattier dishes that typically scream "red wine tonight."
Chianti Classico Gran Selezione
Price range: typically $55-$85
Chianti Classico Gran Selezione requires a minimum of 30 months of aging, of which a minimum of three months must be in bottle. Additionally, all fruit must be estate fruit, and the blending percentage of Sangiovese must be 90% or higher, rather than the standard 80%. Another positive development: international varieties will no longer be allowed in this category with newly adopted changes.
Winemakers have increasingly looked to this category as their "single-vineyard" wine, with the name on the label often referencing a singular parcel.
Differences in taste and appearance between Riserva and the Gran Selezione are often miniscule. Some producers take those extra six months the age the wine longer in oak, and — depending on the age and size of the vessel — you can get more oak flavors with the Gran Selezione. But that's a case-by-case scenario.
One added incentive to label a wine as Gran Selezione (at least in the near-future once it clears bureaucratic hurdles in Rome) is the option to include the name of the village where the wine hails from. These UGAs (Unita Geografica Aggiuntiva) include:

Castelnuovo Berardenga
Castellina
Greve
Gaiole
Lamole
Panzano
Radda
Montefioralle
San Casciano
Vagliagli
San Donato in Poggio

There is passionate discussion within Chianti Classico to expand the UGA designation to the Riserva and Annata categories, as many producers are passionate about showcasing their terroir and identifying with their village, but not inclined to the Gran Selezione category — either because of financial and resource requirements, or a philosophical mismatch. We shall see where the cards fall in the coming years. I suspect they will open it up to all three categories in time.
Since I am not writing a book, we won't get into the distinct properties of these 11 villages here. The important take-away is that Chianti Classico has undergone a massive shift in philosophy over the last two decades: from prioritizing the blend on a winery-by-winery level to emphasizing its most unique attribute: the terroir. Whether the villages will eventually be allowed on Riserva wines or not remains to be seen, but this — along with the demotion of international grape varieties, which tend to smooth over the native varieties savory and wild edges — is a step in the right direction.
If this sounds like a lot to keep track of, it is. Chianti Classico requires a lot of education on the part of consumers. Selecting the right bottle still comes down to picking the best producers.
Your First Taste
Again, this may not be your first taste, but rather your first "informed" taste. Hopefully, with a little background on the origins of Chianti Classico, this next bottle will feel like a fresh encounter.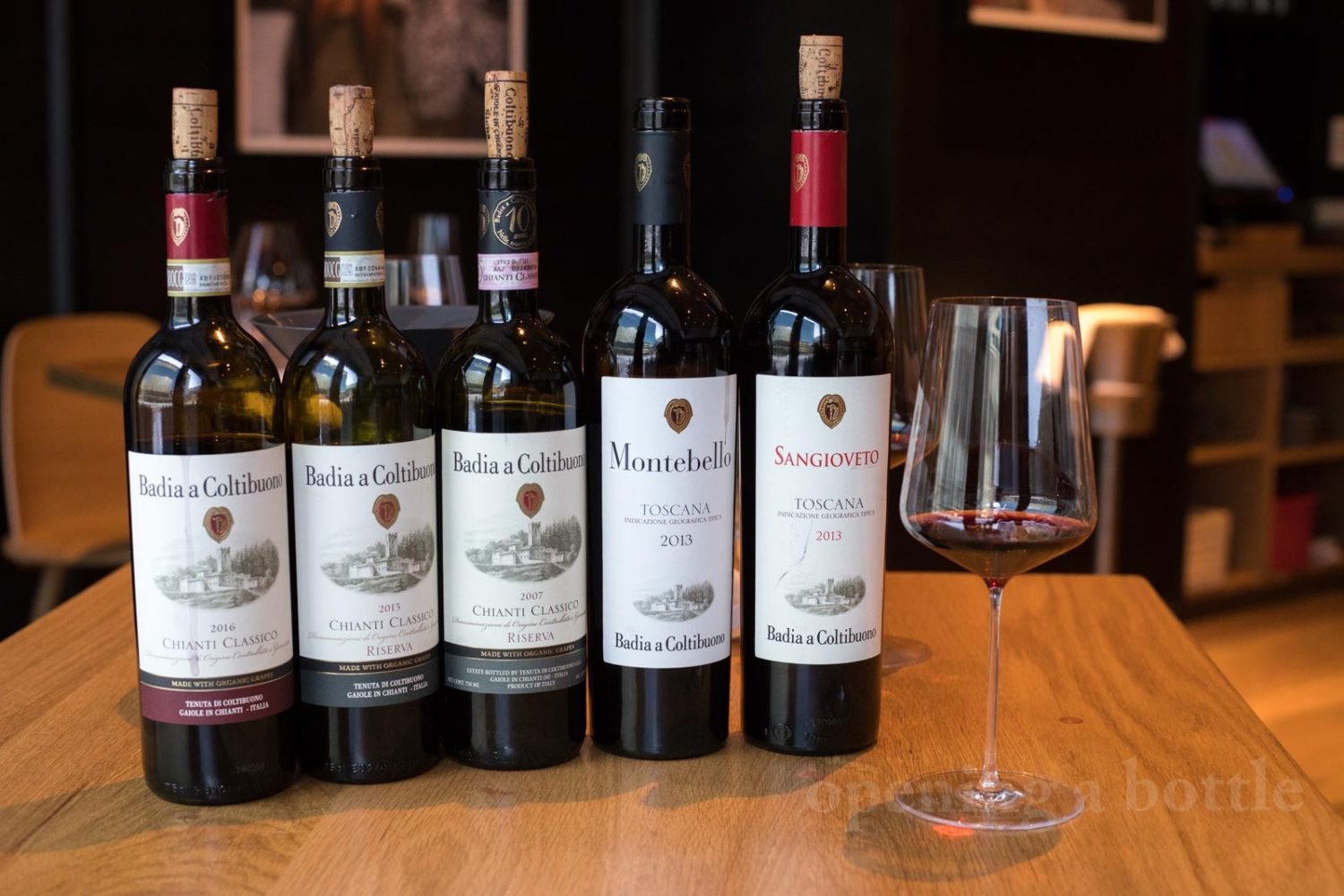 In selecting these wines, I looked for very specific things. Sangiovese is a sensitive grape that is not particularly aromatic like Pinot Noir, Cabernet Sauvignon or Nebbiolo. The aromas are there and can be absolutely beautiful to encounter, but they need space to operate. That means a splash of Merlot can easily dominate the wine and render the uniquely Chianti Classico voice mute. Oak aging is another needle that needs to be thread. I've found very few examples of Chianti Classico aged in small barrique barrels that don't speak of French oak first.
There are two elements to look for in the nose and palate that, for me, define the best Chianti Classico wines. One is an aroma on the nose and flavor component on the palate that is savory. You might liken it to leather, game or even cured meat, but it often gives the wine an edge and dimension that is distinctly Italian. It is also the first thing to go when Cabernet Sauvignon, Merlot or Syrah blended in.
The other note is a citric quality to the aromas on the nose and the acidity on the palate. Sangiovese frequently has me thinking about oranges, or in some case, the sweeter acidity of blood oranges. This element, when paired with the spectrum of cherry-like fruit, gives Sangiovese from the Chianti Classico region a great deal of momentum on the palate.
Because of these traits, the following four producers are great examples of what Chianti Classico is capable of.
Badia a Coltibuono
UGA: Gaiole
Solidly organic and traditional in the winery, Badia a Coltibuono makes wines of supreme patience and delicacy. They also age magnificently, as a comparitive tasting of the 2015 and 2007 Chianti Classico Riserva (★★★★★) showed. For this wine, Sangiovese is blended with Canaiolo, Ciliegiolo and Colorino for an elegant and timeless expression of Chianti Classico. In the younger vintages, it shows notes similar to fennel and salami, which seem to transition to menthol, mint and leather as the wine ages. At $36, it is a true standout, and a superb wine to start a cellar with.
Villa Calcinaia
UGA: Montefioralle
How Villa Calcinaia has stayed under the radar in America is a bit of a mystery to me. This producer is fantastic, and their 2016 Chianti Classico (★★★★★) may be the best annata I've come across, with every element conveying vibrancy and energy. The 2015 Chianti Classico Riserva (★★★★ 3/4) needs more time to spill its secrets, but it has outstanding potential for 10 to 15 years down the road. I have a feeling I sampled it too young. One reason Villa Calcinaia stands out among Chianti Classico's producers is their measured and controlled tannins. If elegance is a priority for you, look here first.
Tenuta di Lilliano
UGA: Castellina
Owned since 1920 by the Ruspoli family, Tenuta di Lilliano is a unique slice of Chianti Classico's past. The 460-hectare estate is mostly comprised of woodlands, with a significant portion devoted to crops and olive trees. Only 10% is vineyards, but what that 10% offers is high-quality Sangiovese which eventually leads to one of the area's benchmark examples of Gran Selezione. Their 2019 Chianti Classico (★★★★ 3/4) showed how their wines benefit from a little time in bottle, as the newer release 2020 seemed a little more closed. The same goes with their Riserva wines, so don't be afraid to purchase an older vintage if you see one.
Lilliano's 2018 Chianti Classico Gran Selezione (★★★★★) vanquished many of my doubts about the "top of the pyramid" category. Rather than showing overt oakiness, the wine gracefully presents a unique spin on Sangiovese from Chianti Classico, with floral aromatics and a citric tang more akin to grapefruit than orange. The intensity on the palate is never overbearing, and the precise tannins lend a wonderful structure.
These are ideal wines as a starting point to a deeper appreciation of Chianti Classico, but they're not exclusively the best wines. Subscribers can learn more with our upcoming Chianti Classico Tasting Report as well as the Essential Winemakers of Italy section.
---
Note: For this updated guide, I toured Chianti Classico for three days and visited 12 different wineries. With the help of paying subscribers, I funded my airfare and travel to the region, as investigating Central Tuscany was a high priority for me post-pandemic. Knowing my high level of interest in researching the area for editorial, the Consorzio Vino Chianti Classico offered quite a bit of assistance while I was there, both in terms of travel and food costs within the region, and in terms of setting up appointments. This afforded me tremendous access to not only interesting and candid conversations with producers and the consortium, but also a breadth of wines to taste. Learn more about my editorial and samples policy.