5
min read
Grenache blends are easily among my favorite wines and — more importantly— they are among my wife's favorites, too. Their striking red fruit flavors and often herbaceous nose make them an ideal complement to the rustic cuisines of France, Italy, Spain and even Morocco — which is the kind of cooking we try to emulate at home when we can.
In fact, we seek this kind of cuisine when we dine out, too. So whenever a restaurant's wine menu is in my hands, I'm taking a pass at the Grenache blends.
Last week, we got a night off from the dinner-and-bedtime routine with our girls and ate out at tiny Bistro Barbès in Denver's Park Hill neighborhood. While the bistro takes its inspiration from the Paris neighborhood of the same name, on this night, the menu showed inspiration from North Africa as well.
At the bottom of the wine list was a small selection under the heading "From the Pope's New Castle." Given the swirl of spicy aromas emanating from the kitchen, it seemed like the ideal night to order a bottle of one of the world's most famous Grenache blends: Châteauneuf-du-Pape.
3 Reasons to Drink Châteauneuf-du-Pape
You like wines that boast red-fruit aromas and flavors and plenty of spice – Châteauneuf-du-Pape certainly shows this, as well as herbaceous notes with certain selections.
You like your wines ripe and with a bit of alcohol – The part of Provence where Châteauneuf-du-Pape resides is hot — like oven hot. Only cooling Mediterranean winds keep the grapes ripeness in check. As a result, Châteauneuf-du-Pape rarely clocks in under 14% ABV.
You are a sucker for prestige – Say what you will about $100+ bottles of wine (which is what many of the better bottles of CdP cost), but Châteauneuf-du-Pape has a compelling history behind it (see below).
About the Appellation and Its Wine
Many French wine regions carry a big stick on the marketplace, and Châteauneuf-du-Pape is certainly one of them. After all, this was "the wine of the popes" after Pope Clement V moved the papacy to Avignon for a time in the 1300s. Clement V and subsequent popes — especially John XXII — loved The Drink, and they promoted viticultural in the surrounding countryside to satisfy their thirst. Nowhere was this more intensely done than in the area we now call Châteauneuf-du-Pape. Today, the ornate textured crest on the neck of most Châteauneuf-du-Pape wines seems to allude to regal contents within.
But its not that simple.
Made up of anywhere from three to 13 grapes, the wines from this appellation are blended together in cuvées that vary from year to year. The backbone is always Grenache. Usually, winemakers will then complement it with Mourvèdre and Syrah, as well as a splash of Cinsault, Muscardin, or any of the other grape varieties allowed. Occasionally, you will find winemakers who are more aggressive with Mourvèdre for its color and tannic-streak, or who throw the whole kitchen sink into the blend, such as the famous Château de Beaucastel, who insist on using all 13 of the originally permitted varieties.
As a result of this spectrum of grapey-ness, Châteauneuf-du-Pape is not a certain thing. You can have an average bottle (usually overpriced for what you get), or you can have an off-the-charts, legendary bottle (and pay for it as well … I've yet to do this). It all depends on your taste, and the taste of the individual winemaker and how they dialed in the cuvée.
In fact, by most accounts, Châteauneuf-du-Pape is an appellation that is all over the map (pardon the pun). For a wine-shopper like me, finding a great bottle can require as much knowledge of the area, its winemakers and its vintages as finding a Napa Valley blend to my liking.
Your First Taste
Earlier this year, we drank a bottle of 2011 Caves Saint-Pierre Châteauneuf-du-Pape (★★★ 1/2) which I'd bought at Trader Joe's. It cost $34, but did not exceed a recent bottle of Gigondas (a nearby appellation with a similar focus on Grenache blends) that we had also recently enjoyed for $10 less. In fact, the Gigondas was a good deal more interesting, with lots of counter-balancing aromas and a surprising orange-peel note that caught my attention.
I've had bad luck with wines from Trader Joe's, especially cheap ones from usually expensive Old World appellations. Maybe I needed a do-over on the "CdP."
So fast-forward to last week, and our dinner at Bistro Barbès. The wine we ordered was a 2010 Léon Perdigal Châteauneuf-du-Pape "Réserve des Argentiers," and it was quite a bit better, with more evolution as it breathed. It was surprisingly light at first sip with our salad, then deep and rich when the entrees arrived. And the aromas and flavors it presented really worked nicely together: raspberry, tart cherry and licorice offset with a bit of pepper and almond. It was a wonderful pairing with the cumin-scented couscous and Moroccan carrots on my plate.
But if anything, the wine lacked surprise and excitement, especially given my high expectations. The best Châteauneuf-du-Pape are said to exhibit notes reminiscent of garrigue, the local name for the Proveçal underbrush and its herby scent. Sounds cool, but I've yet to come across it in the two bottles we've had. Furthermore, since the Léon Perdigal cost us $75 (it would have been around $30 in a retail store), I felt a little burned by this bottle.
Would I drink "CdP" again? Sure, but it won't be on a whim off a wine menu anytime soon — not without a lot more knowledge on the producer and how they stack up to other winemakers from Châteauneuf-du-Pape.
For instance, I'm currently reading Kermit Lynch's wonderful book "Adventures on the Wine Route," and his profile of the Brunier brothers of Domaine du Vieux Télégraphe in Châteauneuf-du-Pape — who opted to leave their wines unfiltered per Kermit's request to better showcase the terroir of their vineyards — would have me seek out their bottles in a minute. The problem: their Châteauneuf-du-Pape costs $50 … for a half-bottle.
Like Burgundy, its just too pricey to impulse buy a Châteauneuf-du-Pape.
2010 Léon Perdigal Châteauneuf-du-Pape "Réserve des Argentiers"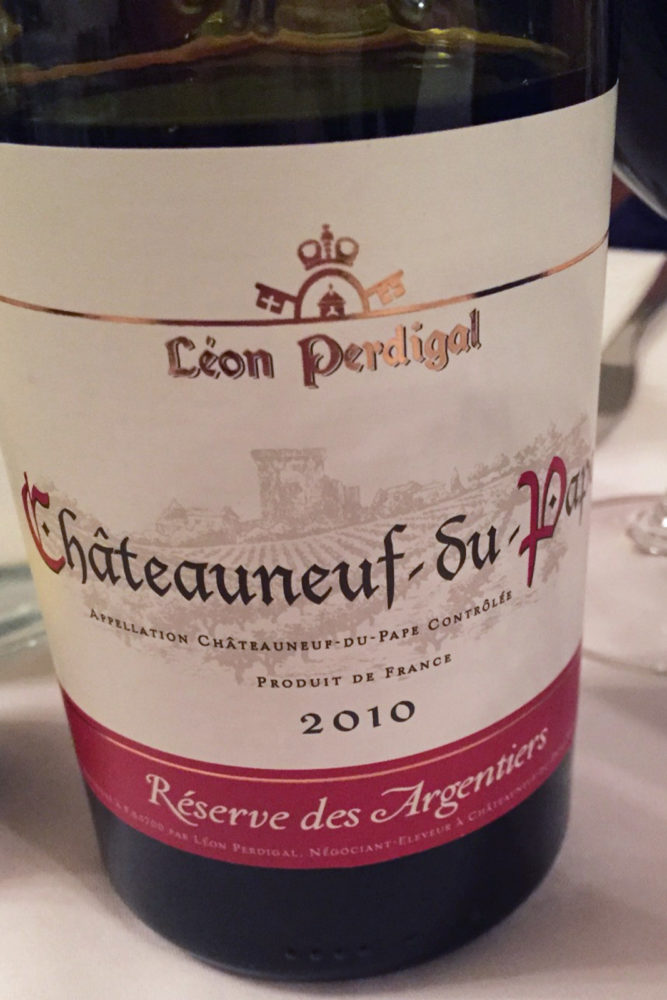 Châteauneuf-du-Pape, France
Grapes: Grenache (65%), Mourvèdre, Syrah and Cinsault
Alcohol: 14%
Rating: ★★★★ (out of five)
• Aromas, Palate & Structure: ★★★★
• Food friendliness: ★★★★
• Value: ★★★
Tasting notes: A pleasant, well-rounded and drinkable red wine that displays lively fruit and increased depth as it opens up. While the nose was a bit supressed, it eventually showed off aromas reminiscent of raspberry, tart cherry, licorice, almond and a hint of peppery spice. Pleasant and even-keeled on the palate, but lacking a bit in personality.
Recommended for: Plays well with dishes filled with North African spices. Roasted chicken and cured meats would also fair well.
---
Note: This article is under consideration for a rewrite due to personal experience. Stay tuned!
Open a Bottle in Your Email
Subscribe to our monthly email digest.
---