5
min read
Our first-taste guide series has tended to explore slightly off-the-beaten path wine regions in France and Italy, but now the time has come to sink our teeth into a few legendary regions. This started with Amarone della Valpolicella last month, and now, Chablis.
Oddly enough, as much as I drink French wine these days, I have not had Chablis in years. In fact, the only other time I had it, it was before I really paid attention to wine. It's an intriguing one that often promises expression of terroir, uniqueness and some perfect seafood pairings.
So let's dig in, learn a little more, and see how it goes.
3 Reasons to Seek Out Chablis
You love Chardonnay – Particularly unoaked Chardonnay with its leaner and more refreshing style. But even enthusiasts of the oaky Chardonnay should give Chablis a shot sometime just to see how it stacks up.
You hate Chardonnay – Perhaps you'll never love Chardonnay, but I would wager that Chablis would still offer at least a few surprises to make it worth your time.
You live on the coast – Which I don't. But if I had access to fresh shellfish, crab, lobster, striped bass and the like, Chablis would be served a lot more at my house. It's a wonderful pairing.
About the Appellation and Its Wine
Chablis is located in Northern France, in between the cities of Dijon and Paris. While it is technically part of Burgundy (yet closer to Champagne than Beaune), it is often separated from the Burgundian conversation in a similar way as Beaujolais. Perhaps that is because it is truly its own thing.
Because of its slightly colder climate and the unique make-up of its soil (a limestone clay composite), Chablis is leaner and tarter than the other Chardonnay from Burgundy, such as Mâconnais, Bourgogne Blanc and the Côte de Beaune. Compared to California Chardonnay, it doesn't even seem like its from the same grape.
Some sections of Chablis are located on an ancient sea floor. If you were to sink a shovel into the ground in some of the Grand Cru vineyards, you might find fossilized oyster shells. Those supposedly in the know claim these shells lend Chablis its intense, mineral-like quality (some even go so far as to call it "briny," which is somewhat romantic). After my first taste, I think Chablis brings out the natural attributes of seafood in a compelling way, but it doesn't taste like brine at all. Nice try.
A majority of Chablis is unoaked and fermented in stainless steel tanks. Like Burgundy, the quality of Chablis is tiered into cru — Grand Cru, Premier Cru and Normal Cru (OK, they really don't call it Normal Cru, but I wish they would … it's labeled as just Chablis). There is also Petit Chablis which comes from low-lying, less prestigious surrounding areas.
Sometimes, Grand and Premier Cru wines see a bit of oak-aging, but they're not heavy in their use of it. Another note you may see on the label is "Vieilles Vignes" which is a way of noting the wine comes from grapes grown on old vines, which yields more character and quality. Although, this is usually a distinction that makes it only on the labels of Chablis, not Grand Cru or Premier Cru Chablis.
My First Encounter
After reading about the oyster shells in the soil earlier this spring, I put Chablis on my shopping list. At my local bottle shop, they recommended the 2013 Francine et Olivier Savary Sélection Vieilles Vignes Chablis.
I promptly asked if they could find me a wine with a longer name. They could not.
Even though this wine is not a Grand Cru or Premier Cru bottling, it still cost $30, which was about as much as I'd ever want to spend on a Chardonnay. That is, until I sampled the wine this past weekend. My goodness, was it beautiful. The aromas were potent and underscored the tartness and flowery flavors to come. There was a lemon custard quality, a baked bread quality, a little bit of chamomile tea, and waves of honeysuckle. Some wines offer loads of complexity, but harmony is another thing. This was harmony.
And despite the potency of the wine's aromas, its texture and overlapping flavors spoke more of finesse than forcefulness. Some Chardonnay — particularly oaky ones from Napa and Sonoma — cut through your senses like a chainsaw. This was soft and inviting, with a light touch of oak showing. I could have consumed a magnum of it without getting fatigued (though that would have left me quite drunk).
Next Steps
A few nights before we opened the Chablis, I dined at Brexi in Aspen where I enjoyed a glass of Romuald Petit Bourgogne Blanc. It was satisfying and easy, though perhaps not as thrilling as the Chablis. Nonetheless, both wines underscored how different the Chardonnay of Burgundy is from the various styles of New World Chardonnay that we're all familiar with, even those from the often-likened-to-Burgundy region of the Willamette Valley.
So perhaps for a next step, I'll be pursuing more Burgundy Chards, starting with the more affordable regions of Pouilly-Fuissé in the Mâconnais, white Beaujolais and Côte Chalonnaise. If these early findings are confirmed, maybe we'll step up the Cru ladder a bit. It has been a while since I had a white wine as thrilling as this Chablis.
2013 Francine et Olivier Savary Sélection Vieilles Vignes Chablis Chardonnay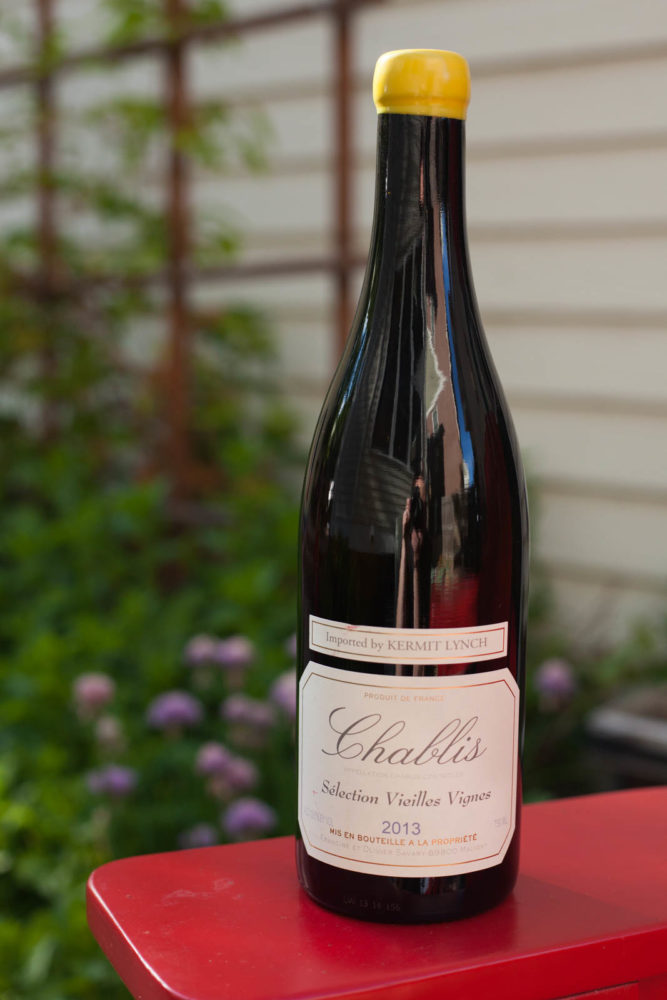 Chablis, France
Grapes: Chardonnay 100%
Alcohol: 12.5%
Rating: ★★★★ 1/2 (out of five)
• Aromas, Flavor & Structure: ★★★★ 1/2
• Food-friendliness: ★★★★ 1/2
• Value: ★★★
Tasting notes: A subtle, light-as-air and elegant wine that reveals its qualities slowly over the course of a bottle. The aromas are wonderful and quite pronounced: notably lemon custard, honeysuckle, tea and baked bread. The palate reveals a bit of depth, but is harmonious. Easy to drink, never fatiguing the palate.
Recommended for: I enjoyed this wine with a little more chill than I usually would. Maybe that suppresses the aromas a bit, but its very refreshing this way. We enjoyed it with crab cakes, caprese salad and sweet corn. Superb for summer nights, clam bakes and grilled lobster.
---
Additional Reading
Open a Bottle in Your Email
Subscribe to our monthly email digest.
---