6
min read
If you read Opening a Bottle frequently (and gee, I sure hope you do … and thanks, by the way), you will know by now that I have a major "thing" for Italian wines. But you've also probably triangulated that for every one post I write about Tuscany, five get written about Piedmont. And even then, you'll notice that I've completely neglected some of Tuscany's most famous wine regions, particularly those of the Maremma (Tuscany's coast).
That's about to change. Because despite their use of international grapes — which for me defies what makes Italian wine so wonderful, namely it's abundance of indigenous grapes — these wines can still be very, very interesting.
Let's take a little bit of time to explore these co-called "Super Tuscans" — the not-quite crime-fighting, yet-still-somehow-distinctly-Italian brethren of Bordeaux — by focusing on the wines of Bolgheri.
3 Reasons to Try Bolgheri
If you like Bordeaux-style blends – At their heart, Bolgheri wines are really French in their composition, relying heavily on the Bordeaux trifecta of Cabernet Sauvignon, Merlot and Cabernet Franc, among other grapes.
If you like California Cabernet – If you are a fan of Cabernet Sauvignon (and I'm assuming you became that way because of California) then you ought to try Tuscany's take for comparison sake. Do it in the name of research.
If you like Chianti Classico or Brunello di Montalcino – Again, not because Bolgheri tastes anything like Chianti, but if you find yourself enjoying Tuscany's wines, sampling a Bolgheri will better complete the picture for you on what Tuscan red wine is all about.
About the Appellation and Its Wine
Unlike the regions featured in our other First Taste Guides — which have largely been appellations with stringent guidelines on grape use, aging requirements and winemaking technique — Bolgheri is quite open ended. The regulations here are about as lax as they come in Italy. To be labeled "Bolgheri Superiore DOC," an individual wine can feature no more than 70% Sangiovese, must have between 10% and 80% Cabernet Sauvignon, and up to 80% Merlot. While there are many more allowances and guidelines (that's just the start), the point is that those are some fairly broad percentages.
Furthermore, the wine needs to be aged in oak for a minimum of 24 months, so you can expect that first sip of Bolgheri to be a bit furry with oaky tannins.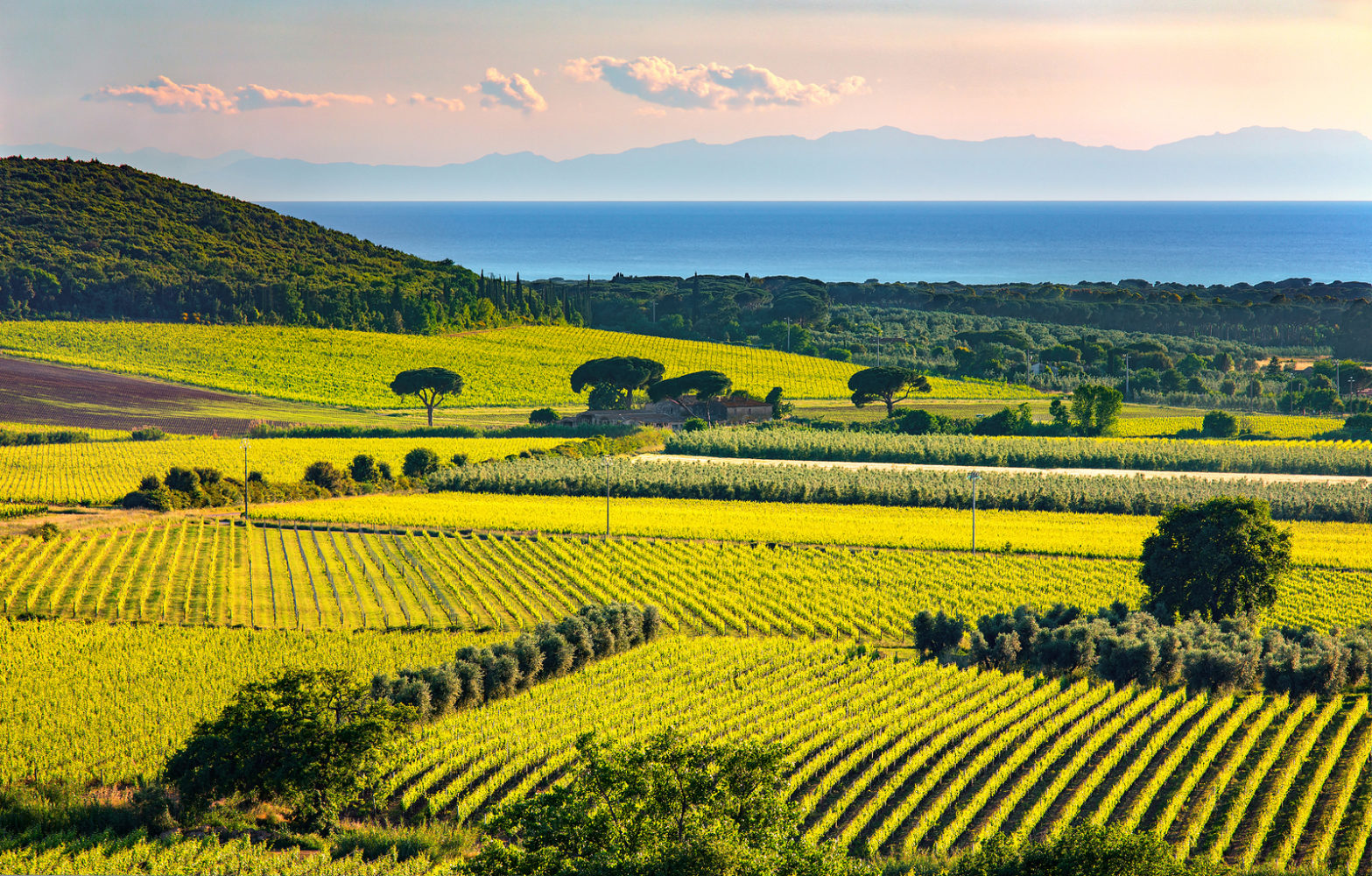 What makes Bolgheri oddly interesting (at least from an Italian wine standpoint) is the lack of tradition. As recently as the 1970s, most of the land in the Maremma region was used for cattle and livestock rearing. This is not unlike many of California's premier wine regions, where rolling hills of grass and mixed woodlands were first seen as ideal for ranching before anyone looked at them through wine goggles. Because of this, approaching Bolgheri wines is more like approaching a bottle of Napa Cabernet: Who is the winemaker? What style do they offer? What is the mix of grapes they use?
So how did the pasture land of Tuscany emerge as some of the most coveted winemaking real estate on earth? It started modestly during the height of World War II, when the Marchese Mario Incisa della Rochetta planted some Cabernet Sauvignon and Cabernet Franc vine trimmings that he'd acquired from his friends at Château Lafite-Rothschild in Bordeaux. Until the late 1960s, they would be used to make a table wine for the family, but eventually, they began to age and bottle wines under the label Tenuta San Guido, and their leading wine — named "Sassicaia" or "rocky place" in Italian — became one of Italy's most iconic wines when it won a Decanter Magazine tasting of Bordeaux-style wines in 1978.
At the time, Italian wines were seen as rustic and basic by much of the wine world. Not anymore.
To this day, "Sassicaia" is one of Italy's most prestigious wines, earning its own appellation designation (Bolgheri Sassicaia DOC), which is the only DOC located completely within a single estate. Oh, and it costs $175–$200 per bottle.
First Taste
My first taste of Bolgheri was actually Sassicaia, and the vintage was from the early 1990s. My friend had brought the bottle with him on our trip (it was a gift from his father), but I was wrestling with the last stages of a wicked cold at the time. I was in such bad shape (and probably shouldn't have had a glass) that I honestly remember very little of the wine.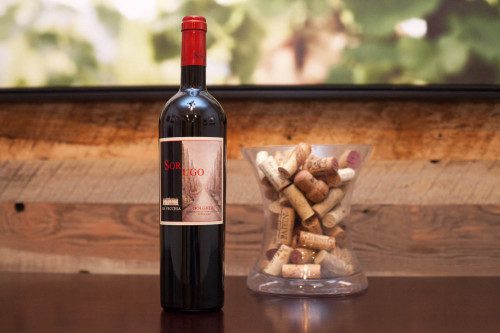 Since then, I've barely had a drop of Bolgheri. Because of its use of international grapes, I always felt like there were other more appealing and affordable options any time I was given the choice.
So my first true taste of Bolgheri didn't come until last week with the 2012 Aia Vecchia Sor Ugo.
By that, I mean it was the first time that I had a Super Tuscan that made me understand the hype. Here was a bottle that embodied the easy, accessible juice of a quality Cab-blend, and yet showed off a very distinct note of wet sand and leather that could only be Italian. It was this last part that really elevated the wine for me. Cab blends are far too often the most anonymous and predictable of wines, and yet, this one conveyed something: an idea of where it came from, a subtlety that was missing from so many Cab-blends from before. And its excellence was further confirmed after it past the true test of any casual home drinker: I recorked the last two glasses, and returned to it the next night, only to find its structure intact, and its beauty still present.
So I guess it is time to add Bolgheri to the list of wine-regions worth further research.
2012 Aia Vecchia Sor Ugo Bolgheri Superiore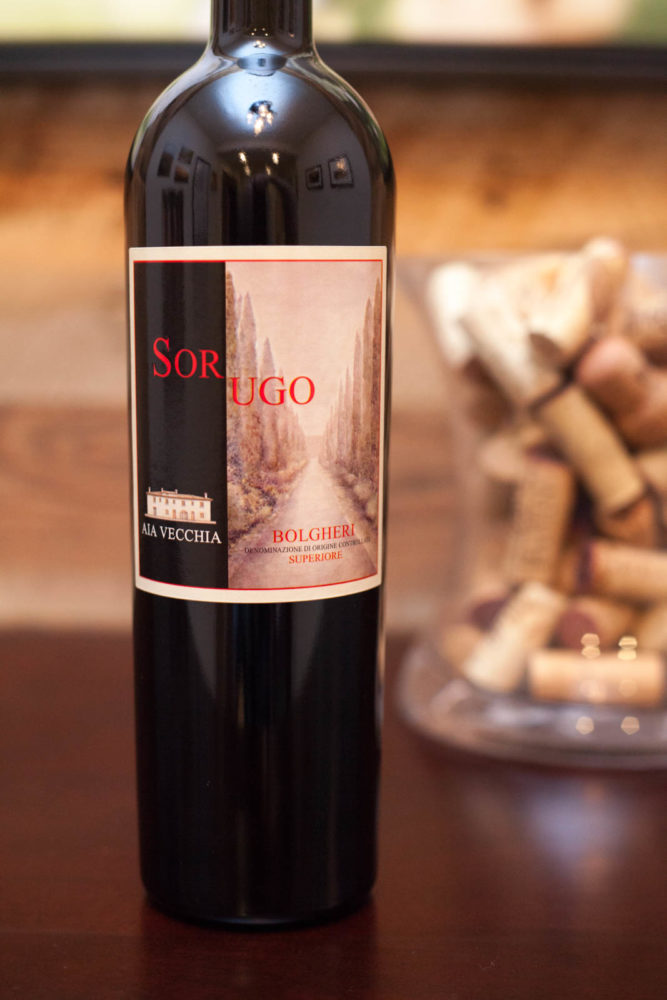 Bolgheri DOC Superiore; Tuscany, Italy
Grapes: Cabernet Sauvignon (50%), Merlot (30%), Cabernet Franc (15%), Petit Verdot (5%)
Alcohol: 14.5%
Ratings: ★★★★ 1/2 (out of five)
• Aromas, Flavor & Structure: ★★★★ 1/2
Food friendliness: ★★★★
• Value: ★★★ 1/2
Tasting notes: A massive, bold yet distinctive Cabernet Sauvignon blend that demonstrates a few notes of what it means to be Italian. Yes, there's lots of fruit (cherry, blueberry, currant) as well as a chocolate/mocha note that will please most any crowd, but where it really shines is on the nose, and again on the finish, where its powerful body and chewy tannins ease a little to reveal recollections of rain (wet sand) and well-worn leather. Its here that Sor Ugo is intangibly Tuscan.
Recommended for: With the Maremma being cattle country, one could do no wrong with a Florentine steak and a glass of Sor Ugo, but I think it would also fair well alongside a Swiss cheese and sautéed-mushroom burger. Let this one breathe for an hour before sipping.
Note: Aia Vecchia Sor Ugo provided as a sample by DallaTerra Winery Direct. Learn more about our editorial policy.