6
min read
There is no repeating a first kiss. That moment where two people lean forward, embrace with their lips, and share each other's breath for the first time is among the most electric moments in anyone's life.
Wine can't rival that. It is not even close.
One experience is vital; a potential starting point to a lifelong love. The other is a sensory delight that you may — or may not — remember for decades to come.
But if there is a commonality between a first kiss and a first sip, it is that they cannot be re-created.
So, knowing this, I eagerly uncorked my first Amarone della Valpolicella last weekend. It cost me $49, which is nothing to sneeze at. But in fact, that's pretty low on the price spectrum as far as Amarone goes. If you are going to drop that kind of cash on any bottle, you best be paying attention when you pull the cork. And in return, the wine better be worth it.
Such is the alchemy of the moment when you open a fine wine for the first time. Given what you spent, the moment feels fraught with risk. Just like a first kiss.
4 Reasons to Seek Out Amarone
You are in love with Italian wines – If so, you really ought to try Amarone at least once. Like Barolo and Brunello di Montalcino, you won't be drinking it often. It is too powerful and too expensive to open on just any night. But it owns a unique place in the fresco-covered dome of Italian wines. To know this one means knowing where it sits in relation to the others.
You like bold red wines – It doesn't taste like Bordeaux, California Cabernet Sauvignon or Barolo, but like those three, it is a heavy hitter. Rich, loud, spine-tinglingly flavorful.
You don't mind alcoholic wines – Because of how it is made (we'll get to that), Amarone runs between 15 to 16 percent alcohol. That's enough to place it in "after-dinner territory." Conversely, if you don't like wines this high in alcohol, look elsewhere. Your money can be better spent.
You collect wine – Amarone ages well. If you love it at first taste, it promises to reward you with ever-more-impressive attributes in 10 to 20 years time.
About the Appellation and Its Wine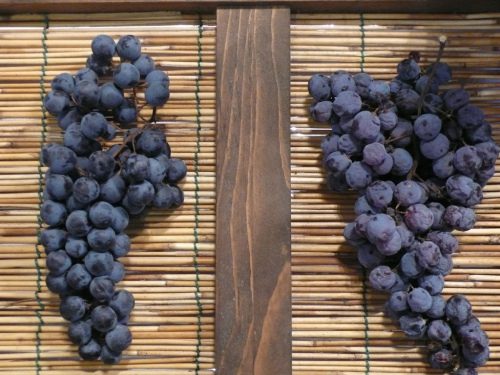 Amarone della Valpolicella hails from the shores of Lake Garda just outside Verona in the province of Veneto, and true to form for Italy, it is made from indigenous grapes you won't find anywhere else.
The three primary grapes used in Amarone are Corvina (a black grape whose name loosely translates to "crow"), Molinara and Rondinella. Corvina contributes a signature bitter note to Amarone, while Molinara lends an acidic touch. Rondinella is the workhorse grape: it grows in abundance and is resistant to lots of diseases, and helps to round out the blend by contributing to a full, plush body.
Among the many unique traits of Amarone della Valpolicella, the most important is how it is made, which is known as appassimento. Winemakers select the best grapes from the best sites, and then store them for several months in special racks so that the grapes dry and the sugars concentrate. Essentially, Amarone is almost raisin wine. Since most of the juice in each berry evaporates, it takes a lot more grapes to make a single bottle — a primary reason Amarone rarely costs less than $50.
A secondary reason for that price tag: demand.
Your First Taste
While poking around on wine.com a couple of months ago, I came upon the 2010 Masi Costasera Amarone della Valpolicella Classico. Given that it was for sale for under $50, I opted to splurge and add it to my cart.
I had read extensively about Amarone after having a Rosso Veronese IGT from Zenato called "Alanera" that was oh-so-close to an Amarone (i.e. it broke the rules here and there), but more affordable and accessible. I loved that wine, and was eager to see if the Costasera elevated my experience.
The Costasera has enormous presence, and perhaps more complexity in its aromas. True to the hype, it was bold, rich and alcoholic, but it wasn't as concentrated as I expected. Given that it takes 23 pounds of grapes to make one bottle of Amarone, you would expect a noticeable difference in concentration, as if the flavors and aromas and tannins were crammed into each bottle. Since the grapes are also susceptible to botrytis during the drying process, Amarone can sometimes present oxidized flavors such as resin. The Costasera had none of these. Instead, it was an evenly balanced, refined wine that recalled violets, prunes, dark chocolate and sandalwood.
It struck me as a crowd-pleaser, and a gentle introduction to a category of wines that — I imagine — can be a little overwhelming to newcomers.
Next Steps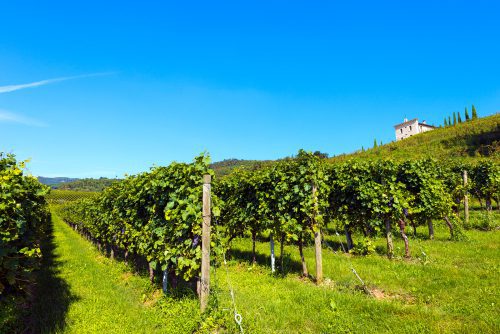 Among Italy's fine wines, there is always a tension between modern and traditional winemaking styles, with Barolo being the most noticeable example. That clash of styles pertains to Amarone della Valpolicella as well: modern winemakers aim for shorter periods of drying, while traditionalists hold off longer. Masi falls more into the modern school due to the sophistication of their grape-drying efforts. So for me, the next step is to seek out an Amarone from a traditional producer such as Quintarelli, Villabella or Begali. But given the price of these bottles — especially Quintarelli — I won't be doing this anytime soon.
In fact, I'd have to think long and hard about whether I could justify buying the Costasera again just because of the price. If I'm heading into that price range, it better blow me away. But if I do come back to Amarone, perhaps aging the Costasera of another "more affordable" bottle — regardless of style — would be an intriguing next step, just to see how Amarone develops complexity over time. As I drank the Costasera, I couldn't help but wonder if it would relax and reveal more with substantial aging.
Soooo, tune in sometime in 2025! I'll let you know how it goes.
2010 Masi Costasera Amarone della Valpolicella Classico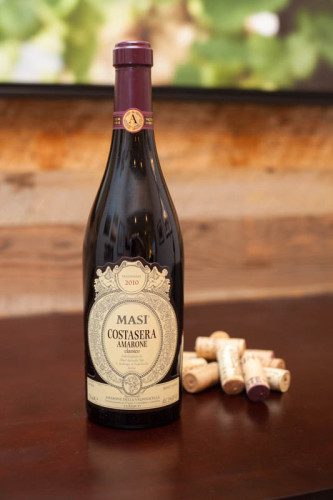 Amarone della Valpolicella DOCG, Italy
Grapes: Corvina (70%), Rondinella (25%), Molinara (5%)
Alcohol: 15%
Rating: ★★★★ (out of five)
• Taste & Aromas: ★★★★ 1/2
Food Friendliness: ★★★ 1/2
• Value: ★★
Tasting notes: Wonderful and rich. The first aromas that hit you are violets and a stinging and sweet whiff of pipe tobacco. Eventually, sandalwood and plums comes through on the nose. The palate takes in waves of dried cherries, prunes, bitter dark chocolate, a mineral touch of stone and the distinctiveness of vanilla. Surprisingly more acidic than sweet given the appassimento method, yet nicely balanced.
Recommended for: Ideal special occasion gift for your Dad or a friend on a milestone birthday. Should age nicely, but drinks pretty well now. After all, few things are more awkward than gifting wine with the caveat "sit on this for a decade."
Note: This editorial is under consideration for a rewrite due to new experiences. Stay tuned.