3
min read
I suppose it was inevitable: I'm beginning to take an interest in French wine. For some, it's their starting point. For others, it is the nucleus.
I, on the other hand, find the French language to be as difficult to interpret as Icelandic.
I have been familiar with Bordeaux and Burgundy, Cotes du Rhône and Champagne, Chablis and Beaujolais — as names. But until recently, I wasn't even aware of what grapes were common in these wines, or even what made them special. And scanning a French wine label for an idea of what I might be buying? Yeah, right.
Here's how lost I've been when it comes to French wine: On a vacation to Barolo in 2012 with our friends, Adam and Tess, I was presented with a glass of 18-year-old Burgundy. Adam brought the bottle along — a gift from his dad, who is an avid collector — and we had even seen the same bottle on a wine list in Orta San Guilio a few nights before. It was selling for an ungodly figure.
That bottle was a 1994 Domaine Mongeard–Mugneret Grand Echezeaux Grand Cru. Everyone of those words meant nothing to me then. They mean only a little more to me now.
My point is that our perception drives our experience. I don't have a drop of Gallic blood in my lineage, I have never traveled to France, I've rarely dined at a French restaurant, and I never took a semester of high school French. My palate has simply gravitated elsewhere.
That, and France's universe of wine is so overwhelming and detailed, it has had a high threshold for entry.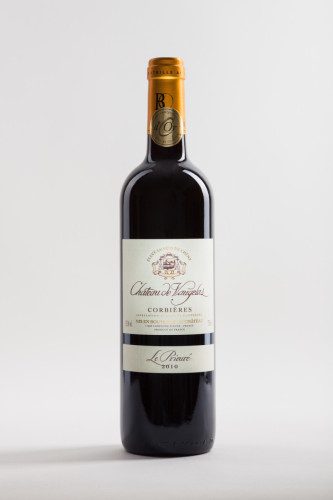 But that's beginning to change, thanks to The Concise World Atlas of Wine by Hugh Johnson and Jancis Robinson. (If you're a wine nerd, I can't recommend this book highly enough. It's use of detailed maps to show the origin of the world's great vineyards is fascinating). Out of curiosity, I started to peruse the French chapters recently, but rather than dive into the crus of Burgundy and domaines of Bordeaux, I sought out info on areas that seemed more like Italian or Spanish wine regions in terms of simplicity. Corbières, in the Western Languedoc region of Southern France, piqued my interest because of it was described as an area of "geologic chaos." I made a note for the next time I shopped at Argonaut.
And so, a couple weeks later I ended up with a bottle of 2010 Chateau Vaugelas "Le Prieuré," which subsequently ended up open alongside our buffalo burgers last Friday night. What a pairing. The burgers were about 1/3 pound each and decked with white cheddar, sauteed onions, Pfirsich mustard (a local variety from the Mosel) and pepperoncinis. No sides, just burger. The earthy Corbières had enough decadence to match this sinful tower on a bun, while the natural, raspberry-like sweetness cut through the heartiness of the buffalo.
So I'll be working my way into France from the backdoor: first Corbières, then Cahors and Vacqueyras, and eventually I'll crawl my way up the Rhône to Chateauneuf-du-Pape and l'Hermitage to Burgundy. It might take decades, and who knows? Maybe someday I'll end up there.
2010 Chateau Vaugelas "Le Prieurè"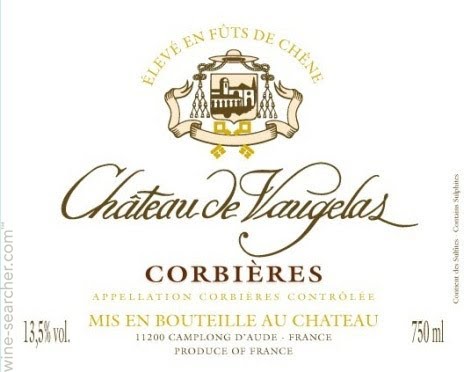 Corbierès
Grapes: Syrah (35%), Grenache (30%), Carignan (30%), Mourvèrde (5%)
Alcohol: 13.5%
Rating: ★★★★ 1/2 (out of five)
Tasting notes: Aromas of a woodsy, wild raspberry patch as well as notes of flowers, tinges of balsamic. On the palate, wonderfully balanced with raspberry, wood and cocoa … a nice combo to linger with on a long finish.