6
min read
When my dad was my age, he would visit fly-fishing shops with considerable frequency. Lord knows he didn't need a new fly rod, or a new reel. And since his fly-tying room was so amply stocked with materials, he didn't need to buy flies.
I didn't get it. Why was he spending so much time at boring fly shops?
Fast-forward to now, and I do the same thing, only with my local wine shop. It doesn't matter how amply stocked my home wine cabinet is, I still go — to bullshit with the owners and let my mind wonder with the possibilities. Maybe its the camaraderie, or just needing a break from the house, but in these outings there are shades of my father, for sure. I guess the only real difference is that I don't drag the kids along. (I can't: they're not allowed in by law).
Anyhow, a few weeks ago at my local wine shop — on a night when I didn't need any wine, but ended up there anyway — the manager was pouring a flight of wines from a Spanish winemaker that was new to his shelves, and he was particularly excited. The owner, Carl, likes to wax poetic while describing a wine, but Nico, the manager, is a bit more reserved and to the point. As Nico poured the 2013 Clos Pons "Sisquella" for me — a white wine with an inviting color that seemed to glow in the dim light — he noted, somewhat boldly, "I can't liken this wine to anything else I've had."
Neither could I. I didn't bother to find out what grapes it possessed, or where its origin was: Keep the present wrapped, I though to myself, and set it aside for checkout.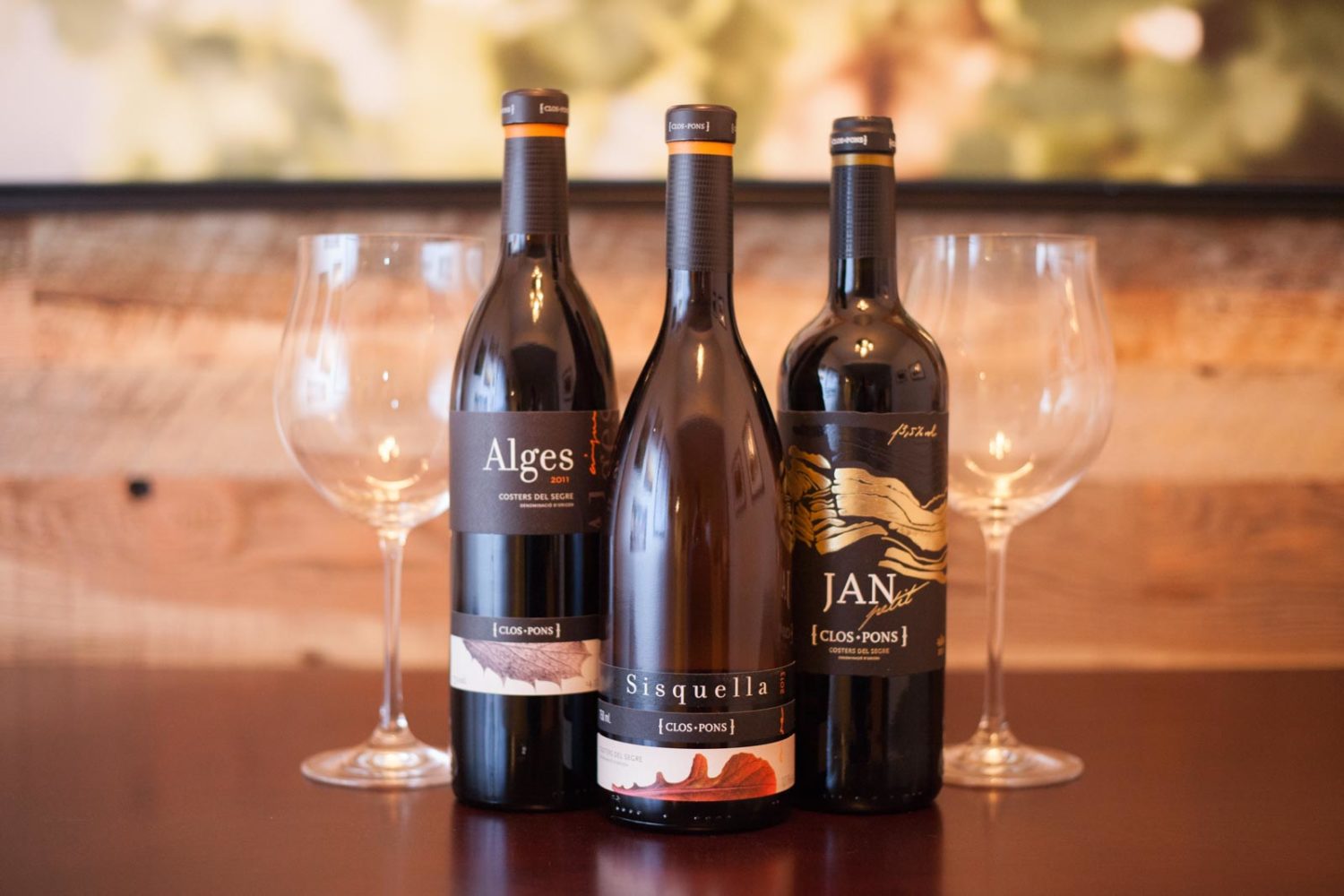 Next came the 2013 Clos Pons "Alges," a red wine that had me guessing Tempranillo. It's aromas were like a nature walk of some kind. But where was I walking? On wet sand, next to a forest? "Don't tell me yet what's in that," I said with a smile to Nico. Again, off to the side for checkout.
Finally, the 2013 Clos Pons "Jan Petit," another red wine. The nose was a little anonymous at first, but then on the palate, wild waves of flavor reminded me of blackberry, violets, chocolate and jalapeño. "Syrah?" I guessed.
"Syrah and Grenache," he replied. "50-50." I had told myself to buy only one bottle, but here I was with a third.
Fortunately, these three fine wines together cost less than $50. Oh, Spanish wines. Don't ever change.
About Clos Pons
Clos Pons is located in the western edge of Catalonia, in the Garrigues subzone of the Costers del Segre DO. At first blush, the wine region doesn't appear to have much of an identity. It is broken into six non-contiguous subzones, and it allows for everything from Tempranillo, Grenache and Syrah to Pinot Noir and Riesling. Given the area's continental climate, that is a pretty broad spectrum of grapes to expect consistent results, or expect consumers to have any sense of expectation on what a label of "Costers del Segre" stands for.
But the area generates some fantastic wine, particularly Tempranillo and Grenache, and often at a good price. Last year, I thoroughly enjoyed a bottle from Tomàs Cusiné called "Llebre" (★★★★) — a predominantly Tempranillo wine that showed off pretty little details of cooked blueberries, herbs and tobacco.
Now comes this personal discovery of Clos Pons. The Pons family initially built their reputation on olive oil (and on the surrounding hillsides you'll find more olive trees than grape vines). The transition to grape-growing and winemaking seemed to be a natural one, and their wines express a clarity and pleasantness that is easy to appreciate.
Yet once again, I am reminded that such wines are often not rewarded in the wine press. The Sisquella — which I reviewed with a Morrocan tagine and scored the full bottle at ★★★★ 1/2 — scored a mere 85 points from Wine Enthusiast and Decanter. Why this is, I'm not sure. Nor do I care. The contrivance of mass wine tastings often promotes a bold, assertive style, and ignores wines such as this one — that's a subject for another day.
But to this taster (and a few of my friends at the wine shop), Clos Pons represents something new and exciting from Spain. And after all, that's what Spain is all about: wines that are classic, yet fresh and original with a little edge to them. Clos Pons is a label to look for.
---
2013 Clos Pons "Sisquella"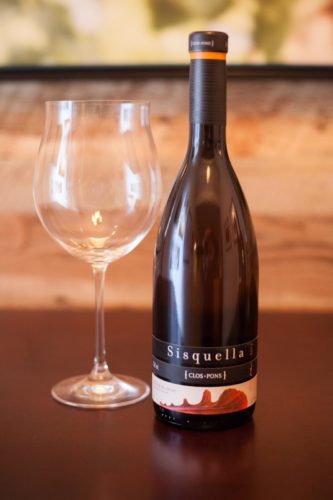 Costers del Segre DO, Spain
Grapes: Grenache Blanc (60%), Albariño (35%), Moscatel (5%)
Alcohol: 13.5%
Ratings: ★★★★ 1/2 (out of five)
• Aromas, Flavors & Structure: ★★★★ 1/2
Food-friendliness: ★★★★ 1/2
• Value: ★★★★ 1/2
Importer: Specialty Cellars
Tasting notes: An exceptional white wine with amazing character, personality and eccentricity. With its pale gold color, it has the appearance of Chardonnay, but this unusual blend of Grenache Blanc, Albariño and Moscatel (who has ever seen these three grapes together?) has brilliant aromas that all-at-once recall limes, pears, autumn leaves and even a little bit of popcorn. On the palate, the wine is even, smooth, somewhat custardy, yet quite sprightly. There are illusions of greenness at times, but its actually quite ripe. A real shape-shifter. Serve best well chilled.
Recommended for: With its refreshing texture and sprightliness, this wine would be an ideal match for the complex spices of Moroccan, Indian or Thai cuisine.
---
2013 Clos Pons "Alges"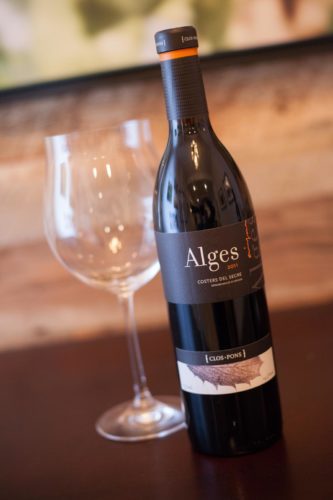 Costers del Segre DO, Spain
Grapes: Tempranillo (40%), Syrah (35%), Grenache (25%)
Alcohol: 14.5%
Ratings: ★★★★ 1/2 (out of five)
• Aromas, Flavors & Structure: ★★★★ 1/2
Food-friendliness: ★★★★ 1/4
• Value: ★★★★ 1/2
Importer: Specialty Cellars
Tasting notes: This blend of Tempranillo, Syrah and Grenache is surprisingly earthy. On the nose, it most distinctly recalls the natural aroma of walking on wet sand, in addition to depths of cherry, blueberry, caramel and oak. With a medium to full body, the fruit is delicate and the acidity is quite lively. On the palate, it strikes me as a bit more traditionally Spanish in its profile: recalling black cherry, a soft touch of oak, and graphite, but with an astonishing note of watermelon on the finish. A playful wine.
Recommended for: This wine pairs exceedingly well with burgers. The harmony of its fruit notes, its traces of complexity, and most importantly, its lively acidity, make it an excellent partner with smoky, grilled meats. And given its $11 price, this could be your go-to summer wine.
Note: Wine Searcher currently doesn't have this wine listed for sale in the United States — at least not online. You may want to contact the importer, Specialty Cellars, listed above.
---
2011 Clos Pons "Jan Petit"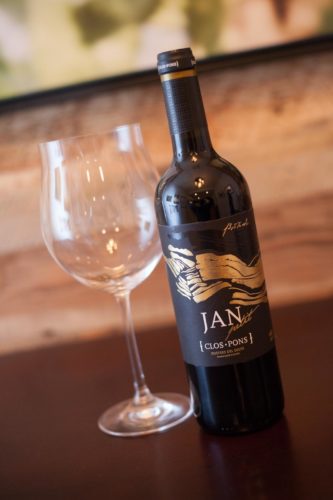 Costers del Segre DO, Spain
Grapes: Grenache (50%), Syrah (50%)
Alcohol: 14.5%
Ratings: ★★★★ (out of five)
• Aromas, Flavors & Structure: ★★★★
Food-friendliness: ★★★★
• Value: ★★★★ 1/2
Importer: Specialty Cellars
Tasting notes: The least interesting of the three wines, but nonetheless, a solid and reliable wine that could provide more rewards with a second tasting. The first sniff and taste are particularly bold, carrying notes that reminded me of blackberry, violets, chocolate and — on the edges — jalapeño. But once it benefits from aeration, it mellows into the softer notes of a berry-patch, with an herbaceous quality on the finish. Medium-plus acidity, with a smooth and appealing texture.
Recommended for: I couldn't help but wonder how this wine would pair with chocolate (a recent investigation we keep doing at my house). The answer: pretty well. However, it's probably a better match with lamb.
Note: Again — as with the "Alges" — Wine Searcher currently doesn't list an online retailer in the United States for this wine. You can contact the importer with the link listed above.
---