3
min read
My favorite wines at the moment are those tangentially related to greatness, at a fraction of the cost. A Nebbiolo that its almost as good as a Barolo. A Bourdeaux-style red from Washington state. An Oregon Pinot Noir that runs neck-and-neck with many Burgundies. Some wines will always be out of my price range, and I guess I'll just show my respect to them by buying and drinking their less-coveted counterparts. They're probably every bit as good.
Let's add Alvaro Palacios' Camins del Priorat to the list. This rich and poignant wine hails from a region that is now regarded by many as Spain's finest. But as recently as 1990, the Catalan government thought it was insignificant, and excluded it from their official history of Catalan winemaking. Priorat who? A mere 10 years later, Palacios and a handful of other winemakers — most notably René Barbier — had catapulted Priorat to international acclaim …and sky-high prices.
Photo credit: ©Ryan Opaz. Flickr user / Creative Commons license.
The Priorat DOQ  is located less than a 2-hour drive west of Barcelona, where the land is hot, wrinkled, rocky and hemmed in on one side by the Sierra de Montsant. It looks more like New Mexico than the Mediterranean, but its hills have nourished grapes since the 12th century.
Palacios seems enamored with the regional splendor of Spanish wine. His winemaking efforts extend from Priorat to Rioja (where he originally hails from) to Bierzo — another up-and-coming pocket of Spain where he is leading the renaissance with mysterious and unusual reds made from the Mencia grape. But he made a name for himself in Priorat with a wine called "L'Ermita," which today goes for around $700/bottle for the latest vintage. (An added note: one reader has informed me that the upcoming vintage may go as high as $1,500).
Fortunately, for the rest of us, Palacios also makes Camins del Priorat, a grenache-focused blend that hails from the schisty hills of Priorat, and only goes for about $23. Mostly the same grapes, same winemaker as L'Ermita, 3% the price.
It spends eight months in oak barrels, and if you like 'em oaky, my God, this one is oaky. It benefits from a good hour of air-time, but then opens up with rich, inky blackberry flavors that handle lamb, steak and stressful Mondays just fine.
And I've gotta say: it has a great label. The rose looks stitched onto the bottle. It's a nice metaphor for the wine inside: deceptively delicate.
2012 Alvaro Palacios Camins del Priorat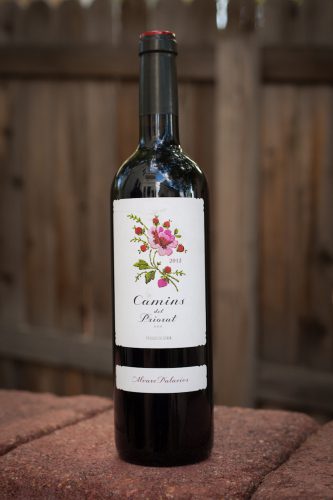 Priorat DOQ
Grapes: 40% Grenache / 30% Carignan / 20% Cabernet Sauvignon / 10% Syrah
Alcohol: 14.5%
Rating: ★★★★ 1/2 (out of 5)
• Profile ★★★★ 1/2
• Food-friendliness ★★★
• Value ★★★★
Perfect for: Lamb in all its forms.
Tasting Notes: Raspberry colored. Powerful on the nose, yet very refined and inviting. Noticeable black currant at first, with quite a bit of pencil lead and oaky tannins. Mellows out an hour later, into a beautifully smooth wine decorated with black cherry, rose, flint and the darkest of dark chocolate.