4
min read
Here's a ridiculously complicated, nuanced topic I could never cover in a single blog post: Pinot Noir from Burgundy vs. Pinot Noir from Oregon's Willamette Valley.
Burgundy alone (or Bourgogne as you'll see on labels) takes a lifetime to fully grasp, with its multiple levels of designated Cru, melange of soil types, character-rich villages, and seemingly sky-is-the-limit prices. The barrier to entry — to diving in and getting familiar with Burgundy — is enormous. Yet its reputation is so sterling, it is hard to resist for anyone getting into wine.
Of all the Pinot Noir-producing hinterlands beyond Burgundy, the Willamette Valley in Oregon is often sited as the closest cousin, with a near identical landscape and climate. As a result, it is a tempting alternative for Pinot Noir lovers too intimidated by the grape's ancestral home.
But as the Willamette Valley's popularity grows, it too is becoming an unknowable entity. Hundreds of producers (with varying degrees of success) are flooding the market, and last summer — when I spent a few days in the valley with my family — I could barely comprehend the area because of its massive size. I would leave our rental home in the Yamhill-Carlton District and drive for an hour, only to find … I was still in the Yamhill-Carlton District.
And Yet They Can't Be Ignored
A couple of weeks ago, I was at a wine shop chatting with a wine consultant I frequently see around town. The topic of being partial to Old World wines came up, and I noted that Oregon was the single exception for me on Old World preference.
"Yeah, but Oregon Pinot has become so expensive," he noted. "I mean, you may as well buy a Burgundy for the same price."
Perhaps, but I have yet to see a top-flight Oregon Pinot Noir costing anywhere near what a Grand Cru Burgundy costs.
Perhaps because of this, a few of Burgundy's notable winemakers have been making Oregon Pinot Noir as well, a trend that started with the Drouhin family in 1988. Now, the opposite is happening.
Mark Tarlov of Oregon's Evening Land is now leading Maison L'Envoye, a négociant in partnership with Old Bridge Cellars that makes Pinot Noir from both Oregon and Burgundy (they also make a sublime Côte du Py Morgon for you Beauj fans out there).
At $22 and $25 respectively, their Bourgogne and "Two Messengers" from Oregon were within my reach for a side-by-side comparison. I held on to them for a few months until I had a chance to drink them on the same night, to see what kind of differences they offered. Obviously, such an exercise says more about the winemaker than the two regions, but surely, there would be something noticeable to advance my wine education… right?
Au Contraire
What I found was astonishing: they're almost identical. I really had to focus to tell what their differences were (the Bourgogne was a little more earthy, Two Messengers a little more fruity). After sharing a glass of each with my wife, it seemed like you could blend them together without altering anything. But as a passionate wine drinker, the very thought made me afraid that some horrible reaction would occur, like when the Ghostbusters crossed their streams.
Truth is, as much as we like to draw distinctions about terroir and build out a set of preferences for regions, often we're up-ended by a single bottle of wine (for instance, I used to despise Cabernet Sauvignon for its anonymity, but a single bottle of Colorado Cab recently changed all of that).
There is magic in the hills of Burgundy and Oregon. Better to drink both and establish which producers cater to your style more, rather than take sides. Because the more I drink, the less I know.
2012 Maison L'Envoye Bourgogne Rouge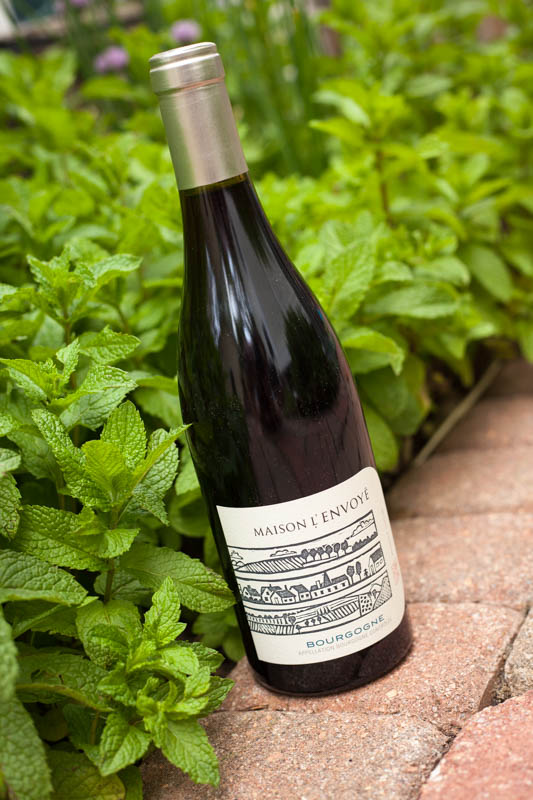 Burgundy, France
Grapes: Pinot Noir 100%
Alcohol: 12.5%
Ratings: ★★★★ (out of five)
• Aromas, Flavors & Structure: ★★★★
Food-friendliness: ★★★★★
• Value: ★★★
Tasting notes: A straight-forward and delightful Pinot Noir that races across the palate with tart cherry, cranberry and slate notes. The nose carries a hint of earthiness that I found appealing, with additional whiffs of rose. Powerful acidity and slightly dialed back on fruit.
Recommended for: Given its earthy qualities, I would serve this wine alongside most any dish prominently featuring dark mushroomy flavors. Braised meats might be a bit overbearing with it, but a roast chicken or veal dish? Sure.
---
2013 Maison L'Envoye "Two Messengers" Pinot Noir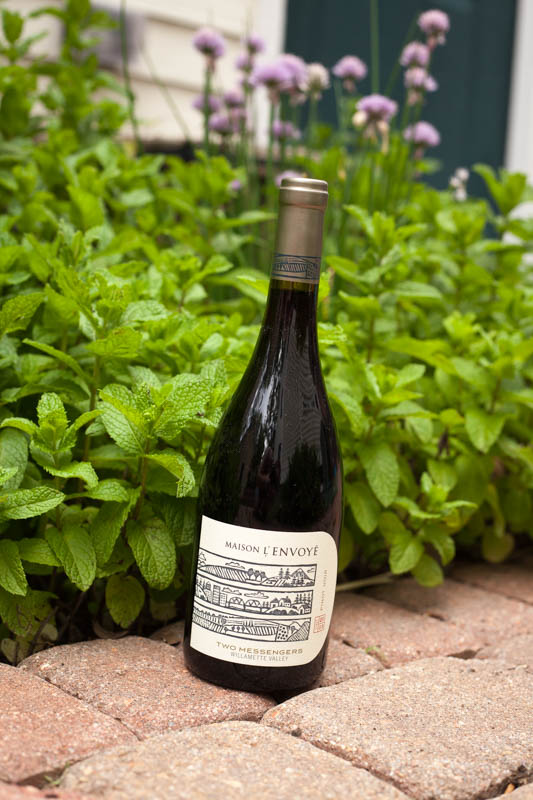 Dundee Hills, Oregon
Grapes: Pinot Noir 100%
Alcohol: 13%
Ratings: ★★★★ (out of five)
• Aromas, Flavors & Structure: ★★★★
Food-friendliness: ★★★★★
• Value: ★★★
Tasting notes: A measured and delicious Pinot Noir. It first opens up with aromas that are a little more gamey than the Bourgogne, but ultimately, we found this wine to be more fruity in style. Flavors reminiscent of cherry (somewhat more ripe than tart), cranberry and cedar showed up as well. Nice touch of rose on the finish.
Recommended for: The usual Pinot Noir pairings apply here as well: seared tuna, roasted duck, and beet-rich salads come to mind, but it would show well alongside simpler fair as well, like white pizza or pork chops.
---
Note: Both bottles featured in this article were provided as samples by Old Bridge Cellars. Learn more about our impartial Editorial Policy.