2
min read
Yes, we're still on Beaujolais.
After visiting the Cru of Moulin-à-Vent last month, and enjoying a superb bottle of Régnié two weeks ago, I went and fetched another bottle to drink at home. This time, it was a wine I sampled at a private tasting before Thanksgiving last year. As so often happens with me, a single sip or two is not enough to wrap my head around the story of what's going on with a wine. I'd been meaning to hunt down Pierre Cotton's Brouilly for a while.
Why? Because unlike a lot of Brouilly, this one has some horsepower. It is complex yet playful, and its characteristics are so amplified, it demands attention. But not in an obnoxious way: it still plays well with different foods: the savoriness of prosciutto, the fat of a creamy pasta, the snap and sweetness of spring peas, a strong cut of fresh mint.
Pierre Cotton is one of several young winemakers taking Beaujolais by storm. His wines have just a touch of carbonic maceration, which I think lends them a bit of a playful attitude. Only 6,000 bottles of this wine are made, so happy hunting! Use the link below or if you are in the United States, contact Paris Wine Company, who imports them.*
2015 Pierre Cotton Brouilly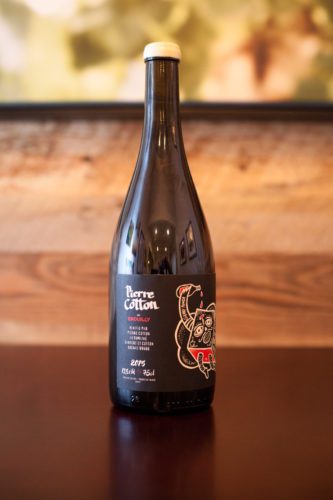 Brouilly AOC (Beaujolais), France
Grapes: Gamay Noir (100%)
Alcohol: 13.5%
Rating: ★★★★ 3/4 (out of five)
• Aromas, Flavor & Structure: ★★★★ 1/2
• Food-friendliness: ★★★★★
• Value: ★★★
Tasting notes: This bottling from Brouilly in the southern end of the Cru Beaujolais is notable for its amplified elements. The aromas on the nose (recalling sweet Rainier cherries and earth with watermelon on the edges) are classic Gamay Noir made with carbonic maceration — just fuller and more intense than usual, with only hints of the "watermelon/bubblegum" character you get with carbonic. There was also a bit of funk that reminded me of Gorgonzola cheese (that's a first).
The aggressive and energetic acidity might seem like too much for culinary purposes, but — au contraire — I found it to be an exceptional accomplice to our sweet-and-savory pasta dish. The finish goes on for nearly a minute.
Recommended for: We paired this wine with a fettuccini dish covered in peas, mint and prosciutto, but something about the wine's depth and power suggests it would do wonderfully well with a wide spectrum of dishes. Why not Moroccan? Or a mushroom pizza?