3
min read
For the past two years, no other place has showed me a finer quality of white wine than the Anderson Valley in Mendocino County, California. Yes, that statement is inherently flawed because, after all, I am merely one human being, imperfectly incapable of drinking and assessing all of the world's wine. (And even then, its all subjective, right?).

But, every bottle I drink — whether it is with my wife, a group of friends, at a restaurant, etc. — gets a simple 1-5 star rating in my notebook, just so I can increase my knowledge and better understand my tastes. And there simply hasn't been another place that can come close to the Anderson Valley's batting average on white wines. Knez and FEL Wines (formerly Breggo) both offer extraordinary Chardonnay. Navarro Vineyards offers a crisp, dry Riesling that underscores the valley's cool climate, and Handley Cellars might be my personal favorite, with a fleet of white wines modeled in the Alsatian style.
You can chalk up their success to the valley's climate. Angled on a northwest to southeast trajectory, the valley is guarded by the Navarro redwoods but routinely bathed in Pacific mist, keeping the grapes cool and crisp. Sonoma may be over the hill to the south, but its a very different place.
Of these, Gewürztraminer may be the best thing coming out of the valley. A week ago we opened FEL Wines' Ferrington Vineyard Gewürztraminer (note: they now go by FEL Wines, but the bottle we had was the former name, Breggo, found online). It was a frigid evening, and all we wanted to do was make ramen noodle bowls with ginger, basil, and any other Asian ingredient we had on hand. The meal was make-shift and a bit haphazard, but thankfully the wine was not.
Recalling stone fruits and honey with a touch of zesty spice, it came across as pure, clean and refreshing. It always amazes me when a white wine can offer the spirit of sweetness without being sweet. It's like a magic trick. In which case, you could call the Anderson Valley's white wines magical without fear of hyperbole.
2012 Breggo Cellars Ferrington Vineyard Gewürztraminer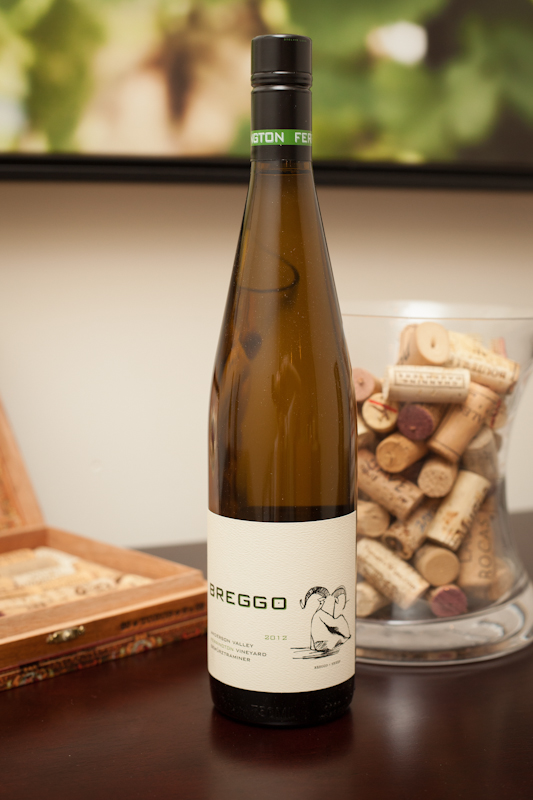 Anderson Valley, California
Grapes: Gewürztraminer (100%)
Alcohol: 13%
Rating: ★★★★ 1/2 (out of five)
• Profile: ★★★★ 1/2
Food Friendliness: ★★★★ 1/2
• Value: ★★★
Tasting Notes: A magnificently bright and fun, yet versatile and complex wine from the gorgeous Anderson Valley. Presents bright color, waxy aromas of lychee and tangerine, and a zesty palate with pronounced peach, cedar, honey and a spicy finish.
Recommended for: Something about this wine screams "ginger," and its not just the spice on its finish. It fit like a glove with our home attempt at pho, and I imagine it would serve well alongside any dish with pronounced ginger, Chinese five spice, basil, coconut or fresh jalapeño pepper.