3
min read
It's summer, so a lot of wine writers are touting German Riesling (such as Eric Asimov's Wine School on the New York Times). It's crisp, complex, and you look cool ordering it because the Gothic, impossible-to-pronounce label shows you have a lack of intimidation when it comes to wine.
The tenor of some posts on German Riesling allude to a sense of discovery — as if this old grape is suddenly new and relevant again. It reminds me of the way the Grammy's saluted Steely Dan in 2001.
But the truth is, if you can get your hands on an exceptional German Riesling — and from my experience, there are several that flat-out suck — there are few things better in the world of white wine.
This Riesling — the 2012 Walter J. Oster Ediger Elzhofberg —is no where near the most famous, most revered, or even the most accessible (I have yet to find evidence that it is even imported into the United States. Their online store only ships to European countries). But what it showed me is the potential of a white wine to tell a complex story, to a degree that I thought only red wines were capable of.
I found it in the Walter J. Oster tasting room in Sankt Aldegund, Germany. Located in a large warehouse right off the road, the tasting room has ample coach bus parking, which was being utilized by an elderhostel tour group when we stopped in. This can't be good, I thought.
But oh, it was good. It was great.
In addition to a very good Bremmer Calmont Riesling, as well as the only good Spätburgunder we had in Germany, they make a Riesling from one of the vineyards perched above Ediger-Eller, a dazzling little town that faces to the south and hugs the Mosel River as if its life depends on it.
The texture of the Ediger Elzhofberg is slippery and smooth: the kind of drink that passes your lips and stops because you know its good and you're not ready to swallow it. There is lime, sugar cane, custard, honey and peach, all mingling there in an exotic concert. We drank a bottle back at our rented home in Senhals, and while everyone headed for the hot tub, I stayed on the sidelines because I didn't want anything interrupting this glass of wine.
Days later, we spent a morning strolling through the quiet alleys of Ediger-Eller, and I became enamored with it. Its ornate church with immaculately tended cemetery, the half-timber house that floats over a street, cobbles everywhere, vineyards wallpapering the background.
I can't say every wine coming from Ediger-Eller is extraordinary: my experience is simply too limited. But something magical is happening in that little town. Walter knows what I'm talking about.
2012 Walter J. Oster Ediger Elzhofberg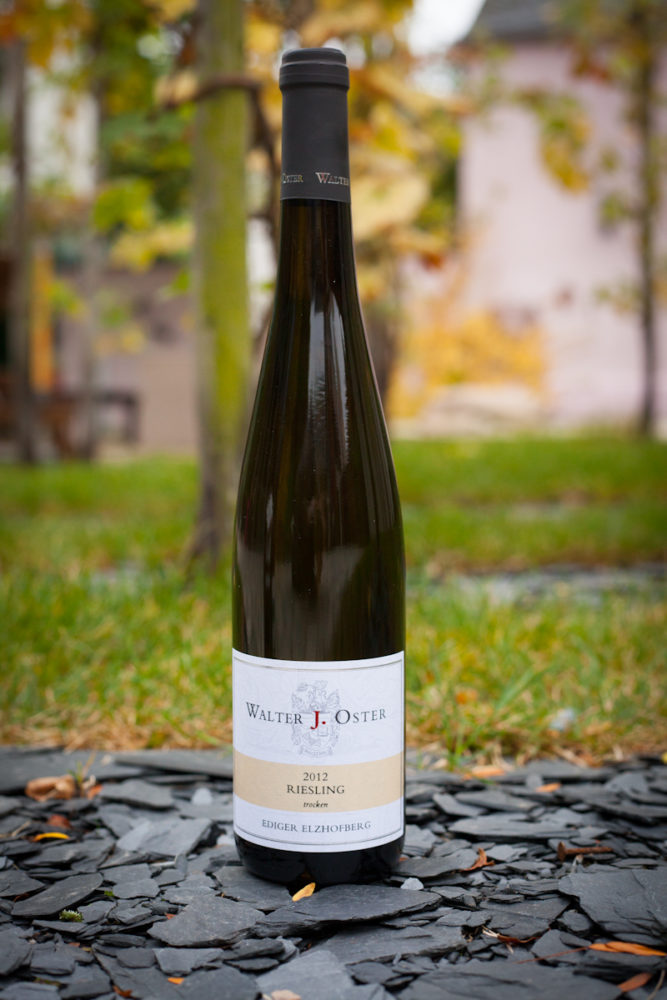 Mosel River, Germany
Grapes: Riesling 100%
Alcohol: 13%
Rating: ★★★★★ (out of five)
Tasting Notes: Extraordinary amount of nuance. On the nose, hits you with lemon zest, brown sugar and grass, but the palate is more limey, with a blend of peach, honey and custard which is balanced with traces of flint. Texture of this wine is very silky and slippery. Would pair well with thousands of recipes: seafood, spicy, Mexican, Thai, Japanese.