3
min read
When it comes to summer wines, Austria has got our back. Long live the land of Grüner Veltliner and gorgeous, crystalline Riesling when its 90 degrees outside.
But for many years, wine shops and online retailers in the U.S. have featured only these two grapes from Austria — as though that was all the Weinland Osterreich had to offer our palates.
The nation's signature red grape — Zweigelt — produces wines that are light in body, low in tannin, and just bitter enough to wake up your senses. It might not be the sexiest sounding thing (that's pronounced ZVEY-gelt) but chill them ever so slightly, and you have a wickedly good summer sipper, usually for less than $20.
The other Austrian red wine to seek out this summer is Saint-Laurent, although it is quite a bit more rare, accounting for only 2% of Austria's vineyard acreage. Highly aromatic and with a tendency for complexity, you wouldn't be the first one to mistake it for Pinot Noir.
Better yet: mash them together. The 2015 Judith Beck Ink unites these two grapes in an 80/20 split and its a wonderful wine. Think of a Barbera d'Asti that has shed its autumn jacket, and you get an idea of where this wine will take you. I especially liked the absence of tannins; to me, that's the one red-wine element that — in heavy doses — has me reaching for white wines and rosés in summer.
Judith Beck took over her family's estate in Gols in 2004, and her focus has been mostly on red wine grapes, with holdings in Zweigelt, Blaufrankisch, Saint-Laurent, Merlot and Pinot Noir. Her vineyards in the Burgenland stretch across incredibly complex soils, where a few shovelfuls of dirt could reveal humus, gravel, loam, limestone or minerals. She farms biodynamically and her winemaking process is about as hands-off as one can be.
I also sampled her one non-red wine imported into the U.S. — a rosé of Zweigelt and Blaufrankisch called simply Judith Beck Pink. Pleasant, low in alcohol and ultimately quite refreshing, it was most notable for its red-tea complexion and shocking carnation-melon color. Although, absurd label art aside, Pink is a bit anonymous. Ink is a much more interesting wine.
2015 Judith Beck Ink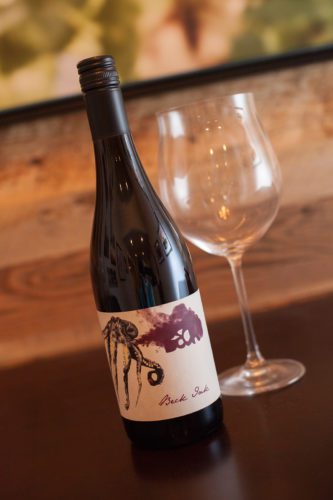 Burgenland, Austria
Grapes: Zweigelt (80%) and Saint-Laurent (20%)
Alcohol: 12.5%
Ratings: ★★★★ 1/2 (out of five)
• Aromas, Flavors & Structure: ★★★★ 1/4
• Food-friendliness: ★★★★ 3/4
• Value: ★★★★ 3/4
Tasting notes: A highly acidic but delicious red that reminds me more of Barbera d'Asti than any other red I've had from north of the Alps — although the body if quite a bit lighter. Visually, the wine is a beautiful red-violet color, with little signs of viscosity on the glass. Aromas bring to mind sour cherry, plums, geraniums and a touch of green olive. Bracing acidity and a bit of game on the palate, very little tannin. Mineral finish.
Recommended for: Serve slightly chilled for summer, and enjoy on the back patio with anything you want. Can't help but think this is a great burger wine.
---
2015 Judith Beck Pink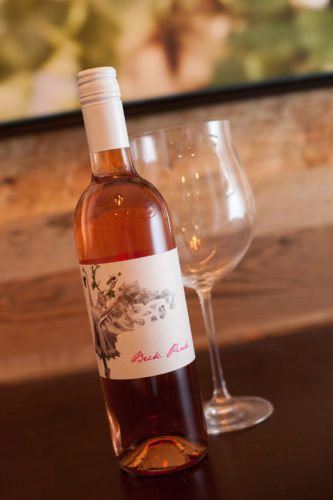 Burgenland, Austria
Grapes: Blaufränkisch (80%) and Zweigelt (20%)
Alcohol: 12%
Ratings: ★★★★ (out of five)
• Aromas, Flavors & Structure: ★★★ 3/4
• Food-friendliness: ★★★★ 1/2
• Value: ★★★★ 1/2
Tasting notes: Vivacious carnation-melon color — somewhat orange when held up to the light. Aromas are sharp and a little funky, but overall, not very detailed. Recalls lemons, orange pith and red herbal tea. Pleasantly low in alcohol, which gives it a clean and refreshing finish.
Recommended for: We paired this wine with Katsu-style catfish, and it worked fairly well. It seems best suited for parties, however, where all you want to do is sip and speak and not think.
Note: The 2016 vintage is predominantly Zweigelt, so this wine changes from year to year.