4
min read
Looking at a wine atlas map of France, it would seem that nearly the entire eastern portion of the country is buried under vines. From Bandol right up the Rhône River Valley to Lyon, Beaujolais, Burgundy, Jura and then Alsace, wine-growing regions blend into one another from the Mediterranean coast to the German border.
For novice wine enthusiasts, this stretch of terrain can present an overwhelming amount of choices: do you dabble in a few wines across the whole spectrum, or zero in on one region and get to know it well before moving to the next?
When I was starting out with French wines, I took the former route, dabbling in Gigondas, Tavel, Cru du Beaujolais, Alsatian Riesling and so forth. The entirety of Burgundy, however, presented a bit of an obstacle, both from the extensive knowledge needed to buy its wines effectively, and the deep pockets one needs to afford them. As much as I adore lighter-bodied red wines and highly aromatic whites, Burgundy, even today, remains a bit too daunting, forcing me to look on the fringes of the region for good values and intrigue.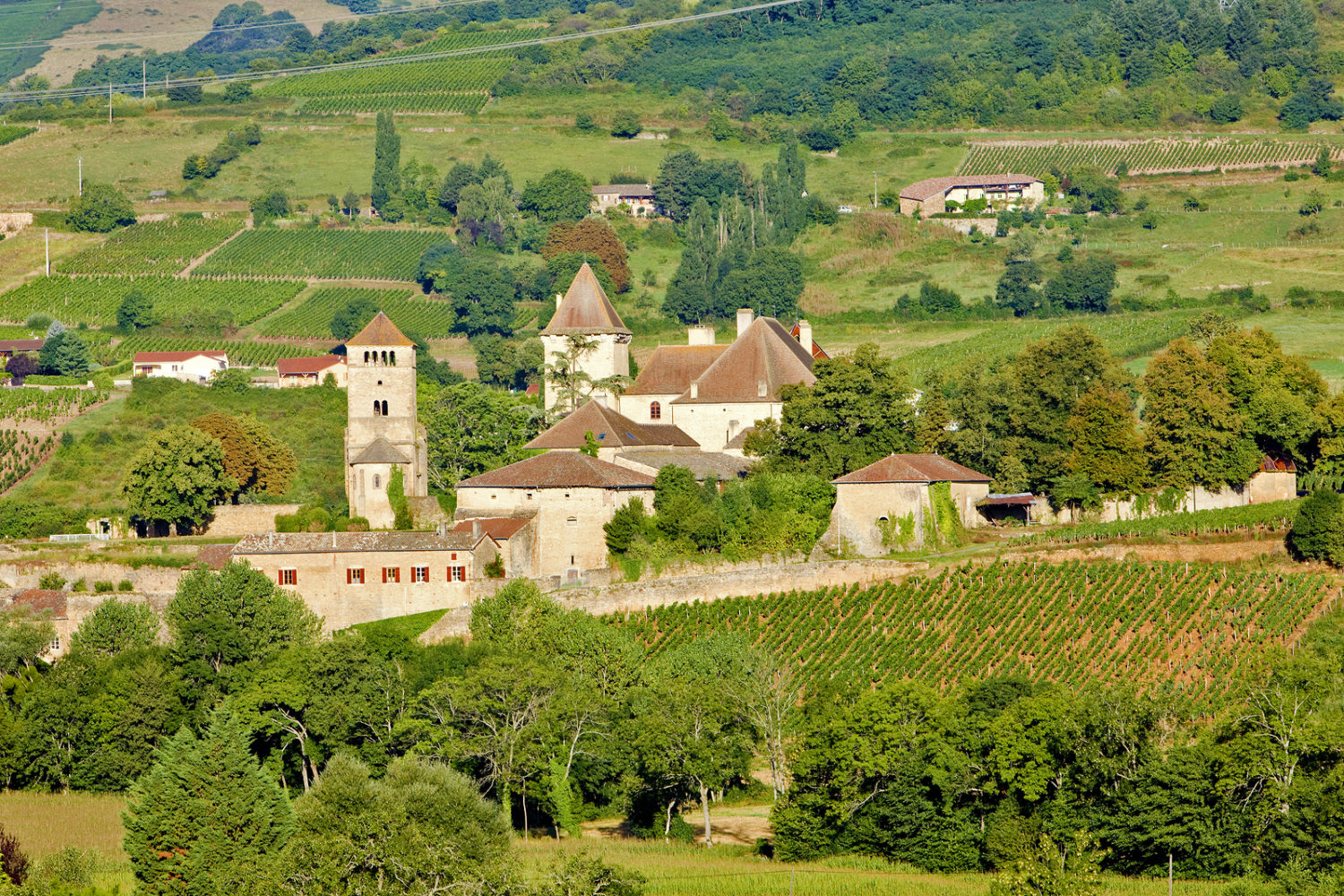 One such fringe region, at least for aromatic white wines, is the Mâconnais district to the west of the city of Mâcon, in southern Burgundy. It's best wines are Chardonnay, largely coming from Pouilly-Fuissé, a subregion located at its core. But some 27 villages outside Pouilly-Fuissé hold enough standing to append their name after "Mâcon-" on the label (thereby indicating some loose semblance of quality assurance). One of these villages is Chardonnay — and yes, it is the semantic origin of the world's most widely planted grape variety.
I was recently conducting one of my "Burgundy fringe" searches when I found a bottle of Maison Guillot-Broux Mâcon-Pierreclos Rouge. Intrigued by what appeared to be a drunken horse on the label, I enquired a bit further and learned it was a bit of a rarity in the United States: an imported red from the Mâconnais. Since the region specializes — and rightly emphasizes, given its soil — Chardonnay, it is not often that you see one of its Gamay-based red wines on our shelves. Curious, I went ahead and bought it.
I am a big fan of Gamay. It is one of a handful of truly expressive grapes, meaning the juice from its grapes are quite articulate at telling the story of a vineyard's terroir — i.e. its soil. In Beaujolais (which borders the Mâconnais to the south), you can line up three wines from the area's Cru villages, such as Fleurie, Moulin-à-Vent and Brouilly, and right away you'll find subtle differences in aromas, body and structure between the three. Each village has a different degree of granite, limestone and sand, and Gamay relays this info beautifully. (Nebbiolo, Pinot Noir and Riesling do this as well, at least to an extent where even a novice can notice it).
Given this background, I was eager to see what Gamay from the Mâconnais would be like. Unlike in Beaujolais' Cru villages, where the soil is made of various forms of granite, here it is predominantly limestone. Yet very little has been written of Mâconnais Gamay. The prevailing opinion seems to be that Gamay is more interesting and detailed when grown from slopes with varying degrees of granite. So why bother with the Mâconnais' version?
The answer to this question, as I found out with the Maison Guillot-Broux, is because Mâconnais Gamay is gorgeous in its own way. It offered a classical Gamay Noir nose that was wonderfully heightened. There were notes reminiscent of black cherry extract, watermelon, Parry primrose (a wildflower that grows in the Rocky Mountains), lilac and licorice. And while it was missing that extra dimension — a certain depth to it — that I've often found in Beaujolais' Moulin-à-Vent, Morgon or Julienas, it was no less a pretty wine, perfect for quenching your thirst after a salty bite.
Maison Guillot-Broux is a winemaker to watch for. They've been certified organic for 25 years, and unlike many of the winemakers in the Mâconnais, half of their production is in Gamay. I'll be looking for their Beaumont from Mâcon-Cruzille next go around, and perhaps a Chardonnay as well.
Hunting on the fringes of the Côte d'Or is starting to be fruitful.
2012 Maison Guillot-Broux Mâcon-Pierreclos Rouge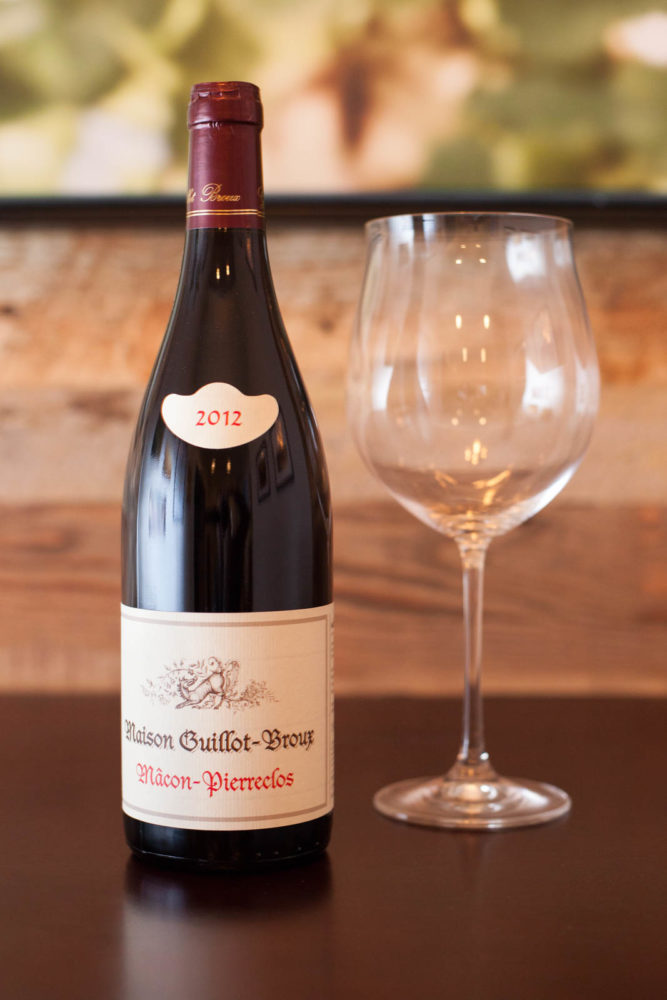 Mâconnais, France
Grapes: Gamay 100%
Alcohol: 12.5%
Rating: ★★★★ 1/2 (out of five)
Aromas, Flavors & Structure: ★★★★ 1/2
Food-friendliness: ★★★★
Value: ★★★
Tasting notes: Offering a classic Gamay Noir profile, it is hard to assess the Mâcon-Pierreclos Rouge from Maison Guillot-Broux without thinking of its neighbors to the south in Beaujolais. This one recalls Brouilly, with a foresty, dark-berry nose that elicits thoughts of black cherry extract, watermelon, Parry primrose, lilac and licorice. Somewhat restrained but very fruity and fresh on the palate, it is simple, delightful and perfect for summer.
Recommended for: A nice quencher for your upcoming summer barbecues. With its bright fruitiness, it would be an excellent counterpoint to highly seasoned dishes featuring loads of herbs and garlic.