3
min read
Maybe its my inner contrarian, but I like "unmarketable" wine grapes from the start. You know the grapes I mean: obscure, hard to pronounce, unknown because no one's bothered to get to know them. These wines automatically get a few points from me, mostly because they're good for a single night of curiosity and adventure.
Sometimes, the adventure ends after one bottle. They're obscure for a good reason. But Bonarda is not one of them.
Conduct a search for Bonarda online or in your wine shop, and you'll invariably be sent to Argentina. This is where the grape calls home (at least today it does), thriving in the soils and continental climate of Mendoza. But it's an ex-patriot, not unlike Carmenérè in Chile, originating in the mountainous region of Savoie in France.
It's history is like reading an espionage novel. At some point in the 1800s, it snuck its way around the world, popping up with more false aliases than Jason Bourne. In the Jura region of France, it was called Corbeau, or "crow" for its blackish color. In Veneto, Italy, it was known as Turca. In California, where the Italian immigrants claimed it was Barbera, it was called Charbono. And in South America, it was known as Bonarda, again because of mistaken identity, where vintners thought they were dealing with Bonarda Piemontese.
Over time, centrifuges ironed all of this out for us, isolating the DNA of the grape and connecting the dots. But by then, Bonarda was speaking Spanish, and quite eloquently.
My first taste of Bonarda came from the ubiquitous producer, Durigutti. It was strong yet supple, with flashes of fruit cut by soft tannins. It was enough to seek out Bonarda more often. Recently, we opened a bottle of "Emma" from Familia Zuccardi. Over the course of the last six months, I've had eight or nine different wines from this producer, mostly Malbec, and they are all impeccable (they've made my list of Essential Winemakers).
The Emma was no different. Again, a strong yet supple wine, it paired elegantly with food in a way that usually only French or Italian wines do. It's complexity spoke to careful handling in the vineyard. Many Bonardas — usually the cheapest ones — can be simple and fruit-forward with a touch of rough tannin. As with all the Zuccardi Wines I've had and researched, the Emma is meticulously made, with low yields from three different vineyards, and only 60% of it aged in second- and third-use oak, making it a touch tannic without overbearing fruit. All this diligence is rightly reflected in the price tag (around $30).
And so my hunt will continue for more Bonardas, but I'd imagine that Zuccardi's Emma will be the benchmark for some time to come.
2012 Familia Zuccardi "Emma" Bonarda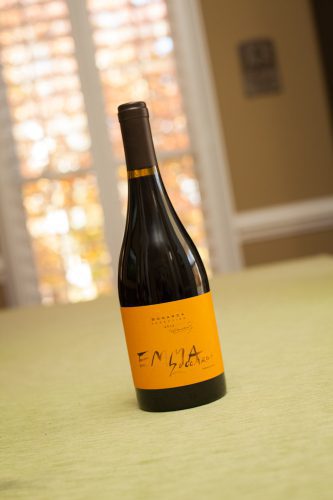 Mendoza, Argentina
Grapes: Bonarda (100%)
Alcohol: 14%
Ratings: ★★★★ (out of five)
• Profile: ★★★★
• Food-Friendliness: ★★★★ 1/2
• Value: ★★★
Recommended for: Lamb shank or barbecued ribeye steak. Or over a map while you plan your next vacation.
Tasting notes: Upon pouring this one, I thought "wow, dark as night." A deep, rich purple color. Gamey and woodsy on the nose with distinct oaky, blackberry, rose and sweet cherry aromas. Palate is quite balanced and lively with black currant, cedar and resin flavors on the body, with a slight touch of cocoa, rose and toast on the finish. Wonderfully complex and brooding.