4
min read
Throughout Spain and France — and sparingly in California and Australia — Grenache plays first chair violin for dozens of appellations and their symphonic, blended wines. Medium in weight but packed with flavors of raspberry, orange, baking spice and oak, Grenache blends are fundamentally among of the most intriguing and dependable wines around. Here's the second in our series of first-taste guides to one of the more elite — and sometimes affordable — French Grenache blends, Gigondas.
Why Should You Seek Out Gigondas?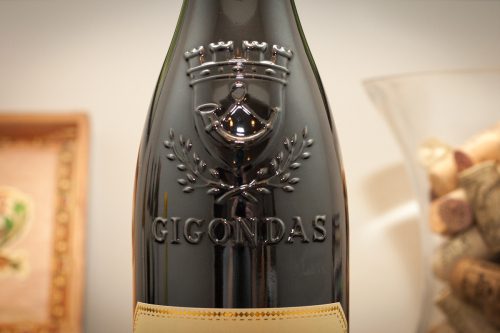 Among Grenache blends, France's Chateauneuf-du-Pape and Spain's Priorat often earn top billing, and by most accounts, rightly so. But you will be hard pressed to find any of them for under $30. Gigondas on the other hand (pronounced zhee-GOHN-dahs), comes close to their rarified air. Expressive of its limestone-rich soil and cooling nighttime influences, Gigondas shows off a good deal of its terroir through subtleties in aromatics, body and finish. They're also easy to spot on the shelf, with their gorgeous embossed crest along the neck of the bottle (see at right).
About the Appellation and Its Wine
The name Gigondas is a morphed version of the Latin word jocunditas, meaning "exuberant pleasure." You know, like that jocund guy in marketing who always wants to have an office happy hour? It's been claimed that a Roman general stationed here earned "Jocunditas" as a nickname and it became the town's name, corrupted over time. The commune is situated in the Provence-Alpes-Côtes d'Azur region of southern France, nestled beneath a jagged, fin-like limestone escarpment called Dentelles de Montmirail. The limestone from this mountain ridge has eroded over time, traveling downslope in alluvial deposits, creating a unique soil that fosters flavorful, and nuanced Grenache grapes. A cooling influence at night from these mountains sets Gigondas apart from other Grenache-heavy Rhone blends. Because of this, one might use the word "finesse" more than "power" in describing how Gigondas comes across the palate. To be called "Gigondas," a wine from the area must have no more than 80% Grenache, and a minimum of 15% Syrah and/or Mourvedre.
Your First Taste
For our first-taste wine, I selected 2011 Domaine de Boissan Gigondas for one reason alone: price. It costs around $25, which is considerably more affordable than many wines from this appellation. You will notice "Vielle Vignes" on the label, which refers to the grapes being sourced from old vines, which will produce lower yields with more concentration. Grenache-based wines are always lively and fruity when they first come across the palate, sometimes only revealing their complexity with a second glass. As wine writer Eric Asimov correctly notes, a second glass of Grenache will either reveal itself or wear your palate out. With this wine, it is the former, and I found it really pleasant once two notes came to the forefront: an aroma of licorice and a lingering finish that recalled orange peel. To me, if you are going to spend more than $20 on a wine, it better reveal complexity and character as it transforms over the course of a full bottle. The Domaine de Boissan Gigondas certainly does this.
Next Steps
If Gigondas hits the mark, this article from Mary Gorman-McAdams will take you a step deeper and offers several more bottles to seek out. I'll be adding them to my list, personally. If you don't mind dropping the coin, pick up a bottle of Chateauneuf-du-Pape and see how it compares. (I personally have yet to find one within my comfort level budget-wise, but the search continues). The nearby commune of Vacqueyras also makes wonderful Grenache blends, albeit, a little on the stronger, more biting side from my experience.
2011 Domaine de Boissan Gigondas Vielle Vignes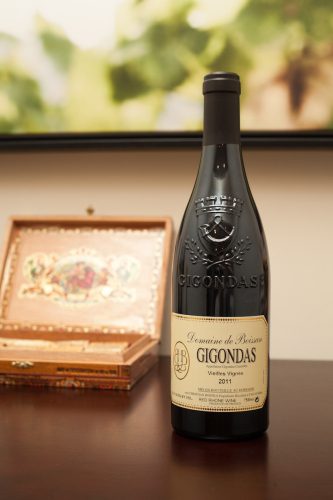 Gigondas AOC, France
Grapes: Grenache (80%) / Syrah (20%)
Alcohol: 14.5%
Rating: ★★★★ 1/2 (out of five)
• Profile: ★★★★ 1/2
Food-friendliness: ★★★★
• Value: ★★★★
Tasting notes: Lively ruby red color. Intense aromatics of red raspberry and licorice. Allow it to breathe for 15 minutes and it will reward you with raspberry, cherry, tobacco and orange peel flavors on a body that is medium in weight with soft tannins. Really lovely and complex, with a good degree of finesse. Open now through 2018.
Recommended for: Calls for slow-cooked and braised meats or stews. Would be excellent alongside an aged sharp cheese. With its orange peel notes, it would work wonderfully with a handful of Moroccan tagines that incorporate cinnamon.
---
Note: This editorial is under consideration for a rewrite due to new experiences. Stay tuned.
 Additional Reading