3
min read
If you want to know why many wine drinkers turn into giddy, Belieber-like fanboys when the topic of single-vineyard Pinot Noir comes up, just pour a glass of Alexana's Pinot Noir from the Revana Vineyard. My time with this bottle was too short — a semi-rushed half-bottle at McMinnville's Thistle last week — but it was enough of a taste to honestly say its the best Pinot Noir I've had this year.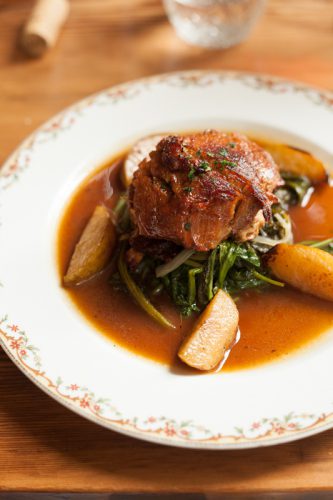 My first impression upon inhaling its aroma was "rose explosion." Raspberries and cherries and the vanilla twist of oak came to the fore as well, but there was an intensity to this wine that surprised me. A few sips confirmed that — despite a medium body and that signature flavor — this Pinot spoke like a Barbaresco.
Perhaps the magic in Alexana's Revana Vineyard Pinot Noir has to do with the Dundee Hills, easily the most unique area of the Willamette Valley's six AVAs (American Viticultural Area). Here, the soil is Jory: red in color, rich in iron, and rather cantankerous on other crops. The hills themselves, running north to south, are protected from cool air coming out of the Columbia River Gorge by the Chehalem Mountains to the north and from the Pacific Ocean by the Coast Range to the west. It was this convergence that caught the eye of winemakers David Lett (Eyrie Vineyards), Dick Erath (Erath Winery) and Robert Drouhin (Domaine Drouhin) who have helped turn the Dundee Hills into the epicenter of Oregon Pinot Noir. No other part of the Willamette Valley produces more wine, in part because its convergence of elements made it a bit of a chosen one.
But I have had other wines from the Dundee Hills and they weren't as intense and distinctive as this one. So then, I guess, it comes down to that vineyard and the careful hands that craft it. We didn't get up to the Alexana tasting room, but it will happen next time. Kudos to Dr. Madaiah Revana and Lynn Penner-Ash: we have a candidate for my wine of the year.
2010 Alexana Pinot Noir Revana Vineyard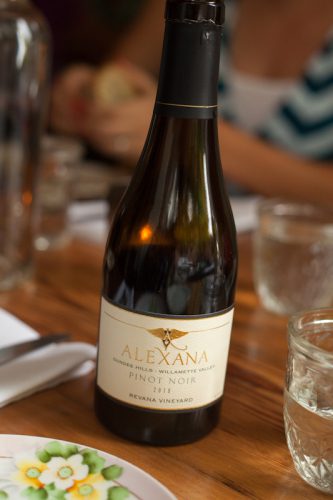 Dundee Hills AVA, Oregon
Grapes: Pinot Noir (100%)
Alcohol: 14%
Ratings: ★★★★★ (out of five)
• Profile: ★★★★★ (out of five)
• Food-friendliness: ★★★★ 1/2 (out of five)
• Value: ★★★ (out of five)
Recommended for: Anniversaries, Thanksgivings and that shelf in Dad's wine rack labeled "don't touch without asking first."
Tasting notes: An undisputed, exceptional Pinot Noir. The nose is deep and richly fragrant with roses and ripe fruit such as red raspberry and black cherry. Medium body with a light, delicate touch of tannin, and a carry-over of aromas to flavors: raspberry, roses, licorice, vanilla and a hint of toast.