6
min read
First came the Torrontes. A pleasant and refreshing little wine of grapefruit and light stony flavors. "OK," I thought. "A good, solid, outdoor barbecue wine."
Next came the Tito, a red blend that offered the brawny backbone of an Argentine Malbec with the effortless grace of an Italian smile. Looking at the label, I saw why: mostly Malbec, but 15% Ancellotta. This was going somewhere.
Then came the Zeta, a Malbec/Cab that punched right in its weight class …
And then Lionel Messi scored in the 92nd minute against Iran, and we could finally begin the real tasting. After all, the winemaker — being Argentine — had been a little distracted.
I was in the Gallery Room at The Little Nell in Aspen attending the Masters of Mendoza seminar by Zuccardi Wines. Until this point, Argentine Malbecs were a middle-of-the-road wine for me. Reasonably priced and with a lot of heft, yes, but often times, they struck me as too smokey, inky and dry for their own good. Only once had I enjoyed one enough to write it down.
A sense of place is everything for me in a wine. Perhaps I had been unlucky with them because I didn't know what to look for: was there more to Mendoza than just power and brawn? If so, how could I tell? This was my chance to dive deeper into Argentina, the Mendoza region and that finnicky grape I like but can't quite love: Malbec.
The Family
At the front of the room was Sebastian Zuccardi, the third generation of a pioneering agricultural family. His grandfather, Tito, was instrumental in bringing irrigation from the Andes to the desolate desert valley on Mendoza. His father started the winemaking business. Sebastian has taken it to a whole different level.
Before us was a slideshow presentation with Google Earth maps, photos of soil samples, and notes on the varying complexity of the Valle de Uco's terroir. Sebastian had charted it all out, studied it like a post-doc candidate in geology, and found ways to bring out the most distinction in each grape he harvested.
At one point, he showed a map of a square vineyard plot that they used to harvest all at once. When he realized that beneath the vines was a swirling mess of varying soil types — and that they prompted the grapes to ripen at vastly different times — he decided to harvest parcels of the vineyard at intervals weeks apart based on the grapes' ripeness. Yes, labor went up, but so did the quality of the wine.
His passion for terroir is so great, that he has taken to fermenting his wine in rounded tanks made from locally sourced Mendoza cement. "Stainless steel tanks smell like surgery," he claimed. "I prefer fermenting in local cement."
Hearing this, it was hard not to respect him.
The Region
Mendoza is a massive area, and a case study in continental climate. Part of what makes its wine so different from Chile is that it is not influenced by the ocean. There are no cooling fogs that roll in at dusk. There is no persistent gentle breeze from the Pacific. The Andes that run along the western edge of Mendoza — including the highest point in the Western Hemisphere, 22,841-foot Aconcagua — may as well be a brick wall.
So as a result, Mendoza isn't Pinot Noir or Chardonnay country. It belongs to Malbec, a grape that thrives in warmer temperatures. But even then, the grape thrives only when it can cool off at night, making the high elevations of Mendoza — and particularly the Valle de Uco — the perfect place.
Another way Malbec benefits from high altitude is the clarity of sunlight, which helps develop and ripen the grapes. Hearing Sebastian describe the climate, I couldn't help but picture Colorado — its semi-arid slopes, juggernaut peaks, brisk nights — only on a much, much bigger scale.
The final piece of the terroir puzzle is the dirt. Zuccardi has a line of wines called "Aluvional" after the alluvium soil that dominates much of the Valle de Uco. Think of it this way: for thousands of years, watercourses from the Andes have brought loose sediment downhill, which is deposited in a fan shape across the valley. Take a cross-section of this ground, and you'll see rounded rocks and boulders held together by loose sand, silt, chalk and clay. Sebastian noted that the presence of alluvium soil doesn't necessarily make for a better wine: that's for us to decide. But it does make for a more distinctive, more terroir-specific wine. There is no doubt where the Aluvional wines come from, and that sense of place is what he's striving for.
Oh Yeah, The Wines
With all of that, we began the first flight of wines. The opening four were a study in elevation: between the vineyards of Wine 1 (La Consulta) and Wine 4 (Gualtallary) was a difference of about 800 feet. Because of the added warmth of lower elevations, they ranged from riper to less ripe; more fun to more sophisticated. All of them carried a flavor profile of blackberries, juniper and smoked meat. They were foxy: sly and intelligent, nimble and not overly forceful.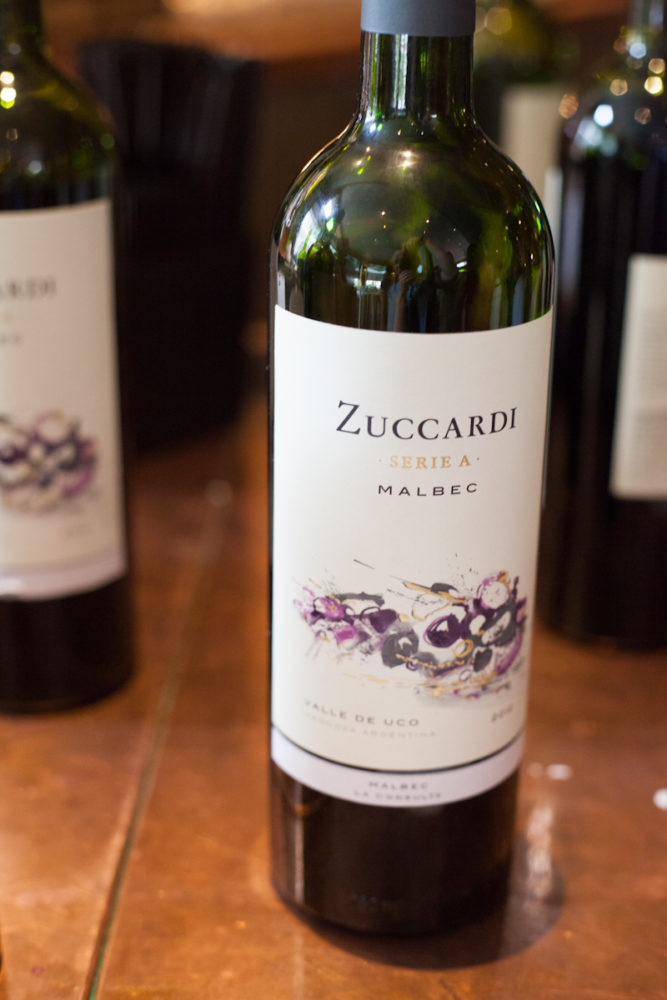 The next two wines were a study in soil, namely two wines made from grapes grown on calcareous soils, which have a higher pH value. These two — the Supercalcareo and Calcareo Arcilloso — were the best of the lot. Riper and fuller on the nose, they had a depth and balance that was impossible to ignore. Blackberry and black cherry, more juniper, tobacco leaf, and a texture that seemed more food-friendly to me.
By the time we reached the last two wines, my palate was a bit fried, and I was unable to distinguish much in the way of differences. Later in the day, after a bacchanal at the French Underdogs seminar and the Grand Tasting I met back up with Sebastian Zuccardi at an after-party they were throwing. On offer were many of the Malbecs from earlier, but also Zuccardi's Bonarda (named "Emma" after his grandmother), the "Tito" Malbec blend (named after his grandfather) and the Zuccardi Q Tempranillo. It was a warm, crystal clear summer evening in Aspen: one of those moments where it doesn't take much to be happy. I kicked back with a glass of the Emma while my friend enjoyed a glass of the Tito.
The Emma rings out with blackberries, maybe a bit of blueberry, cedar and a touch of stoniness that lingers. And the Tito — which I will write about more extensively — has a touch of rusticity that adds character and perhaps makes it a more versatile food wine.
Maybe it was the slower setting or maybe by day's end I was just craving something a little lighter and more playful, but I preferred both the Emma and the Tito to the lineup of Malbecs. But then again, that's a little bit like saying you prefer GoodFellas and The Sopranos to The Godfather — they're all epic, I just enjoyed the former more.