3
min read
Steak. It's America's favorite excuse to open a red wine.
Why is that? Perhaps its the thickness of the meat, which requires a little something extra to digest. Perhaps its because beer and steak is simply an awful idea.
Or perhaps its a status thing: you're eating our most revered meat, so you may as well consume it with our most revered drink, a Napa Cab.
And there it is: the most obvious food-wine pairing in America. I don't have anything against Napa Cabernet Sauvignon — OK, I do: the price — and I certainly don't have anything against steak. But once you are exposed to the depth of the world's wine, all you want is to resist the obvious.
So now that I have that out of the way, let me suggest one of many, many alternatives: Nero d'Avola. Of Sicily's many indigenous red grape varieties, this one has long offered the most potential, with a consistent plum-and-peppery spice combo that for me recalls Zinfandel or Syrah. I have had a passing interest in Nero d'Avola for years, mostly ordering it at restaurants when I wanted something a little different. But after reading the chapter on Sicily in Matt Kramer's Making Sense of Italian Wine a few weeks back, I was intrigued to dive a little deeper and spend some time with a quality bottle.
He highly recommended the wines from Gulfi. And now, after just one bottle, I'm recommending the wines from Gulfi, too, if their entry-level Nero d'Avola — called NeroJbleo — is any indication of what they're capable of.
We opened the Nerojbleo to go along with beef stroganoff, and it ended up working perfectly well. The soft tannins kept it from overpowering the cream sauce, the rich black fruit and peppery spice complemented the diced beef tenderloin, and there was even a note in the wine that accentuated the crimini mushrooms. Did the wine simply bring out the mushrooms, or did it have a foresty mushroom note all its own? I couldn't tell at the table, but an hour later, lingering with the last glass, I was still getting mushrooms. I like my wines to play magical tricks on me.
I normally don't comment on the label of a wine, but this one certainly captures the feel of Sicily, with the lusty couple at the top (stylized like a depiction from ancient Greek pottery), and sun-baked colors and melting letters. If the bottle contained one of the many international varieties now grown extensively in Sicily — Cabernet Sauvignon, Merlot or Syrah — it would have felt like false advertising. But fortunately, there are winemakers like Gulfi who focus almost exclusively on the island's indigenous grapes. Nero d'Avola may not be as immediately unique in flavor profile as some of Italy's other indigenous varieties — like the rosey aroma of Nebbiolo or the distinctive dusty tannins of Sangiovese — but it sure as hell isn't anonymous.
So the next time you are about to enjoy a little sacred cow for dinner, maybe reach for something unconventional, like a bottle of Nero d'Avola.
2009 Gulfi Nerojbleo Nero d'Avola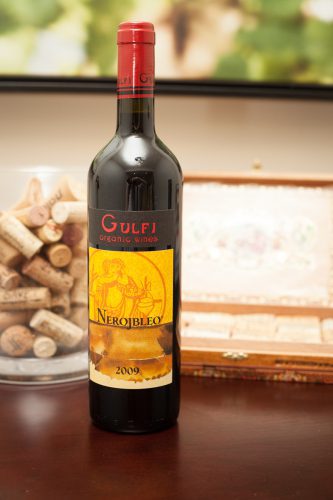 Val Canziria, Sicily, Italy
Grapes: Nero d'Avola (100%)
Alcohol: 14%
Ratings: ★★★★ 1/2 (out of five)
• Profile: ★★★★ 1/2
Food Friendliness: ★★★★
• Value: ★★★ 1/2
Recommended for: You mean besides steak? How about barbecue ribs? Or North African cuisine with lamb as the focal point?
Tasting notes: NeroJbleo resides in "Buy a Case" territory. It's a fantastic all-purpose red meat wine that has the gravitas to buzz through heavier cuts of meat, yet the delicacy to stay on its toes and deliver nice touches of subtlety. I found the aromas to be very full and vibrant: blackberries, oak, violets and a hint of meatiness at first that vanished after exposure to air. On the palate, surprisingly soft tannins allowed for a rich, almost floral experience. Black fruits, waxy vanilla bean, herbs, graphite and a touch of mushroom. Really sings on the tip of the tongue.