4
min read
For some time, I've been meaning to work my way over to Northeast Italy to start sampling the highly regarded white wines of Friuli-Venezia Giulia. Wedged up against Slovenia, Friuli has an identity all its own that it displays through its wines.
And unlike many of the wines made in nearby Trentino-Alto Adige, the producers here are largely family-owned farms working smaller plots, which can translate into more distinct expressions of the land — and a little more experimentation — from one bottle to the next.
Of Friuli's indigenous grapes, Tocai Friulano and Ribolla Gialla are the most esteemed, and last week I got my first taste of the latter, ordering a bottle of Pierpaolo Pecorari Ribolla Gialla at Osteria Marco, a wonderful restaurant here in Denver.
3 Reasons to Try Ribolla Gialla
If you like your white wines to be "clean" – Meaning they don't exhaust your palate, or stick to the sides of your mouth with residual sugar.
If food-friendly wines are first and foremost for you – It might not be as versatile as Riesling, but its ability to take on different personas alongside different foods is wonderful.
If you enjoy Sauvignon Blanc – While I would hesitate to say that Sauvignon Blanc is like Ribolla Gialla, many of the characteristics that make this grape popular are present here: crispness, lightness, wild fruit and an herbaceous edge.
About the Grape
Ribolla Gialla has quite a bit of buzz going for it right now. It is showing up on more and more restaurant wine lists, and I've noticed it making more cameos at wine shops.
But this isn't a new wine by any means. In the 13th century, it was one of the preferred wines of Venetian nobility. By the 14th century, Duke Leopold III of Austria took over the city of Trieste and demanded they supply him with 100 urns of the stuff annually. And in 1402, the Friulian city of Udine passed a law to protect the purity of Ribolla Gialla, making it illegal to adulterate it — in other words, "don't you dare use it for a white sangria, fair citizens."
Ribolla Gialla has traveled the world a little bit (most notably to California), but it is still largely a local phenomenon, grown in the appellations of Colli Orientali del Friuli and Collio in Northeast Italy, as well as over the border in Slovenia.
Without careful pruning and management, Ribolla Gialla is a disaster. It produces far too many grapes, and can yield watery, lackluster wine as a result, especially if it is grown on poorly drained soil. But in the right hands, the grape is the ultimate team-player in the vineyard, at the winery and on the table. Give it some direction, lower its yields, manage its fermentation and keep it away from oak, and the end result is a beautiful, elegant, dry white wine which can accentuate a variety of dishes.
Winemakers in Friuli-Venezia Giulia have demonstrated considerable creativity in recent years, experimenting with new and ancient techniques to get new expressions from their local grapes. In the case of Ribolla Gialla, some winemakers have chosen to ferment the grapes with the skins as if it were a red wine. The resulting "orange wine" is another form of Ribolla Gialla that you can be on the lookout for.
My First Encounter
When I ordered our bottle of Ribolla Gialla last week, I was mainly looking for a versatile white wine to complement a wide variety of dishes that my wife and I had ordered. Beet-grapefruit-goat cheese salad; fried green tomatoes with prosciutto; white pizza with crab, peppers and herbs; and a grilled vegetable risotto. We were all over the map.
Part of what made the Pierpaolo Pecorari Ribolla Gialla so special was its modesty. Against the beet salad, its apple-rich flavors seemed more earthy. With a bite of the fried green tomatoes, it seemed citric and smoky. And with the creamy richness of the white pizza, it cut like a buzzsaw through all the fat. It was like a Swiss Army wine — ready for any assignment.
Next Steps
The Pierpaolo Pecorari Ribolla Gialla is a good value, and its versatility has given me the permission I need to seek out more from this grape, and the region. A bottle of Ribolla Gialla can run up into the high $20s and even mid $30s.
2012 Pierpaolo Pecorari Ribolla Gialla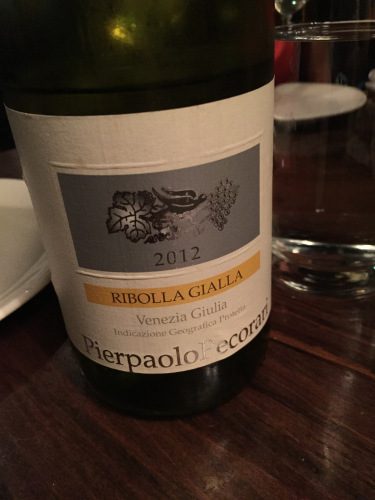 Venezia Giulia (Italy)
Grapes: Ribolla (100%)
Alcohol: 12.5%
Rating: ★★★★ 1/2 (out of five)
• Aromas, Taste & Structure: ★★★★
• Food Friendliness: ★★★★★
• Value: ★★★★ 1/2
Tasting notes: An outstanding, minerally wine that shifts shapes with every sip and every bite of food you take with it. Aromas were very floral, suggesting honeysuckle as well as ripe apples. However, the wine was very modest alongside food, transforming in lovely ways with whatever we enjoyed alongside it.
Recommended for: To take advantage of its minerally qualities, serve it slightly chilled alongside richer seafood dishes. I would imagine clam chowder, buttery scallops, or this recipe for smoked fish cakes with corn tartar sauce (via Feed Me Phoebe) would be amazing.
Open a Bottle in Your Email
Subscribe to our monthly email digest.
---