7
min read
For newcomers to wine, Burgundy is the world's most difficult region to grasp. While it might take a handful of bottles to get a sense for Rioja, Chianti Classico or even Piedmont, Burgundy takes a lifetime.
This conundrum was on full display a couple of Sundays ago at the Grand Tasting of the Boulder Burgundy Festival here in Colorado. I had paid $85 so that I could have two hours of free roaming among a selection of Burgundy's finest Pinot Noir and Chardonnay. Finally, after years of reading about them, I sampled some of the world's most acclaimed wines. It was money well spent.
At various tables, I enjoyed my first taste of wines from Aloxe-Corton, Clos de Vougeot and Gevrey-Chambertin. These were Pinot Noir I could hardly/barely/never afford.
I also sipped some stunning and entirely new-to-the-palate white wines, including three different Chardonnay from the famous village of Meursault. Never before has Chardonnay struck me as so paradoxically silky and yet toasted, with notes recalling apples and coconuts. Meursault has a place on my shopping list from now on.
However, the overall sensation — which is common at such tastings — was one of information overload. Yes, I was able to sample a vast amount of the region's wines. And yes, I ultimately came to the conclusion that I want to know the region better.
But could I explain my preferences any better by tasting's end? I must have tried 40 different wines in 90 minutes. When it was over, I was numb.
Through it all, I will still maintain that the best gateway to a region's wines is through a single, excellent winemaker with a diverse portfolio. Sometimes, they can be icons (Vietti in Piedmont or Alvaro Palacios in Spain), other times, they are "small fish" doing backflips in a big pond.
At the Boulder Burgundy Festival — and two bottles which bookended the event — I got to know the wines of the Defaix Family of Chablis and Rully. The family's two domaines might not be household names, but their wines are affordable and magical.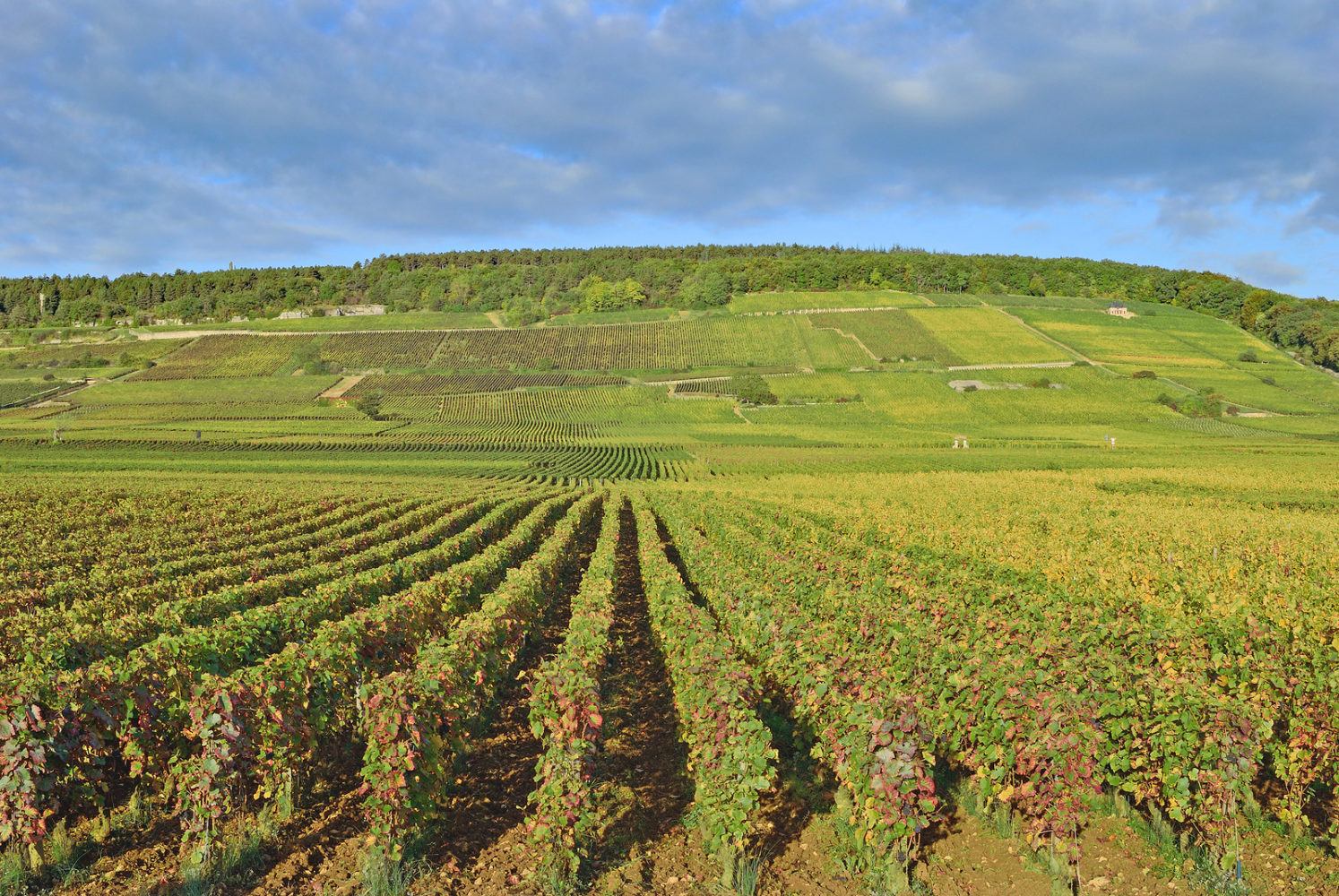 In Chablis: Domaine Bernard Defaix
As I struggled to make sense of all the wonderful wines being poured at the event, I looked over the "playbill" searching for any familiar winemakers — one's that I may have sampled once before. There weren't many (my expertise is still largely in Italy), but on page 8, under Old World Wine Company, I saw a Premier Cru Chablis listed from Domaine Bernard Defaix. Just two nights before, my wife and I had enjoyed a separate Premier Cru from the same domaine — the 2014 Côte de Lichet.
I promptly made a beeline across the room and muscled my way to the front.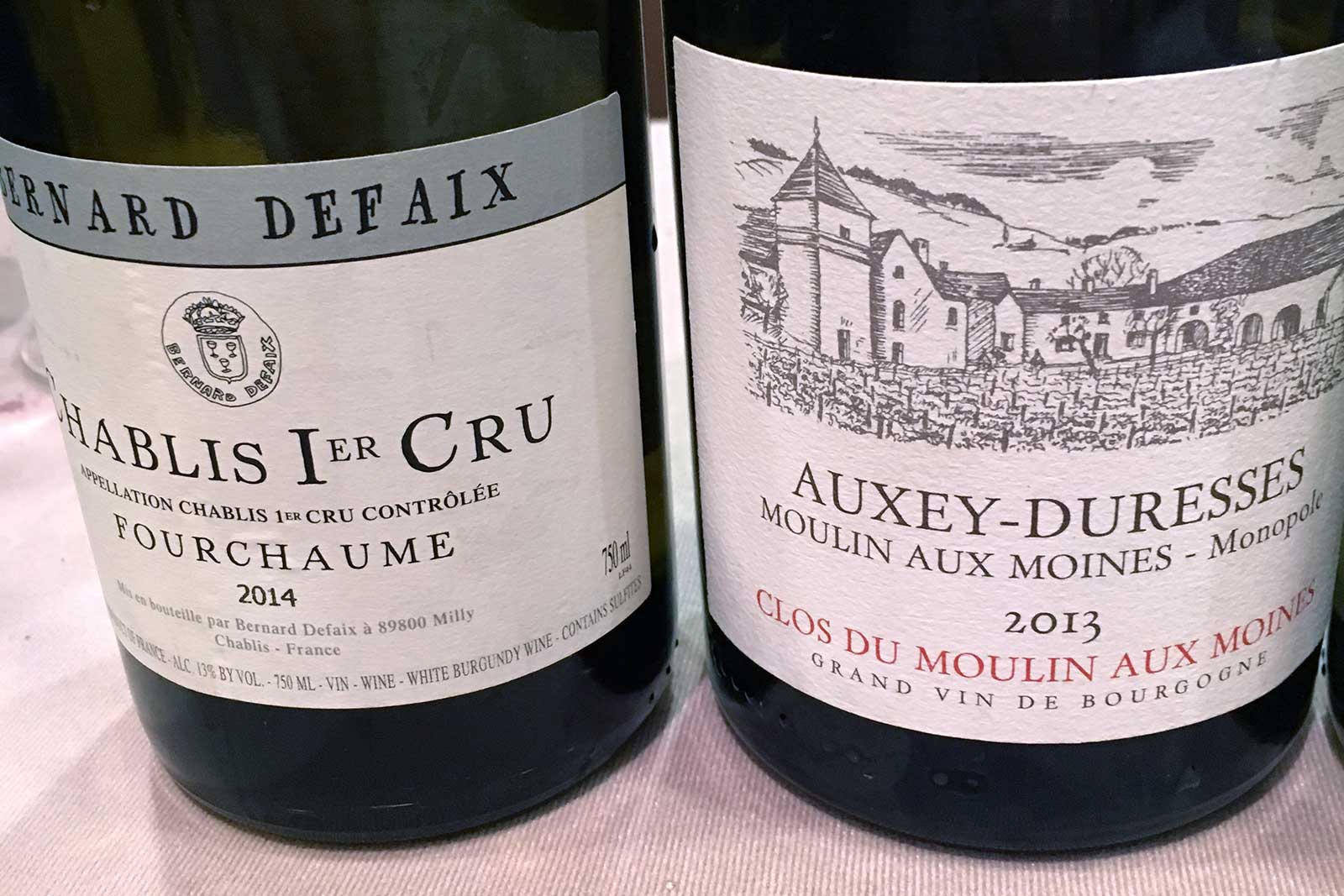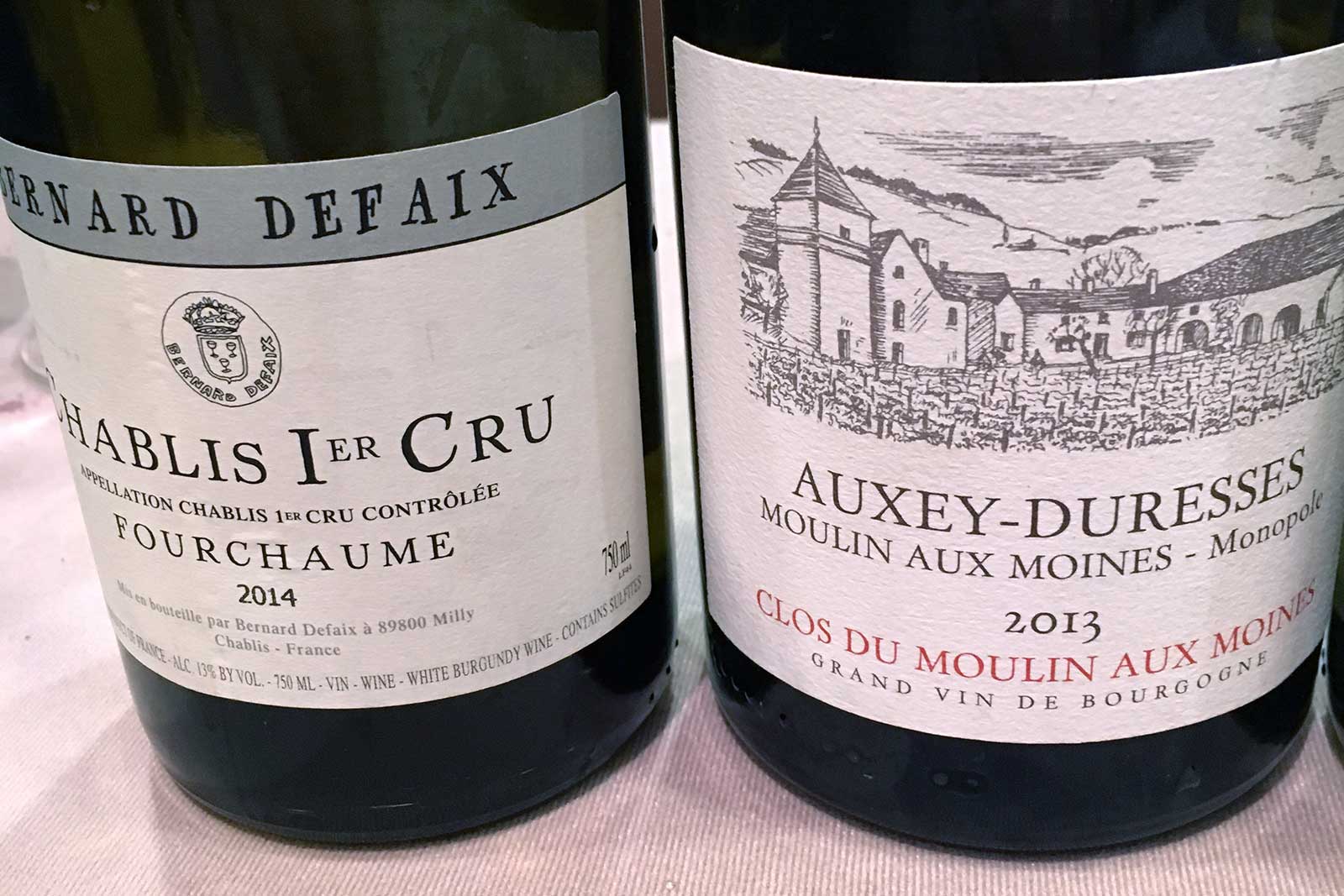 At home, the Côte de Lichet was an absolute dazzler. I like it most when a wine demonstrates movement, seemingly traveling from one flavor sensation to the next with each sip. The Côte de Lichet effortlessly skipped from a classic Chablis profile (bracing acidity, lemons-and-apples, crispness, a "minerally" finish) to recalling "warmer" notes of almonds, coconut and creme brûlée. It was silky, supple, lively, toasted, yet always fresh, never fatiguing.
Pretty soon, it was gone.
The folks from Old World Wine Company were pouring three ounces of Defaix's 2014 Fourchaume Premier Cru Chablis, which I felt would make an interesting counterpoint so soon after the Côte de Lichet. The Fourchaume was a more traditional Chablis — at least in how it struck me — but no less memorable. There was a stony essence on the nose, sharp and precise notes recalling lemon cake, orange peel and orchard blossoms, and — perhaps it's most standout attribute — a finish that lingered for a moment then vanished with a whisper. Again, a wine of great movement.
This fourth-generation, family-owned domaine is led by brothers Didier and Sylvain Defaix. Didier oversees the vineyards while Sylvain watches over the vinification. Their Chablis estate consists of 27 hectares of vineyards in the heart of the region, and the Premier Cru I had sampled are just two of 13 wines they make (including two Grand Cru wines from the Vaudésir and Bougros vineyards).
These are thrilling versions of steely, zippy Chardonnay at its best.
In Côte Chalonnaise: Domaine Jaeger-Defaix
Also being served at the Old World Wine Company table was a bottle of Premier Cru Rully from Domaine Jaeger-Defaix, a companion domaine located almost 100 miles away. I had this bottle at home, and so I took a pass, knowing I'd enjoy it soon.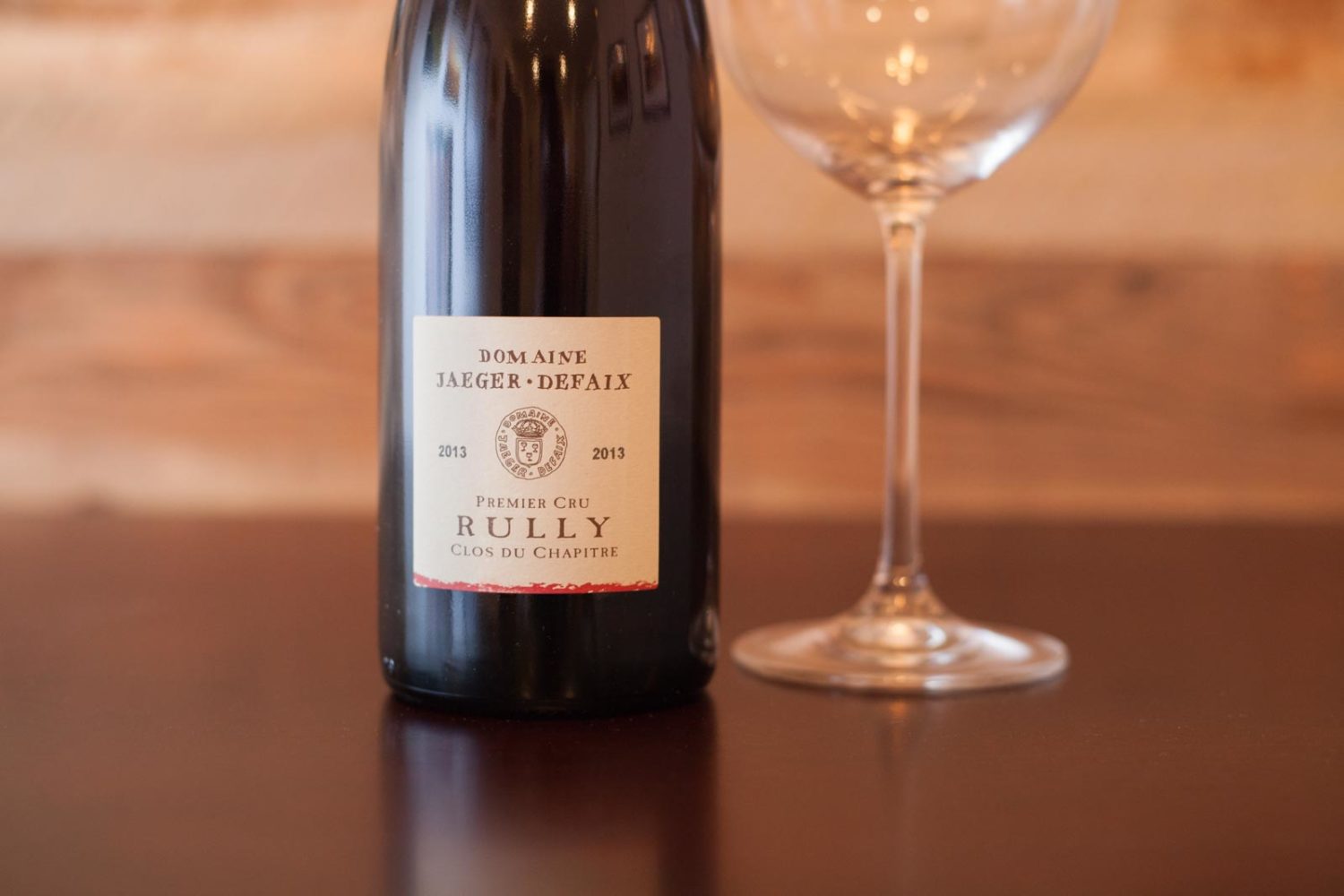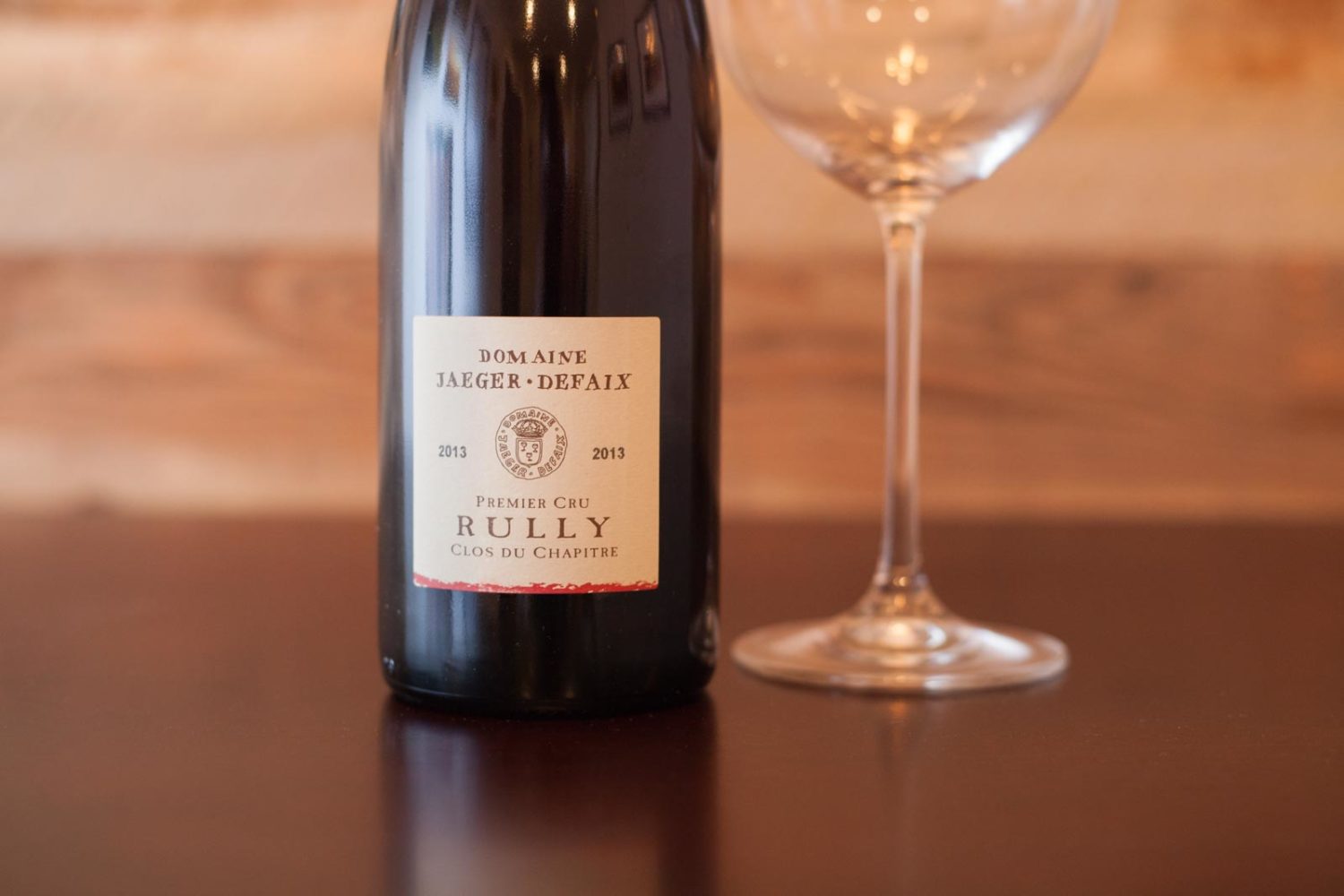 Managed by Didier Defaix's wife — Hélène Jaeger-Defaix — this domaine makes six wines from the tiny village of Rully in Côte Chalonnaise. This long stretch of sloping land extends south from the Côte d'Or and, depending on who you listen to, it is either Burgundy's overlooked hidden gem or its "undernourished country cousin." (The latter description sounds like an effete put-down to me).
Rully makes both white and red wine (Chardonnay and Pinot Noir, of course), and even has some slopes designated as Premier Cru.
At home, a week later, we opened the Domaine Jaeger-Defaix Rully Rouge 1er Cru Clos du Chapitre. Right away, something special was going on. It seemed as though the aroma of this Pinot Noir could have carried for miles. Recalling cranberry, currants, wintergreen, beeswax and allspice, I found it to be exhilarating before it had even reached my palate.
With each sip, I discovered more. I could go on and on, but the point worth making is that this wine can trigger the emotions. I found myself nostalgic for scents and flavors it reminded me of — things from my childhood. It wasn't rustic, but it sure as hell wasn't perfectly polished either. Nature never is, and this wine — more than anything — recalled nature.
Affordability
Based on these three wines — plus a fourth I tried back in May — the Defaix family is an outstanding option if you are new to Burgundy and squeamish about cost. All three of the Premier Cru wines cost between $30 and $40. Perhaps not an everyday wine at that cost, but given their complexity, craft and focus when served next to $75 to $250 wines from Burgundy, they are a steal.
Note: While researching this article, I also came across the wines of Daniel-Etienne Defaix, also of Chablis. Whether they are related or not, I could not unearth, but their wines are not included in this review. References to "Defaix Family" pertain only to Domaine Bernard Defaix and Domaine Jaeger-Defaix.
---
 2014 Domaine Bernard Defaix Chablis Côte de Lechet 1er Cru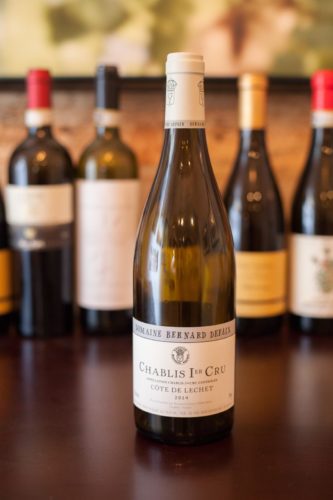 Chablis 1er Cru (Burgundy), France
Grapes: Chardonnay (100%)
Alcohol: 13%
Ratings: ★★★★ 3/4 (out of five)
• Aromas, Flavor & Structure: ★★★★★
• Food-friendliness: ★★★★ 1/2
• Value: ★★★★
Importer: Old World Wine Company
Tasting notes: An excellent version of Chablis with a great deal of drama and tension. An expressive nose creates the illusion of lemon, honeycrisp apples, pineapple skin, cut grass, roasted almonds and coconut, all married together. On the palate, the wine demonstrates a lot of progression, moving from crisp and minerally to ripe and toasted the next. The flavors most distinctly recall lemons, almonds, creme brûlée and coconut. A wine that feels alive with every sip. Refreshing finish.
Recommended for: A highly versatile wine, I would imagine that it would pair nicely with roasted chicken, baked fish or shellfish. Works very well with sharp cheeses.
---
2014 Domaine Bernard Defaix Chablis Fourchaume 1er Cru
Full review pending for the day I sample an entire bottle. References to this wine above were based on a 3-ounce pour … a memorable 3-ounce pour, but a 3-ounce pour no less.
---
2013 Domaine Jaeger-Defaix Rully Rouge Clos du Chapitre 1er Cru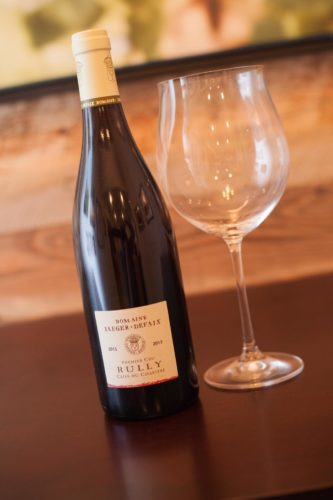 Rully 1er Cru (Burgundy), France
Grapes: Pinot Noir (100%)
Alcohol: 13.5%
Ratings: ★★★★★ (out of five)
• Aromas, Flavor & Structure: ★★★★★
• Food-friendliness: ★★★★★
• Value: ★★★★★
Importer: Old World Wine Company
Tasting notes: Simply outstanding, and the first and only wine of 2016 to receive five stars on all three metrics.
The intense aromas of this Pinot Noir are unlike any other I have encountered, and for me personally, they are quite nostalgic. Throughout its core, there is a persistent scent recalling cranberries, currants and wintergreen. But I am also reminded of the house I grew up in, and a room where my father kept his fly-fishing gear and tied flies. There, we had an antique workbench that required a lot of wood oil, and its this scent — beeswax and lemon oil — that came back to me as I surveyed this wine. As it transformed, the aromas shifted toward allspice, and on the palate, the wine seemed to dance it was so lively. Totally distinctive, unique, surprising, fresh and new. An amazing wine that every lover of Pinot Noir ought to try.
Recommended for: Take this wine outside and enjoy it in the fresh air. Preferably next to a stream.
---