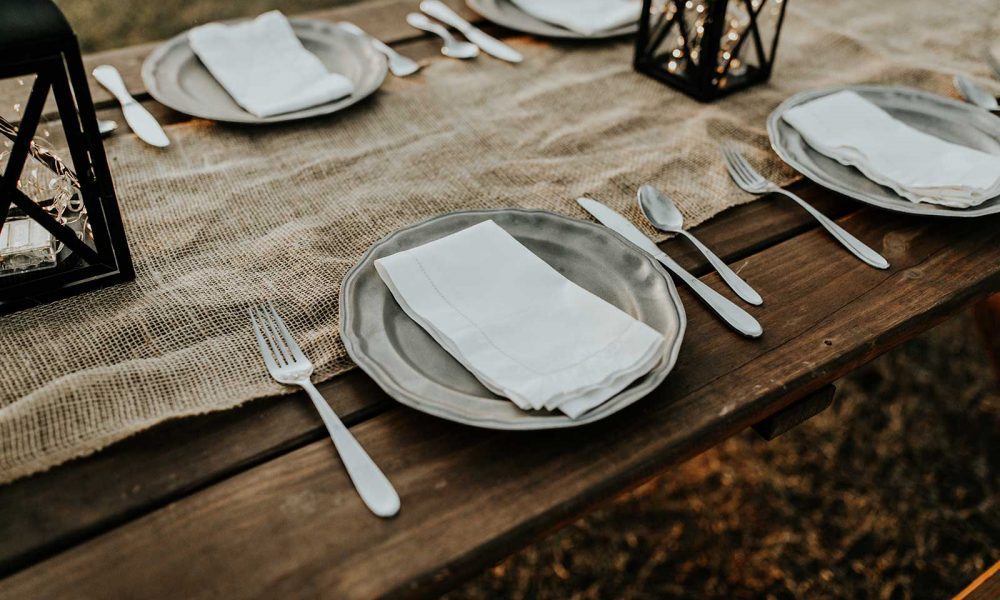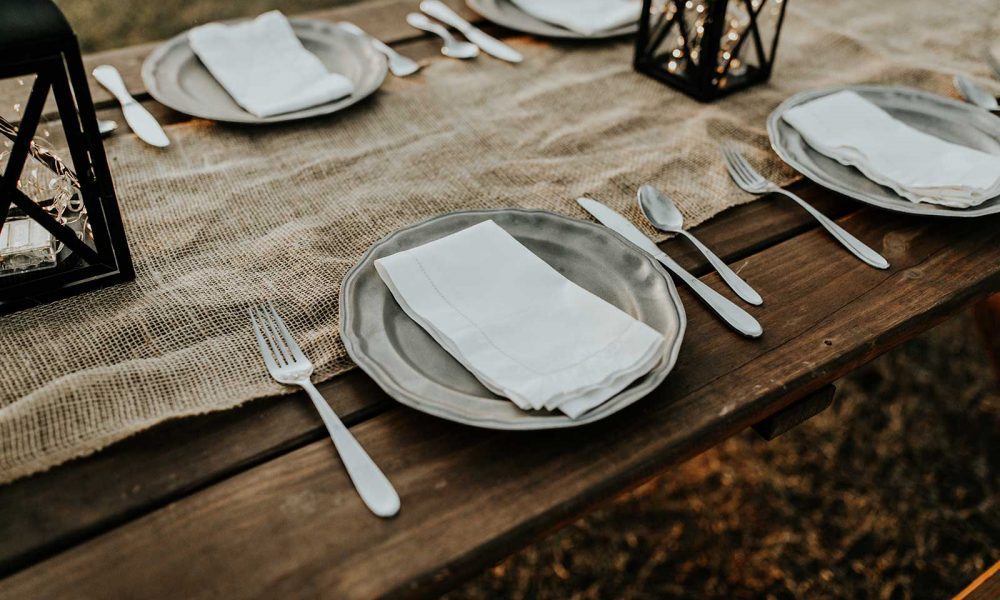 3
min read
This Thursday will go by in the blink of an eye. Many Thanksgivings do. If you are like me this year, you will load up your car mid-morning, drive over to a relative's house, help out a bit, socialize with people who only gather in the same room once a year, sit down to a gigantic meal mid-afternoon with a few glasses of wine, and then fight the urge to fall asleep for the rest of the day. Given the day's significance, it is tempting to uncork a special wine from the cellar, or enthrall everybody with an impressive wine you read about from a respective wine columnist. But it is not. Over the years, my Thanksgiving wine advice has evolved into a mantra of "keep it simple." Open the wines you know, save the treasures for another day.
That's because most Thanksgivings are crowded affairs: Crowded kitchen. Crowded table. Crowded plate. Meanwhile, most fine wines are defined by their complexity: aromas that are shape-shifting, textures that are multilayered. Their thrills come in patiently drinking them, allowing for their slow evolution over a meal.
At the Thanksgiving table, the smorgasbord of flavors (sweet, salty, sour, tart and — if your table is like my family's traditional buffet — sweet again) plus the frantic energy of 20 dining guests squeezed around a single table … it is a setting incompatible with slowing down, which a cherished bottle requires.
Last year, I thought I'd be clever and bring a few bottles of Fleurie and Moulin-à-Vent to an enormous Thanksgiving dinner at my aunt's house. These two appellations in Beaujolais produce magnificent Thanksgiving wines, but their styles are polar opposites. I thought it would be fun to play sommelier. Can I pour you a glass? Do you want something more delicate or more robust?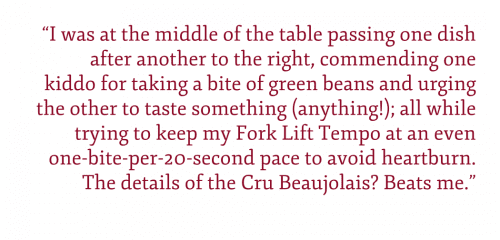 Not only did no one care — wrong audience, dude — but I couldn't notice the differences either. I was at the middle of the table passing one dish after another to the right, commending one kiddo for taking a bite of green beans and urging the other to taste something (anything!); all while trying to keep my Fork Lift Tempo at an even one-bite-per-20-second pace to avoid heartburn. The details of the Cru Beaujolais? Beats me. But Aunt Maria's turkey was memorable, and so was the moment when a distant relative asked me and my wife if we were done making babies.
My point is this: Thanksgiving is great. It's a celebration of family, and rightfully it should be savored with delicious food and delicious wines. But save the coveted wines — or the Dying to Try Something New bottles — for a more intimate occasion. For us, that's Christmas Eve and Christmas dinner, which has become an annual rite of slow cooking and slow eating. Last year, that meant a Grand Cru Chablis with scallops on Christmas Eve and an aged Barbaresco with beef tenderloin on Christmas night. Both showed beautifully because the tempo of the evening — and the lack of cranberry sauce at the table — allowed them to be enjoyed.
This year at Thanksgiving, I'm bringing a Sauvignon Blanc from Sicily, a Chardonnay from Oregon and a Riesling from Lombardy. Then for the reds a Schiava from Alto Adige, a Dolcetto d'Alba from Piedmont and a Cabernet Sauvignon from Chile. I am hoping I learned my lesson: I'll take a glass of Schiava or Dolcetto, but a few people at this table will want something bolder. They just won't have to be put on the spot to say so.
There is also something to be said for being fully present to the occasion. For a man who compulsively takes notes on every wine he drinks, this lineup means a night off from that, too.
Now if you will excuse me, I have to answer this question about whether I'll father a third child or not.
Top photo: ©Hannah Busing, Unsplash
Open a Bottle in Your Email
Subscribe to our monthly email digest.
---