7
min read
During our tasting at Oddero, I was struck by the clear identity of these wines. They are detailed, aromatic and highly controlled wines. Some are beautiful now, some are keeping their secrets for another day. All of them are fine, and that extends to their Dolcetto and Barbera as well, which to me are equally important. Three of the seven wines earned my upper echelon rating (★★★★★).
2016 Oddero Dolcetto d'Alba
The Langhe's beloved everyday grape is Dolcetto. If everyday ended with a glass of Oddero's version (★★★★ 3/4), I'd count myself lucky indeed. This wine is a moving target from nose to palate to finish, speaking to the variety's inherent — but often overlooked — complexity. It started as sour cherry on the nose, but then snapped to sweet raspberry as it lingered. Traces of licorice kept things interesting, and on the palate the wine was fun yet graceful. An exceptional Dolcetto, and a great start to the tasting.
Grapes for this wine are sourced from Oddero's holdings in La Morra as well as the small Brunella cru in Castiglione Falleto. Wedged between the famous Villero and Bricco Fiasco vineyards, Brunella is more often associated with Barolo.
2014 Oddero Barbera d'Asti Superiore Nizza
I'm an unapologetic fanboy for Barbera, particularly those from Barbera d'Asti. Winemakers have steadily been making a name for the subregion of Nizza, and the recent designation of Barbera d'Asti Nizza Superiore DOCG seems to suggest that the finest Barbera's may come from there. Michele Chiarlo's "La Court" and Vietti's "La Crena" are two of the more famous bottlings (and rightly so), but Oddero's version (★★★★★) is every bit as good.
This is an upper echelon Barbera, which may be a reflection of the difficult 2014 vintage. That year, it was extraordinarily cool and rainy. Isabella noted that while it was a challenging vintage for Nebbiolo, it was especially difficult for Barbera. That's because Barbera ripens earlier, and as a result, the late-autumn warmth that saved the Nebbiolo vintage, failed to do anything for Barbera because it had already been harvested.
Just last year, I reviewed Oddero's 2012 bottling of this wine (sans the "Superiore Nizza" designation, which was codified between the vintages), and I found it to be delicious, but a bit overshadowed by the other wines we sampled that night. The lean 2014 vintage, however, is a big improvement, with tidal-wave acidity and just the right amount of oakiness to give the wine texture and grip on the palate. This is a clear indicator that winemaker Cristina Oddero put a great deal of care into turning a dud vintage into something gorgeous. The wine shows rich balsamic and leather character with elusive and dark forest fruits.
---
---
2015 Oddero Langhe Nebbiolo
The first of four Nebbiolo wines sampled, the Oddero Langhe Nebbiolo (★★★★ 1/2) comes from younger vines in two Barolo eligible cru — the pyramid hill of Bricco San Biagio beneath La Morra, and the esteemed, south-facing Villero vineyard of Castiglione Falleto. Because of this, you could call it a "baby Barolo" and not sound ridiculous.
I found two elements of this wine to be surprisingly complex and expressive, given the youth of this wine. For one, the nose was a wild swirl of tart cherries, game, smoke and pepper, with hardly a suggestion of Nebbiolo's signature floral aromatics. Then, on the palate, the tannins seemed to have various layers to them, from first impression to finish. A really intriguing Langhe Nebbiolo.
2014 Oddero Barbaresco "Gallina"
With Oddero's lone Barbaresco — a single-vineyard beauty from the Gallina vineyard — we returned to that pesky 2014 vintage. Yet, if this Barbaresco is any indication, the 2014 vintage could prove to be magical for Nebbiolo. At least, in the right hands.
The Gallina is divine (★★★★★), and it is one of the few Nebbiolo wines I would recommend drinking within its first 10 years. The aromas put me in a time machine and sent me back to my first glass of Barbaresco many years ago, a potent memory that was instrumental in my transformation to fully fledged wine dork. It might not do the same for you, but the nose on this wine is just about perfect in my opinion: powerful, precise and wonderfully natural, recalling sour cherries and ripe raspberries, roses, licorice, mint and a hint of wet soil. I found it to be very approachable in its youth, with easy tannins and a kind texture. Isabella: "2014 is so surprising to everybody."
2009 Oddero Barolo
Shifting gears from the 2014 Barbaresco Gallina to the 2009 Barolo (★★★★ 1/2) was quite the transition. Despite the additional five years, this wine was far from open: The tannins had a bit of a snarl, the body was more muscular, the aromas were more elusive. Here was a great example on why Barbaresco and Barolo are so different, and how sensitive the grape can be to a year's weather. In this example from the 2009 vintage, I detected a few notes that reminded me of peppercorns — in addition to that classic Barolo profile of cherries, roses and licorice — so perhaps the wine is just now revealing its story. For me it was hard to tell. But a wine with interesting potential.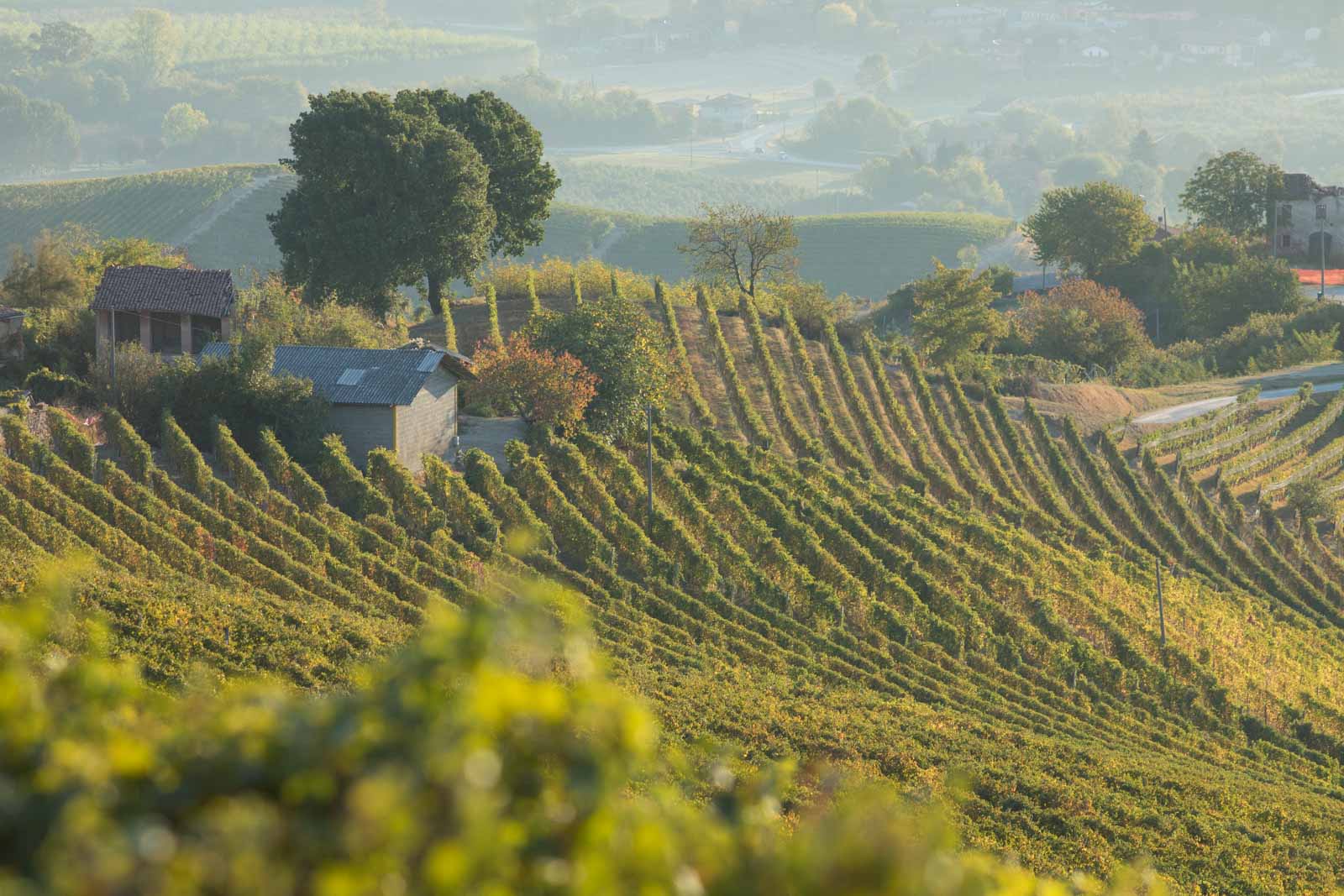 2009 Oddero Barolo "Brunate"
Brunate may be Barolo's most recognizable cru, partly because of its riot-colored chapel, but also because of the wide array of producers who make a single-vineyard Barolo from its south-facing slopes. Ceretto, Roberto Voerzio, Francesco Rinaldi, Michele Chiarlo and Vietti all have holdings in Brunate. And of course, so does Oddero, but there was a time when Giacomo Oddero saw these vines as below average.
"If you talked to my grandfather 15, 20 years ago, he was not happy with our position in Brunate," Isabella told me. "He didn't want to produce it as a single-vineyard wine because he didn't believe it had the potential."
But thanks to warming trends in the climate, that is changing. Oddero's holdings are toward the top of the cru, an area once thought to be marginal in climate.
"In 2004, my aunt wanted to try it, so she kept the grapes separate. Now, with these changes in the temperature, our position is becoming more and more interesting for Brunate. The fresh breeze keeps the temperature a little bit cooler and we are able to preserve more freshness in the aromatics."
Oddero's 2009 bottling from Brunate (★★★★★) is drinking beautifully right now, which often cannot be said for eight-year-old Barolo. It's aromas were like a blast of fresh violets and cherries, mashed raspberries, and black licorice. A second whiff caught wind of earthier notes, such as porcini mushrooms and dried leaves. On the palate, a note of peppercorn — as well as lithe acidity — gave the wine movement, with a delicate touch of tannin that seems to open the door to surprising pairings. Usually, Barolo conjures visions of red meat; this one seemed to beg for vegetarian cuisine and soups. One of the best Barolo I have had in recent years.
2015 Oddero Bianco "Collaretto"
The Langhe's white wines are completely overshadowed by the reds. Of the white grape varietals, Arneis garners the most attention because of its origins, and Nascetta can be a pleasant surprise as well. But beyond that, the Langhe's whites are typically Chardonnay or Sauvignon Blanc with some Riesling mixed in. In a place that rightly champions its indigenous varieties to such an extent, who cares about the noble white varieties?
Well, increasingly, Oddero does. Their single white wine — beyond a Moscato d'Asti — is a 50/50 blend of Chardonnay and Riesling from the north-facing slope of the nearby Bricco San Biagio vineyard, and it is called "Collaretto" (★★★★ 1/2). Isabella noted that they particularly like the freshness of the Riesling grown in this vineyard, and that future vintages may skew more towards Riesling. I found the aromatics to be intense and pleasing, demonstrating a quality that brought to mind green fruits and fresh-cut grass. A killer summer wine.
---
Essential Winemaker of Italy
Oddero is listed as one of our Essential Winemakers of Italy. Learn about visiting the winery and see who else makes our coveted list.