2
min read
Every damn time I drink a wine from the Loire River Valley, I end up saying to myself "Gee, I should pay more attention to the Loire River Valley."
(Of course, the same thing happens with Alsace, but that's another story.)
Yet, until this point, that feeling has been limited to the Loire's red wines, mainly those made from Cabernet Franc. The valley's iconic white-wine grape — Chenin Blanc — had not registered with me to the same degree. Swooned over by Instagramming somms and wine nerds — often to an embarassing degree — I've been inclined to play contrarian when it comes to this grape. "It's good, but not that good."
Then along came a bottle of Château du Hureau's "Argile."
OK, never mind. If this is Chenin Blanc, show me where to board the bandwagon.
Highly aromatic and texturally perfect, the 2013 vintage showed incredible depth and intrigue. I could drink it any night. There were notes of pear, oranges, beeswax, marzipan, honeysuckle … it just kept revealing itself with each sip.
Located in Saumur-Champigny — an appellation better known for Cabernet Franc — Château du Hureau is one of the only wine-producing châteaux in the Loire. The château's wine caves date back to the 13th century and, like many in the valley, are carved into the soft tufa-limestone bluffs.
Sounds like a nice place to visit. In the meantime, I'll have to check out their portfolio of Cabernet Franc. Anyone tried them before?
2013 Château du Hureau "Argile" Blanc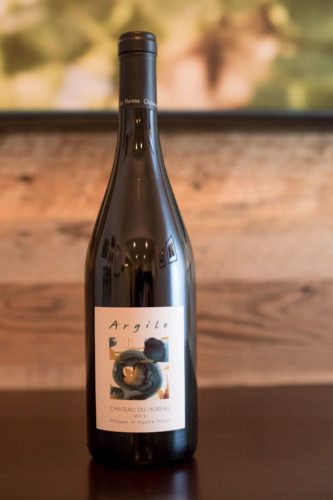 Saumur-Champigny AOC, France
Grapes: Chenin Blanc (100%)
Alcohol: 13.5%
Ratings: ★★★★★ (out of five)
• Aromas, Flavor & Structure: ★★★★★
• Food-friendliness: ★★★★★
• Value: ★★★★★
Tasting notes: From the first impression to the last drop, this is a wonderful wine. Its changes over the course of an evening are not very dramatic, yet its an elusive wine throughout, with a distinct autumn quality to it, and sweetness teetering on the edge of sublime. There is an aromatic quality like pear skin that is strong and comforting; also presents vivid notes recalling beeswax, marzipan, honeysuckle and oranges. Beautiful detail on the finish. Earns highest echelon rating for profile, food-friendliness and value. So there you go: a royal flush.
Recommended for: A smattering of Chinese dishes would ideally complement this wine, namely soups and dishes with a strong sweet-sour interplay and delicate spice.