2
min read
Our palates don't venture south of the equator nearly enough at Opening a Bottle. Yet nearly every time I open a Chilean wine, I question why that is. With its dynamic topography, cooling influences from the Pacific, and oddball grapes like Carménère and Pais, Chile's wines are well-rounded, interesting and best of all, affordable.
Of particular note is Carménère, a French refugee from Bordeaux that was wiped out by the phylloxera plague in the late 19th century, only to be discovered and confirmed more than a hundred years later on the other side of the world in Chile. Carménère is a survivor, and it comes across like a leaner, spicier version of Cabernet Sauvignon. Because of this, nine times out of 10, I'd rather have a Carménère than a Cabernet Sauvignon. They are just more compelling to me.
A particularly good Carménère comes from the TerraMater brand, which sources its Carménère from the Curicó Valley where the climate is similar to the south of France thanks to the Pacific Ocean. It's a wine with a complex nose, but it never struck me as fussy or overly serious. Just the right kind of wine for a fat, juicy burger on a cool summer night. See my tasting notes below.
This winemaker is just now debuting in the United States, starting off with the Colorado market (hooray for me). But expansion to other markets is coming soon. I couldn't find a link for an online retailer yet, so I've put the link to importer below.
2015 TerraMater Magna Limited Reserve Carménère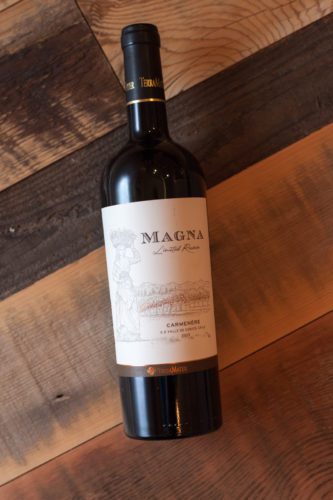 Curicó Valley, Chile
Grapes: Carménère (100%)
Alcohol: 13.5%
Ratings: ★★★★ 1/2 (out of five)
Aromas, Flavor & Structure: ★★★★ 3/4
Food-friendliness: ★★★ 3/4
Value: ★★★★ 3/4
Tasting notes: A brilliant version of Chile's most compelling wine, this Carménère leads with aromas that reminded me all at once of sweet plums, cherries, charcoal, roasted chile peppers and autumn leaves. That may sound odd, but it was a harmonious and spicy nose that I found welcoming. Smooth and not overly tannic, it was a surprisingly easy-to-sip guzzler given the power and brawn it had on the palate. Muted but present acidity, with an easy-going finish.
Recommended with: Despite this wine's peppery character, I would shy away from spicy foods with this one. It's simply not jammy enough. Instead, serve it with an umami-overloaded burger topped with sautéed mushrooms and Swiss cheese.
---
Note: This wine was provided as a sample by TerraMater's US press representative. Learn more about our editorial policy.