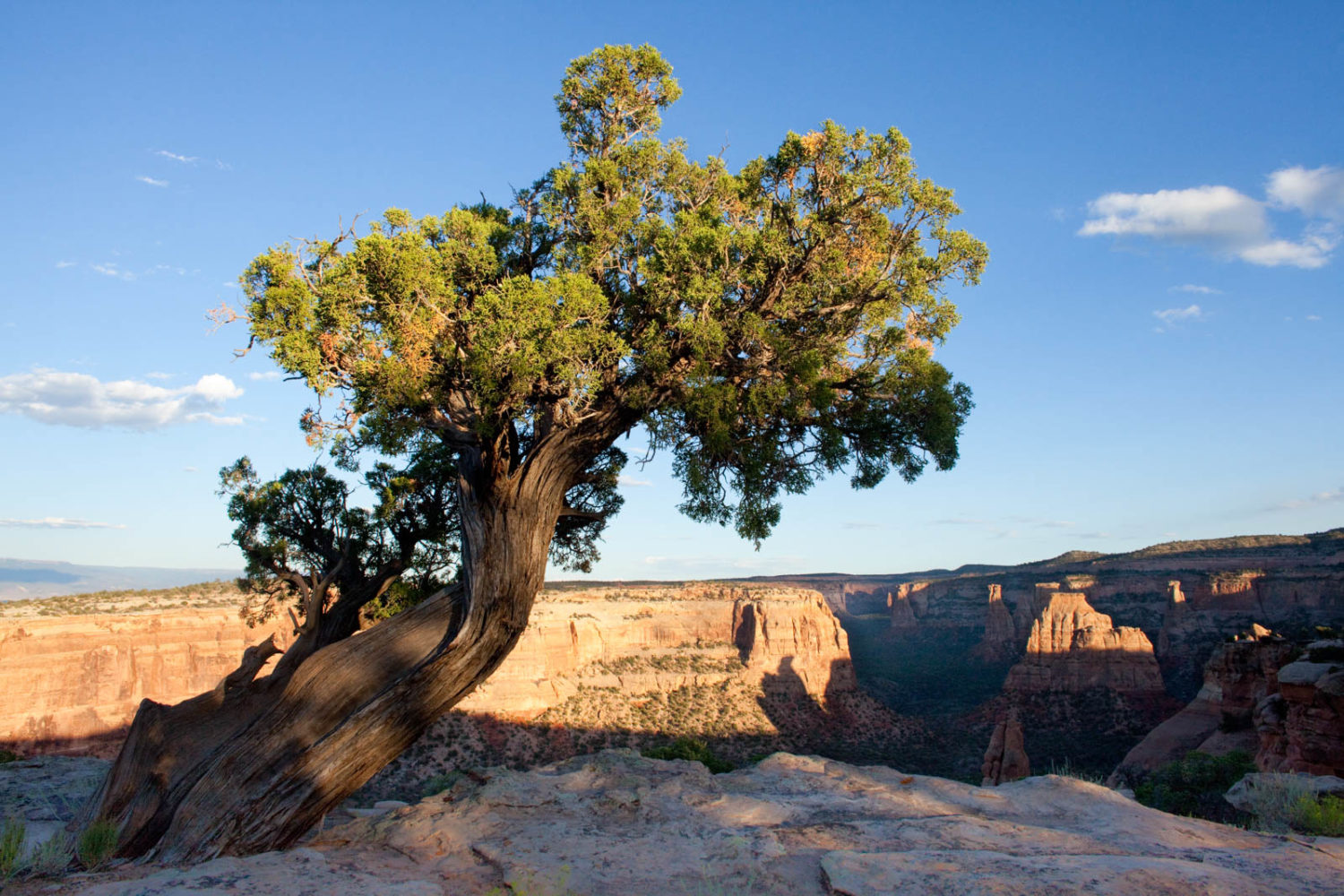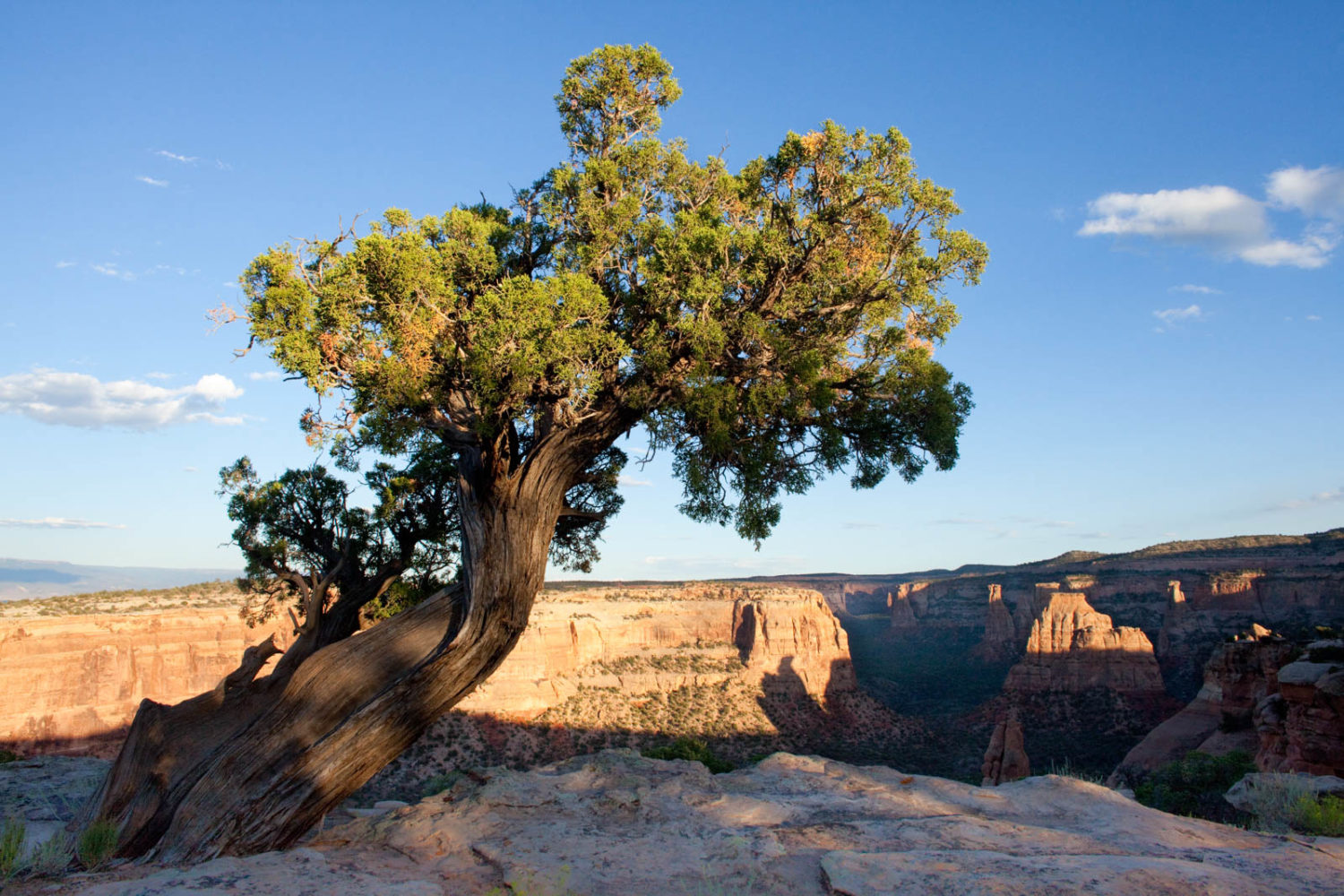 7
min read
Wine is the ultimate perception buster. So it is with a bit of self-awareness that I entitle this post "Mountain Time Zone Wines From Noble Grapes" because (a) the perception I've had of Colorado wine has been flawed and (b) the perception that a certain seven grape varieties are more "noble" than all others is clearly bunk as well.
And yet, that's the point that the following three wines have made to me over this summer: "get your head out of your glass, and replace it with your senses and your emotions." Because — believe it or not — Colorado and New Mexico are making wines from the "noble grapes" that are every bit as good as many of the top-selling wines from California and France.
Really.
A Stop in Palisade
A little over a week ago, my family went camping in Telluride along with another family we have known for a long time. That family's patriarch — there are some who call him "Tim" — has been a close friend of mine for 15 years, and our friendship has often-times been defined by political debate and all sorts of razzing. He loves staking a position and asserting the criteria for why it is the truth. I can't help but take a different position and try to poke holes in it. Meanwhile, our wives — Hailey and Lexi — head for the exits, wanting nothing to do with it.
At the end of the trip, our RV-SUV caravan drove through the Grand Junction area and stopped in Palisade for a wine tasting at a very small, very welcoming winery called Hermosa Vineyards. There, in what was essentially a garage-in-a-vineyard turned into a tasting room, I once again had my perceptions bashed-in by a wine.
It started off with a Chardonnay that the server described in terms of fruit and floral flavors. The usual you might taste this, you might taste that. Tim noted to her that he is often "wrong" with the flavors he picks up, something that got me vehemently shaking my head.
"With tasting notes there is no right or wrong," I replied. "There's just personal taste." And then, I added: "That's why wine tasting is a good exercise for us."
No sooner had I said that, did I demonstrate my own misperceptions of "right and wrong." I pointed to the Cabernet Sauvignon on the tasting menu and commented "I'm not going to like this next wine. I never like Cabernet. It's just too … anonymous."
And often it is.
But the Hermosa Vineyards Cabernet Sauvignon might be a game-changer for how I view this grape. It was elegant and sexy without being brawny and overbearing. Varietal Cabernet Sauvignon — especially American Cabernet Sauvignon — often aspires to blow the doors down. It impresses with force.
The restraint and layers of fruit in this wine, however, were clear with just one sip. At home, where I soon found an occasion to open it and share it with my wife (who was kind enough to watch the kids in the RV during the wine-tasting), I discovered just how brilliant the Hermosa Vineyards Cabernet Sauvignon really is. Each sip invited another. Each sip revealed a new surprise. By our last glass, we pin-pointed the nostalgic note it was triggering for both of us: a hint of cherry cola.
And to think I said "I never like Cabernet Sauvignon."
Is The Mountain Time Zone's Time Now?
Eight years ago, I wrote marketing content for the Colorado Tourism Office. At their annual conference, there was always plenty of Colorado wine to sample and it was usually terrible stuff. Year in, year out, it always struck me that Colorado's wine industry had a long way to go before it had a starring role in my meager wine rack at home.
But that's beginning to change. Whenever I go to a wine shop, I give their Colorado shelf (or shelves) a look-over and more and more, I'm coming home with something. I'm starting to pick up on who's who, and who needs to be sampled. Hermosa Vineyards is a tiny little winery. Some years, they make 1,000 cases of Syrah. Other years, when the yield is smaller, they make 12. These are the kinds of underdogs I want to be rooting for.
Perhaps the best-known Colorado winery is the absurdly named Infinite Monkey Theorem. Around Denver, their wine is on nearly every noteworthy restaurant's wine list, and for good reason: (1) Coloradans are inherently locavores, (2) its made off Larimer Street in an up-and-coming neighborhood of Denver, and (3) its pretty damn good wine.
Their white blend (often found in single-serving cans ideal for picnics, backpacking or a weeknight of drinking alone) is stellar: on par with many of the excellent wine blends made in the Willamette Valley. But from my experience their head-turning wine is a Riesling. It simultaneously conjures up Colorado's signature fruit — peaches — as well as the funky, vegetal notes of the better Rieslings from Germany, all while maintaining a steeliness and acidity that invites you for more. And here I was, thinking Riesling only thrived in cool climates. Perception? Again: bashed to bits.
Further south, it appears that New Mexico may have potential as well, if the bottle of 2008 Gruet Syrah I had on the Fourth of July is any indication. Like the Hermosa Cab, it was reaching old age and holding up just fine, thank you very much. Boysenberry-like flavors were dialed back a bit to allow for more nuance to come through, which surprised me: I've been to Albuquerque in summer. Like Palisade, it's hot enough to ripen your brain into a shriveled raisin if you stay out in the sun too long. Overbearing and jammy? Not really.
Perceptions are a problem when you let them influence behavior. I guess I could have said "no thank you" to a Cabernet Sauvignon at a wine tasting. I guess I could have made better time driving home and passed through Palisade without stopping. I guess I could have bought another Italian or French wine with the money I instead spent on Denver's "back-alley" Riesling.
Lesson learned. Keep an open mind. There is no right or wrong.
2009 Hermosa Vineyards Cabernet Sauvignon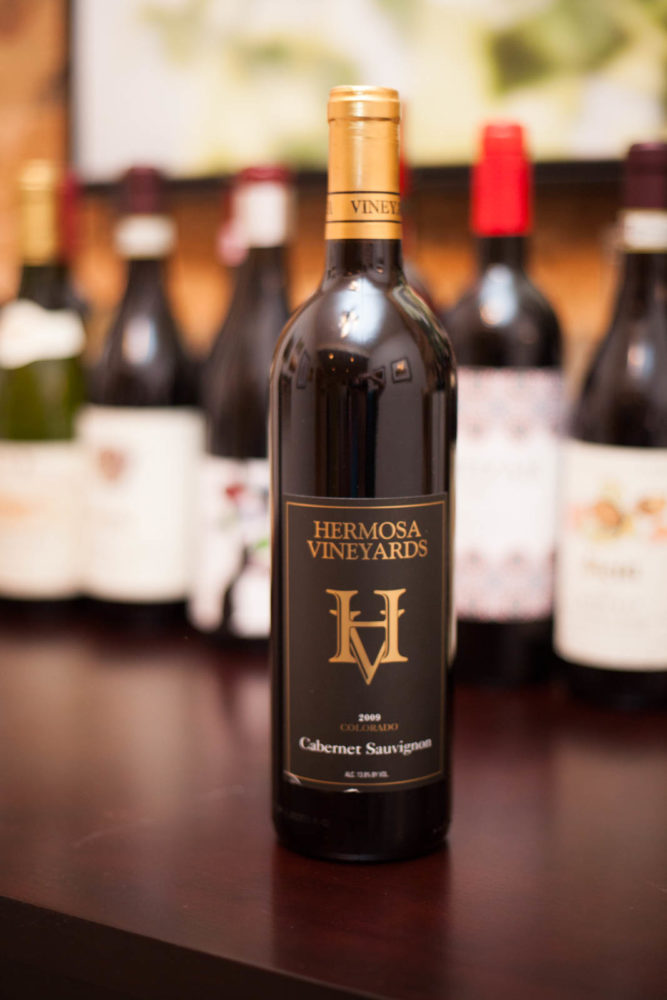 Palisade, Colorado
Alcohol: 13.9%
Grapes: Cabernet Sauvignon (100%)
Ratings: ★★★★★ (out of five)
• Aromas, Taste & Structure: ★★★★★
• Food-friendliness: ★★★★
• Value: ★★★
Tasting notes: An extraordinary Cabernet Sauvignon. Mellow on the palate, forceful on the nose. Very sexy with notes that recall rich raspberry, dark chocolate and an overlay of savory qualities — all of it inviting one sip after another. The palate notes offer a bit of nostalgia, with flavors reminiscent of cherry cola. Really, really nice.
Recommended for: Cabernet doubters. Like me. Works wonderfully with rosemary-thyme rubbed rack of lamb and fingerling potatoes.
---
2013 Infinite Monkey Theorem Riesling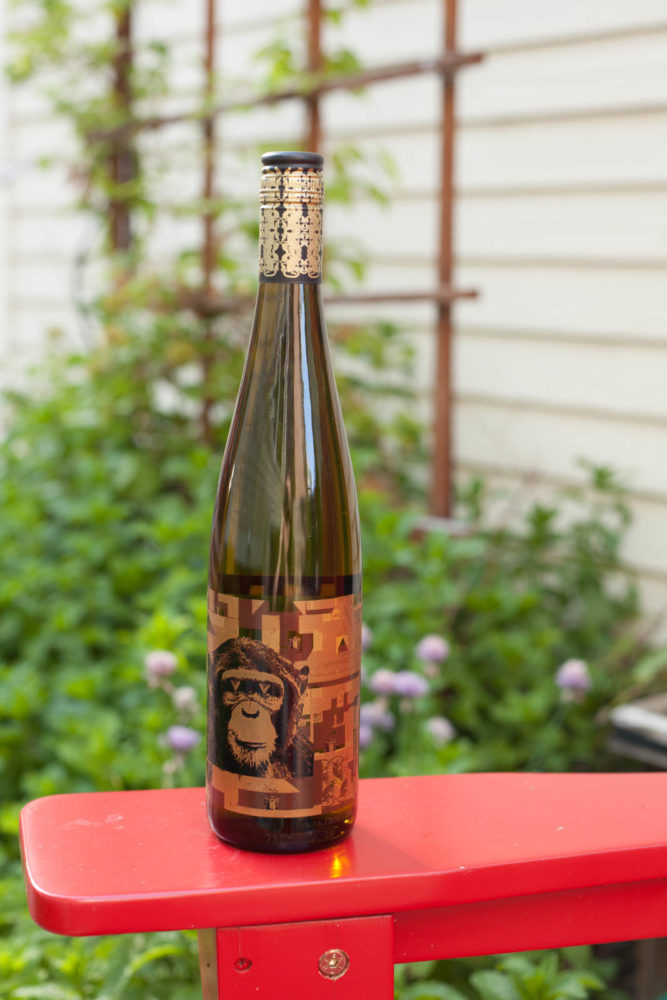 Denver, Colorado
Alcohol: 12.2%
Grapes: Riesling (100%)
Ratings: ★★★★ (out of five)
• Aromas, Taste & Structure: ★★★★
• Food-friendliness: ★★★★
• Value: ★★★
Tasting notes: Massive aromas that don't hide the weirdness of Riesling: peaches, lime and overripe melon with a distinctive vegetal note that some call "petrol." To me, it recalls cooked artichokes. The flavors recall peaches — one of Colorado's best products — with a crisp, yet slightly sweet texture.
Recommended for: Riesling is often a blank canvas for food, and that certainly applies here. From pan-seered trout to grilled pesto chicken, I can see it working with a variety of dishes.
---
2008 Gruet Syrah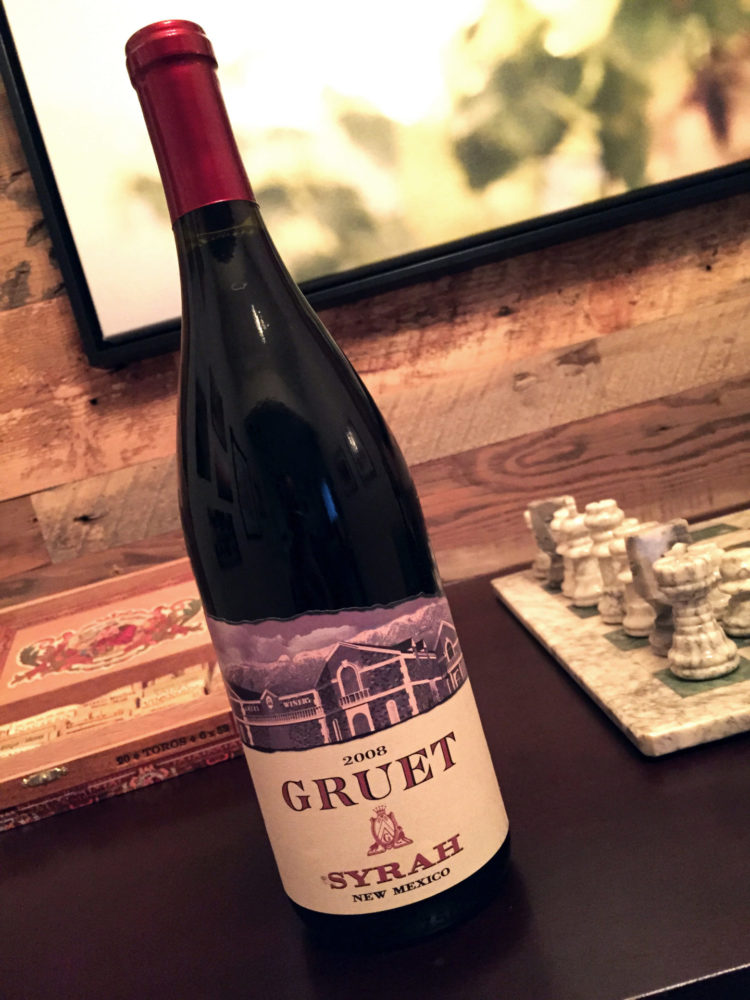 Albuquerque, New Mexico
Alcohol: 14%
Grapes: Syrah (100%)
Ratings: ★★★ 1/2 (out of five)
• Aromas, Taste & Structure: ★★★ 1/2
• Food-friendliness: ★★★ 1/2
• Value: ★★★ 1/2
Tasting notes: A super-ripe Syrah that recalls boysenberries, violets and cedar on the nose. As it opens up with more air, it gets a little more jammy, but not in a way that interferes with the food pairings. A nice balance of acidity keeps it honest and dialed in.
Recommended for: A wide range of burgers — particularly if you are fond of pungent cheese on top of yours — but I think it also works nicely as a stand-alone sipper.
---
Open a Bottle in Your Email
Subscribe to our monthly email digest.
---