4
min read
If you want to know a grape varietal or wine region better, there is no substitute for going horizontal. Side-by-side tastings of a single wine grape — grown in different soils, on different slopes, from different schools of winemaking, etc. — is the best way to fast-track your wine knowledge. The same can be said of vertical tastings where you compare vintage within a single wine.
Either way, through comparison comes distinguishing attributes. Wines that — by themselves — seem like four-note ditties become symphonies when tasted next to a counterpart.
I often forget this since (like you, I assume) I drink most of my wine one bottle at a time at home. But this past week, I acquired two samples from a producer of Grüner Veltliner in Austria. Like Riesling, Grüner Veltliner is capable of incredible variance and finesse.
It was just my wife and I drinking, but we thought "what the hell, let's open them at the same time and take notes. We'll wash four glasses later." The differences were intriguing.
Our wines were from Biohof Pratsch, a small family estate situated in the Niederostereich region of Austria, where the glacial soils foster Grüner grapes in light, clean yet expressive ways. Back in October, I was thrilled with their Lange Ried Riesling — an absolute home run of a wine which ended up on my list of the best wines of 2014. I was keen to line up two of their six Grüners — the Rotenpüllen and the Weinviertel DAC — and see how they differ.
At first taste, there seemed to be little difference other than light beading on the Weinviertel DAC, but as they opened up, noticeable differences emerged. The Rotenpüllen showed itself as more steely, crisp and dry while the Weinviertel DAC strived for something sweeter.
"Lime, mint, white flowers, peppery spice" I wrote down for the Rotenpüllen. "Like a Sauvignon Blanc without the grass."
"Peach, honeysuckle, jasmine?" I wrote down for the Weinviertel DAC. "Like a dry Riesling with a bit of effervescence."
And here's where the lightbulb went off. Does Grüner Veltliner straddle a continuum between Sauvignon Blanc and a dry Riesling? It was an interesting thought, one that wouldn't have emerged without a side-by-side tasting. While a single tasting isn't sufficient to create a cardinal rule, it was a compelling question worth pursing further. If nothing else, it is a safe way to describe Grüner Veltliner to a newbie. (I thought of my parents, who both love Sauvignon Blanc and dry Riesling).
One more difference worth noting: The Weinviertel DAC is intended to represent the style of the appellation (Weinviertel), while the Rotenpüllen is intended to represent a single-vineyard. That may seem like a slight difference, but its actually quite a major thing among winemakers. Naturally, the Rotenpüllen came across as more complex and nuanced, something you typically find with single-vineyard wines of any kind (most noticeably Pinot Noir). Perhaps a more revealing tasting would be a Weinviertel Grüner Veltliner vs. counterparts from Austria's holy trinity of regions: Wachau, Kremstal and Kamptal. Or the Rotenpüllen vs. other single vineyards in the Weinviertel. And is there such a thing as a diagonal tasting?
Either way, you can see where the potential of side-by-side tastings leads: More drinking.
… For education purposes, of course.
2012 Biohof Pratsch Grüner Veltliner Rotenpüllen
Weinviertel DAC, Austria
Grapes: Grüner Veltliner (100%)
Alcohol: 13%
Rating: ★★★★ 1/2 (out of five)
• Profile: ★★★★ 1/2
• Food-Friendliness: ★★★★ 1/2
• Value: ★★★★
Recommended for: Delicate dishes with subtle flavors to build on: baked halibut or potato pancakes with smoked salmon and dill cream.
Tasting notes: An exceptionally fine and delicate wine, the Rotenpüllen feels fresh and alive throughout the whole bottle. It leaps out of the glass with crisp aromas of lime, mint, white flowers and pepper. Wonderful balance of dryness and bright, sunny fruit on the palate with flavors of lime custard, honey, mint, jasmine and a finish of Grüner Veltliner's signature white pepper spice.
---
2012 Biohof Pratsch Grüner Veltliner Weinviertel DAC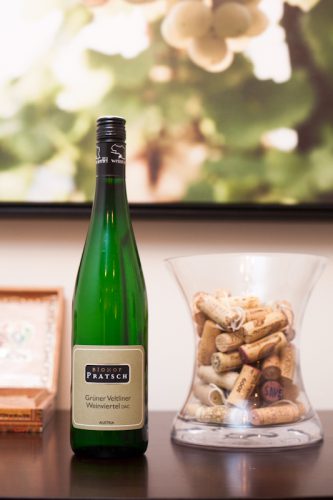 Weinviertel DAC, Austria
Grapes: Grüner Veltliner (100%)
Alcohol: 13%
Rating: ★★★★ (out of five)
• Profile: ★★★★
• Food-Friendliness: ★★★★ 1/2
• Value: ★★★ 1/2
Recommended for: Warm summer evenings. Clam-and-cream-sauce spaghetti and spicy shrimp dishes. Would be amazing with tandoori chicken.
Tasting notes: On the riper end of the spectrum without being sweet, the Weinviertel DAC offers up a crisp, clean Grüner Veltliner for most any occasion you could throw at it. Quite clear and light in color with noticeable beading. Aromas are distinctly peachy, with whiffs of honeysuckle and jasmine. Very lively on the palate with bright acidity and a hint of sweetness that provides balance.
---
 Top photo: ©Ulli Hager/Flickr user (ullihager) licensed via Creative Commons
Note: Biohof Pratsch wines provided by Winesellers Ltd. Learn more about our editorial policy.