Passopisciaro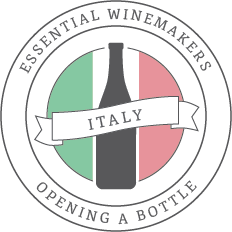 The Wines…
There are many compelling red wines coming from Etna these days, but none make a bigger splash in the pool than Passopisciaro. Concentrated and intense, these wines benefit from late harvesting from very old vines, often from higher elevations on the volcano. Because of this, the estate's wines anchor one end of Etna's vinous spectrum: the side predicated on power. This brazen style may not be to everyone's liking — and I am hardly known to pursue wines of concentration, extraction and strength — but what is undeniable to me is the craft of these wines. They are layered, shape-shifting and delicious.
The original wine is Passorosso, a blend of Nerello Mascalese from numerous contrada. It's partner on the white-wine side of things, Passobianco, is made entirely of Chardonnay — an outlier on Etna, where indigenous varieties rule.
Things get very exciting with the Contrada series: five single-vineyard cru wines from various aspects on the mountain. They used to comprise the Passorosso blend, but beginning in 2008, winemaker Andrea Franchetti decided that each vineyard's voice demanded a solo act. The Contrada G, from the best parcels that surround the winery in Contrada Guiardiola, veers closest to "volcanic Burgundy" in its tenor. I also love the Contrada C (Chiappemacine) for its wild and unpredictable aromas, and the Contrada R (Rampante) for its smoky tones, which at times are suggestive of roasted coffee beans. But the scene-stealer here is Contrada S (Sciaranuova), a wine that takes hold of the senses and refuses to let go. In 2019, the 2016 vintage ranked as our No. 2 wine of the year.
…And Why They Stand Out
When Andrea Franchetti first arrived on Etna in 2000, he found a vineyard landscape that had largely been abandoned. A fan of robust Bordeaux-style wines (which he had been emulating in Tuscany at Tenuta di Trinoro), he nonetheless appreciated the value of the area's centenarian vines of Nerello Mascalese. Back then, he could take his pick from what was for sale, and in many ways, his work (as well as the work of a small handful of peers), helped kick-start a renaissance on Etna. Today, along with the Langhe and Montalcino, Etna is seen by many, including myself, as one of Italy's most compelling terroir for red wine.
There is an element of surrender in Passopisciaro's Contrada wines that I find very compelling: try as hard as I might to put them in context (how do these compare to other Etna producers? where does this fit within the greater schema of Italian wine?), they stand as singular. Each vintage carries a new story of what the old vines are saying from across the northern flank of that smoldering volcano, meaning each release from Passopisciaro ought to be closely watched.
Originally listed: April 2020.
Visiting Passopisciaro
Tastings at Passopisciaro are by appointment only. Contact the winery directly.

Support opening a bottle by shopping at
*Icons at the top appear in a hover state on certain browsers. Visit the main Essential Winemakers page for a key to the complete set of icons.