Olivier Bernstein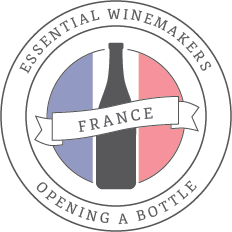 Beaune, Burgundy 
Primary Grapes: Pinot Noir
Primary Appellations/Cru: Grand Cru Chambertin, Grand Cru Chambertin Clos-de-Bèze, Grand Cru Bonnes-Mares
American Importer: Wilson Daniels
The Wines…
A focused, precise fleet of Pinot Noir from some of the Côte de Nuits' very best vineyards in Vougeot, Chambolle-Musigny, Morey-St-Denis and most notably, Gevrey-Chambertin. Of the 10 wines they make, seven are Grand Cru while the other three are Premier Cru. In older vintages (2011 and before) you might stumble upon a little Chardonnay, although their focus at the moment is solely on Pinot Noir.
…And Why They Stand Out
Let's be clear: these wines are not affordable. On the low end, bottles cost $75 (for a village Gevrey-Chambertin). On the high end, $525 (a Grand Cru Chambertin).
After tasting their fleet of wines, I hesitated for four weeks on whether I should list them as Essential Winemakers due to these prices. But when the day is done, I can't escape the fact that Oliver Bernstein makes some of the greatest Pinot Noir I have ever tasted. Even in a rushed, 45-minute tasting of their 2015 vintage, I couldn't ignore the greatness of these wines. With all five wines, I wrote down the words "lively" and "energetic." There seems to be a racehorse quality to the wines when they cross your palate. They are going somewhere and you better hold on if you want to join them. Red tea, black pepper and coniferous forests also kept appearing in my notes, all overlaying a core of black cherries and cranberry. While each vintage is different in terms of technical approach, the 2015 saw a considerable amount of whole-cluster fermentation. This seems to have aided in the development of each wine's detail.
Two wines that deserve special mention: the Grand Cru Chambertin Clos-de-Bèze juxtaposed complexity and lightness to a degree I've never encountered before. The wine conjured sensations of blackberries, roasted coffee, baking spice and beeswax. Yet it did not overwhelm the senses, a beautiful little trick.
And secondly, the Grand Cru Chambertin. Holy smokes: what a wine. My notes simply say "so good, it is not fair." The aromas were distinctly different from the Grand Cru Chambertin Clos-de-Bèze — darjeeling and black currant, cloves and cinnamon — yet it held the same magic of juxtaposition.
Yes, the wines from this buzzed-about négociant are in high demand and prices are only going to go up. But my-oh-my: the praise is worthy.
Visiting Olivier Bernstein
Tasting is by appointment for wine industry only, as this is a very small winery with a very small staff (and a lot of demand).

Support opening a bottle by shopping at

10% off 6 or more bottles with code MIXSIX
*Icons at the top appear in a hover state on certain browsers. Visit the main Essential Winemakers page for a key to the complete set of icons.