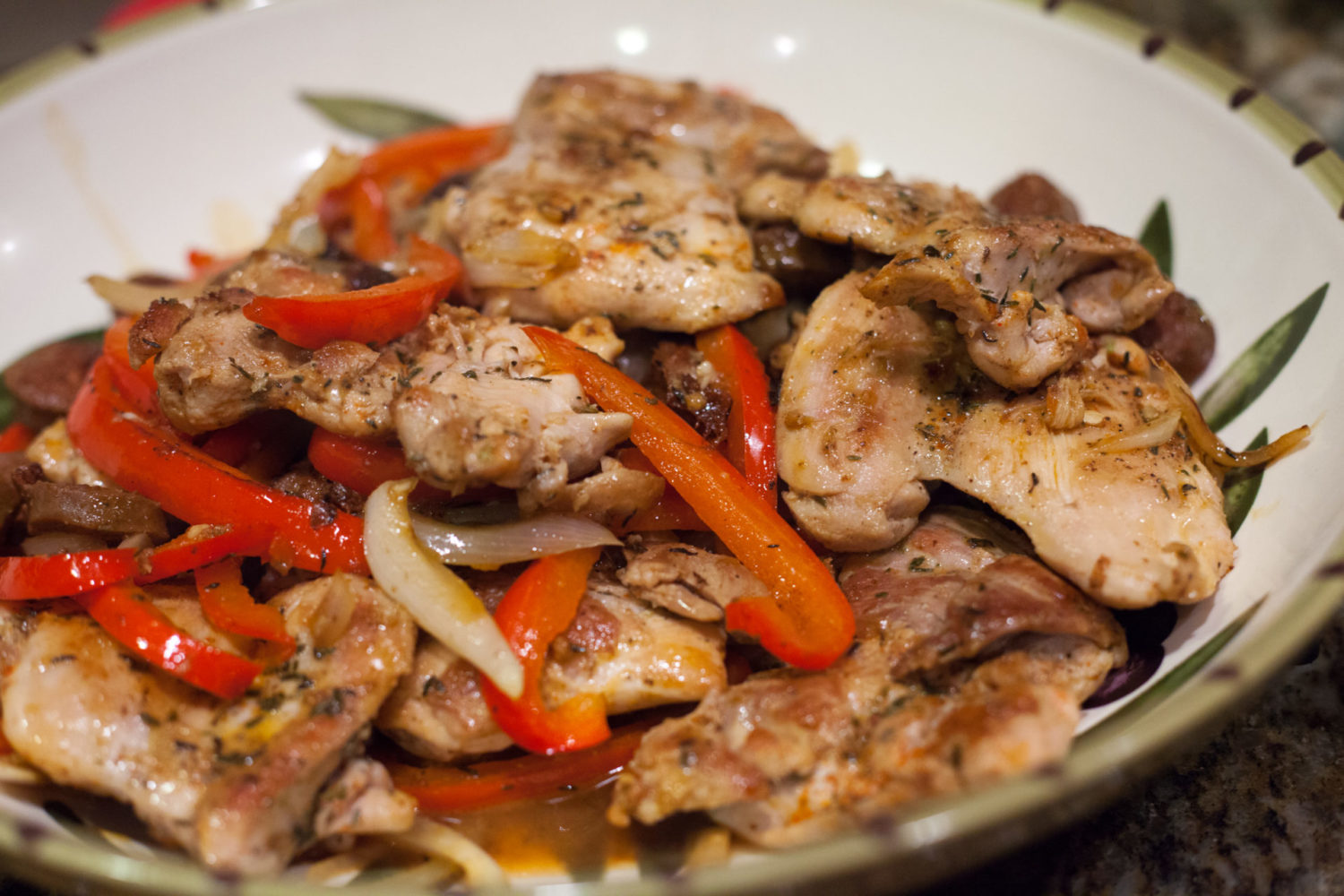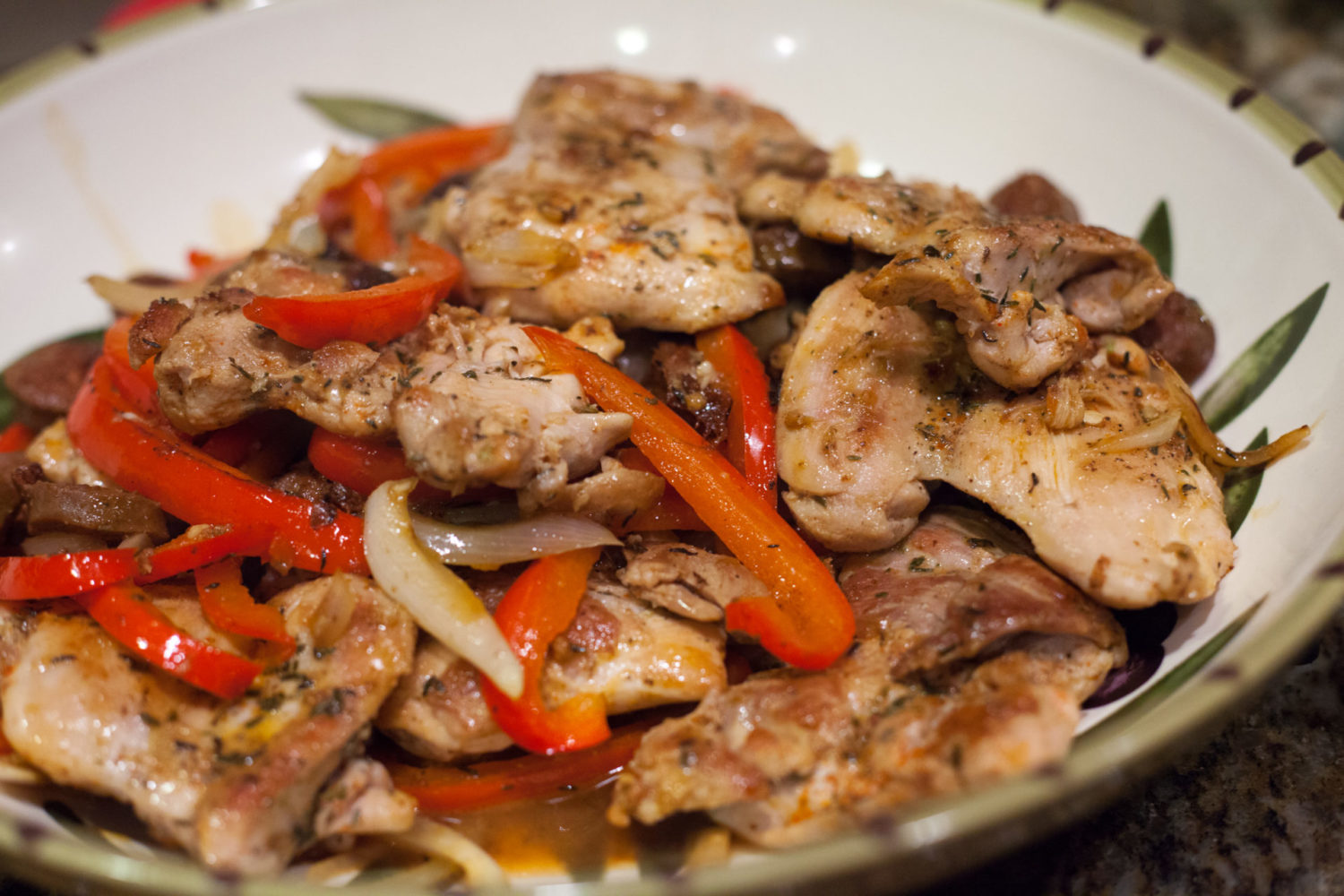 2
min read
Every home cook has their standbys: Dishes that can be whipped together from memory with a few key ingredients lying around.
When I was engaged-to-be-married, living in a single apartment, that list of standbys consisted of Cheerios, quesadilla, and — if I was ambitious — scrambled eggs. In my book, marriage has evolved me so much for the better, it doesn't even have a quantifiable measurement. Being able to cook food is merely the most delicious personal improvement.
Today, one of my standbys is Basque chicken with chorizo sauté (original recipe courtesy of Food + Wine Magazine). I have cooked it enough times that I can nail it off the top of my head in under an hour. If we have chicken thighs or chicken legs, a sausage of some sort, bell peppers, and thyme and sherry in the pantry, it can be pulled off with dozens of variations. It's rustic and simple enough to work on a weeknight, and zesty and rich enough to impress company. Plus, its a dish that has never seen a wine pairing it didn't like. A dry Riesling? A vibrant Sauv Blanc? A woodsy Barbera? It's the Rick Rubin of recipes.
Part of the reason I love this dish so much is that it reminds me of the chicken cacciatore my mom often makes. Herbs, sherry and peppers form a nice trifecta — this dish simply adds the special kick of spicy chorizo (I prefer to use Mexican chorizo in its casing rather than Spanish chorizo … which may remove most of the Spanish character of the recipe, but…).
On Friday when we made this dish, we opened a bottle of Alvaro Palacios' La Montesa, a standby Rioja if there ever was one. If you are buying a Spanish wine, anything with Palacios' name on the label is a good choice — he's a bit of a superstar Spanish vintner, and his wines are affordable. I prefer another Rioja of his — La Vendemia — to this one, and his Camins del Priorat ranks among my all-time favorites.
So the next time you want to open a specific bottle, and you are scratching your head on what to cook with it, give Basque chicken with chorizo saute a try.
2010 Alvaro Palacios La Montesa Rioja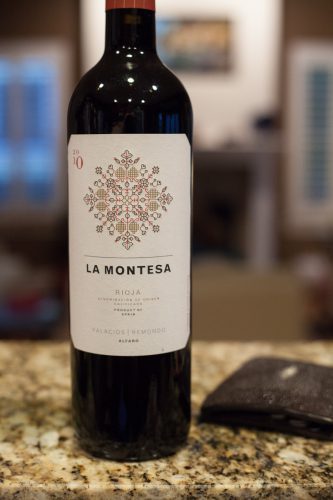 Alfaro, Rioja Baja
Grapes: Grenache 75% / Tempranillo 20% / Mazuelo 5%
Alcohol: 14%
Rating:  ★★★★ (out of five)
Tasting notes: Very straightforward with red fruit and vanilla. Easily accessible, and a real crowd-pleaser.
Open a Bottle in Your Email
Subscribe to our monthly email digest.
---