3
min read
What comes to mind when you think of Austria? If you are a wine lover, you'd probably say "Grüner Veltliner," the crisp, peppery white wine that accounts for more than one-third of the nation's vineyards. This year, I've found myself gravitating to Grüners on more than one occasion, and I'd even go so far as to say they are one of my essential grapes to look for. Their steely acidity and zesty notes of lemon and peach can go toe-to-toe with a variety of dishes.
But as it turns out, I ought to be looking for Austrian Riesling as well, if Biohof Pratsch's rendition is any indication.
Their delicious "Lange Ried" is exactly the style of Riesling I prefer: crisp and dry, light yet deceptively creamy in texture. The word "sweet" hardly even crosses my mind. In fact, it only has 5 grams of sugar per liter. I normally don't look for this info (it is rarely on a bottle), but perhaps I should seek it out. Another Riesling that I had recently — which was overbearing with sweetness — had a residual sugar of 65 grams per liter.
This wine hails from the Weinviertel DAC, one of Austria's most important and prolific wine districts. Many of the same ingredients that make Germany's Mosel River a premier place for Riesling seem to apply here: rolling hills and well aerated soils covered with heat-retaining stones. Along the Mosel, slabs of slate add a distinct mineral touch to the drier Rieslings; here, its the product of alluvial soils that are the result of glacial deposits.
I opened up the Pratsch Riesling last weekend on a fall-color outing to Steamboat Springs here in Colorado. We paired it with a savory roast chicken from the grocery store deli (my favorite bargain takeout these days) and a spinach salad, but I couldn't help but think it would have gone great with chicken tinga, or an enchilada smothered in a rich molé sauce. Perhaps that could be a good subject to explore for later — wines that defy convention and amplify Mexican food — but until then, my advice is to not write off Austria as just Grüners. Maybe I should track down an Austrian red next and see what's up.
Zweigelt anyone?
2012 Biohof Pratsch Riesling Lange Ried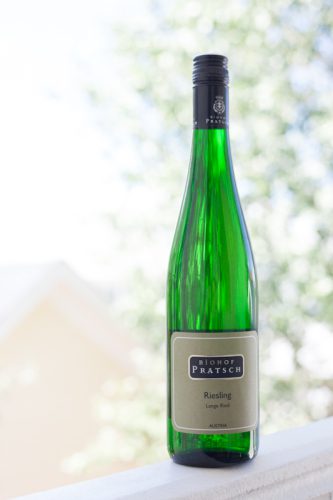 Weinviertel, Austria
Grapes: Riesling (100%)
Alcohol: 12.5%
Ratings: ★★★★ 1/2 (out of 5)
• Profile: ★★★★ 1/2
Food friendliness: ★★★★★
• Value: ★★★★ 1/2
Recommended for: Defying convention logic that "no wine works with Mexican food."
Tasting notes: Shimmering yellow in color. Bright aromas of lime zest, herbs and creaminess. First sip is slightly effervescent and elegantly crisp. Flavors are citric, with grapefruit and lime leading the way, followed by a bottom note of apricot, green apple, stoniness and a honeysuckle note that lingers. Perhaps the best attribute of this wine is the slight creaminess to its texture; very full and rich while maintaining a nice lightness.
Top and middle photos ©Biohof Pratsch