3
min read
Burgundy may always be top dog when it comes to Pinot Noir (call it "Ancestral Home Advantage"), but for my budget, New Zealand and Oregon are the ones arm-wrestling for Pinot Noir supremacy. I'll get a much closer look at Oregon next week when I visit the Willamette Valley for a few days. But for right now, I'm focused on "Middle Earth."
Over the last year, New Zealand Pinot Noirs have been hitting bullseye at our dinner table. They're clean flavors and smooth texture match well with everything I've thrown at them: seared tuna, grilled rack of lamb, even hamburgers. Producers that have impressed include Mohua, Roaring Meg and Nobilo, and its particularly fun to buy a bottle each from Central Otago and Marlborough — two dramatically different regions on the South Island — and compare them. From my experience, the Central Otago Pinot Noirs seem to be deeper and more brooding; the Marlborough, more fun and carefree.
Last night we opened the 2010 Pioneer Block 16 Pinot Noir from St. Clair Family Estates — a winemaker who produces an enormous array of single-vineyard Pinot Noirs from Marlborough. We had family staying the night and so all signs pointed to spaghetti — a dish that offered common ground between three adults and four ravenous kids. Looking over my wine rack, I was tempted to do the no-brainer pairing and select a Barbera d'Asti or Rosso Toscano. Then I thought: Pinot and spaghetti? Why not?
Tomato sauce, with its ratio of acidity and sweetness, is almost like a wine itself — the best sauces are balanced and not overloaded to one side. I puréed carrots and simmered them with onions and peppers first before adding the tomatoes, and this seemed to keep the flavors bright — as well as make the sauce more orange in color.
So how did the Pinot Noir stack up alongside it?
Perfectly. The Pioneer Block 16 is bright and cheerful. You normally don't hear red wines being "sunny" in their flavor profile, but that's what I picked up. At the heart of the wine was a medley of three fruits: black cherries, pomegranate and cranberry. It made the spaghetti better, which in my book, is the leading hallmark of a great wine.
At the rate I drink, it would take a month to go through all of the wines Saint Clair Family Estate produces. They're Pioneer Block collection — which are single-vineyard and ideal for terroir heads looking to line up a vertical tasting of their own — represent the top 2% to 3% of the grapes they grow. At around $25 per bottle (and factoring in the boat ride from the bottom of the planet), these are pretty good value wines for the Nth degree of quality they represent.
2010 Saint Clair Family Estates Pioneer Block 16 Pinot Noir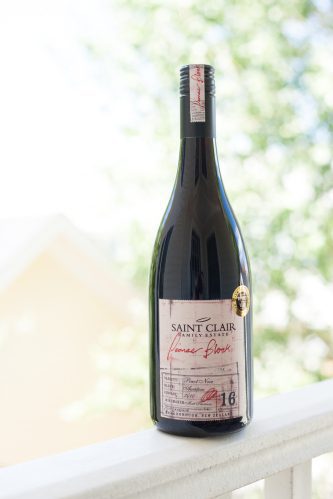 Awatere Valley (Marlborough, NZ)
Grapes: 100% Pinot Noir
Alcohol: 13.5%
Ratings: ★★★★ (out of five)
• Flavor Profile: ★★★★
Food-friendliness: ★★★★ 1/2
• Value: ★★★★
Recommended for: Unusual pairings when you are in a sunny mood.
Tasting notes: Smooth, rich and decadent aromas of cherry. The flavors are centered on black cherry, but oscillate between notes of pomegranate and cranberry as it opens up. Other notes include cola and a stoniness reminiscent of flint. The wonderful texture is smooth with bright tannins toward the front of the palate. Finishes with a medium length, but seems destined to pair well with a variety of foods.