4
min read
Do you like wines that are bold and bullish? That are as dark as chocolate but have a savory tinge of bacon?
As odd as all that sounds, such a wine exists, and if you are a fan of Syrah, you know what I'm talking about: a dark, brooding, savory juice perhaps best known in these parts for its Californian variations. When labeled as Shiraz from Australia, this wine is often fruit-packed, tannic but can be a bit dull. But steer your attention toward its ancestral home in France — specifically the Northern Rhône — and you'll find that Syrah is capable of quite the tight-rope walk: strong yet delicate, acidic yet fruity, familiar yet layered.
But here's the bad news on French Syrah: it is pricy. Hermitage, Côte-Rôtie and Cornas can command three figures per bottle and above. Among the many Syrah-focused appellations in the Northern Rhône, only Crozes-Hermitage and Saint-Joseph fit my comfort-level on price.
Why Should You Seek Out Saint-Joseph?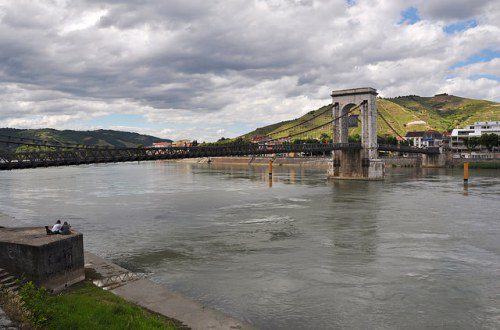 Our last first-taste guide profiled one of France's more celebrated Southern Rhône appellations, Gigondas. But upstream of Gigondas, the narrative changes completely, and not just from predominantly Grenache-based blends to Syrah-focused wines. In the Northern Rhône, specific vineyard sites are crucial to success, even by terroir-obsessed French standards. The effects of the cold mistral winds from the north in spring — as well as other northern latitude troubles such as insufficient sunshine for ripening — require that vineyards offer ideal exposure and shelter. South-facing bowl-shaped hillsides mark the ideal place to foster complexity in Syrah, something the "roasted slope" of Côte-Rôtie and the famous hill of Tain l'Hermitage have become famous for.
It would appear that Saint-Joseph offers a glimpse — a glimpse — of this world, but for between $25 and $45. That price is still nothing to sneeze at, but my first taste of Saint-Joseph was compelling enough to shrug off the price and want more. If you are new to French wines — or even just Northern Rhône wines — Saint-Joseph offers a good entry point to France's refined and sophisticated Syrahs.
About the Appellation and Its Wine
Well, Saint-Joseph used to be the favorite wine of Louis XII. Needless to say, the roots run deep here.
Located on the western side of the Rhône River — just across from Hermitage — Saint-Joseph differs from its more acclaimed neighbors because of size and variety of terrain, but given the need for Syrah to have ample, warm sunshine to fully develop complex flavors, the appellation's low spots — where the light isn't as direct — do little to enhance its reputation. But from everything I've researched, most of the Saint-Joseph that hits the American market is from noted producers sourcing grapes from higher slopes where the best grapes grow. In fact, it would appear that Saint-Joseph is on the upswing, with historic French winemaking families moving back into the area to reclaim lost, ancient vineyards.
While some white wine is produced, a vast majority of the acreage is devoted to Syrah.
Your First Taste
My perception of Syrah has been largely formulated by California Syrah, as I suspect it has been for many of you. At times a bit too alcoholic and fruity, I've never considered myself a big fan of this grape; they are often overbearing and confuse strength with being obvious. So I approached my first bottle of Saint-Joseph — the 2010 Domaine Curbs Saint-Joseph "Les Royes" — with tempered enthusiasm.
But lowering my nose under the rim revealed exactly what I have come to love from French red wines: vivid, shape-shifting aromas. Often with French reds — specifically Beaujolais Cru and Chinon — I've found my mind drifting to indirect relations rather than exact aromas. Purple fruit and salami, the way it smells after it rains, a campfire. All of these images sprung to mind before even my first sip. On the palate, more associations: chalk, blackberries, jerky. (Yes, jerky). There is a noticeable gaminess to Syrah, and the dialed-down fruit of this Saint-Joseph made me wonder if its a hallmark of the varietal — something that gets lost under a quilt of chewy fruit flavor and heavy new oak in Australian Shiraz and Californian Syrah.
Next Steps
Certainly, I'll be on the look out for more Saint-Joseph, particularly in the $25-$40 range. Please leave a comment if you want to recommend any.
And another next step: Craigslist unwanted household items and sell old CDs on Amazon … so I can save up for a bottle of Hermitage, Côte-Rôtie or Cornas. See what all the fuss is about.
2010 Domaine Courbis Saint-Joseph "Les Royes"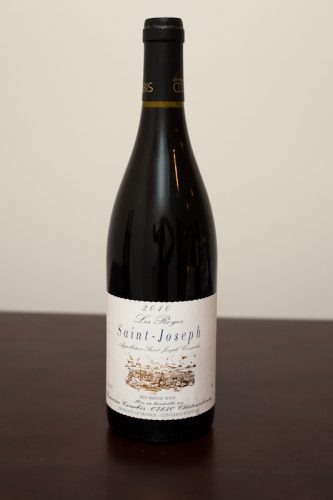 Saint-Joseph AOC (France)
Grapes: Syrah 100%
Alcohol: 13.5%
Rating: ★★★★ (out of five)
• Profile: ★★★★
• Food-Friendliness: ★★★★
• Value: ★★ 1/2
Tasting notes: Pleasantly rich yet smooth. Signature Syrah aromas of cured meat, smoke, wet earth and purple fruit. On the palate, I found that it had a wonderful structure, balancing blackberry and plum, chalk, with a slightly spicy finish. I can see this wine aging nicely for another 5 to 7 years.
Recommended for: Anyone lucky enough to own a smoker so pretty much, any meal in Texas. No seriously, the Domaine Courbis is an excellent red meat kind of wine. We drank it with grilled beef tenderloin with an avocado-piquent pepper relish and it was out of sight.
Note: This editorial is under consideration for a rewrite due to new experiences. Stay tuned.