8
min read
Earlier this week, I profiled Frappato as an intriguing — somewhat unconventional — selection for your Thanksgiving dinner red wine. But if you want to play it safe (and I usually do with such a sacred meal) there is always Beaujolais. It's fruity and fun, and the best versions have enough structure and complexity to honor Mom's cooking.
Plus, it is often affordable. You rarely — if ever — see a Beaujolais that costs more than $50 a bottle. In fact, the best Beaujolais wines I have tasted consistently cost between $15 and $30. And sometimes a $40 bottle is a worthy splurge.
Usually, the best wines from this region in eastern France come from the 10 Cru du Beaujolais appellations where the grape can thrive in granite soil. (Look for wines with these place names on the label: Moulin-à-Vent, Juliénas, Chénas, Fleurie, St-Amour, Chiroubles, Morgon, Régnié, Brouilly and Côte de Brouilly).
---
Cru du Beaujolais: A Horizontal Tasting of Four Cru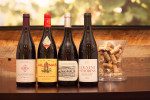 What are the subtle differences between Beaujolais' top areas? Get up to speed on the 10 Cru villages of Beaujolais with this article.
---
However, you can sometimes find superb wines at the "middle tier" known as Beaujolais-Villages. For this article, I am choosing to skip over Beaujolais Nouveau, which — in my opinion — lacks the acidity and structure to partner with Thanksgiving.
I recently had a tasting with Matthew Roesch of Anvil Wine Company here in Denver, and we sampled a series of Beaujolais wines that his company distributes for Kermit Lynch Wine Merchants and Paris Wine Company. We also opened a seventh bottle I had on hand — from the Cru of Chénas — for comparison.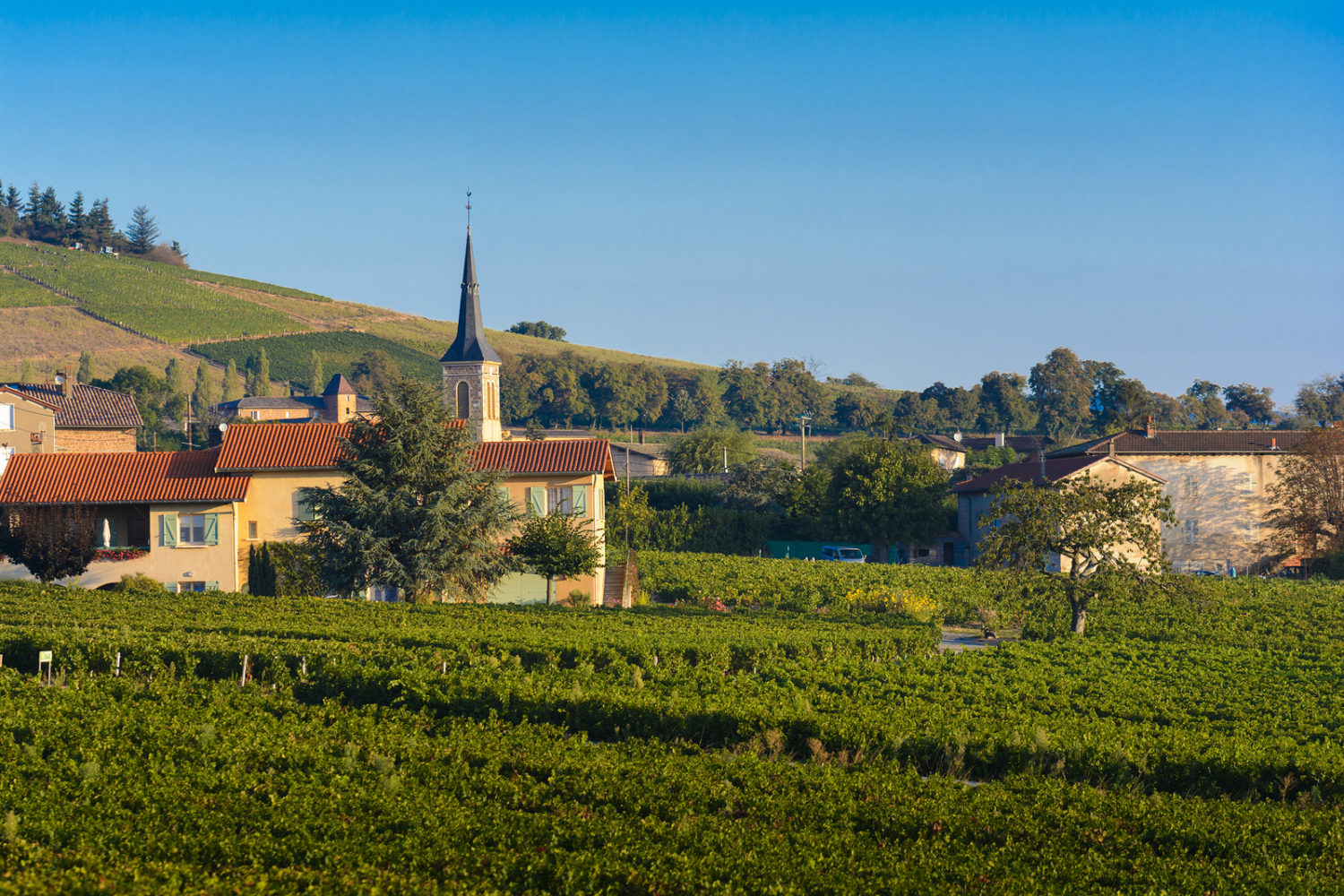 My goal was to find some fresh and interesting wines from the region to recommend for Thanksgiving. Plus, I wanted to experience some new perspectives on Beaujolais. I've sampled quite a bit of Moulin-à-Vent this year, but this Cru is consistently the boldest and most complex expression of Beaujolais. For Thanksgiving, I feel like the lighter the wine, the better off you'll be. So our tasting focused on some of the lighter, more playful expressions. Here and there, the wines showed incredible depth and complexity, and I definitely ear-marked a few for the future.
Here are the seven ones with a little background.
---
First, a Beaujolais-Villages
One of the best fits for the Thanksgiving table came first. Matt poured the 2015 Guy Breton "Cuvée Marylou" Beaujolais-Villages (★★★★), which comes from the Saint Joseph and Grand Cras subzones of the Morgon Cru.
Saint Joseph is barely outside the border of Morgon, and perhaps that is why this wine is "merely" a Beaujolais-Villages. Grand Cras lies to the south of Cote du Py, a famous hill that produces intense and bold Gamay wines to rival Moulin-à-Vent.
This is a wine that resides somewhere in between. It tastes like ripe cherries and has a few fun inflections that recall candied fruit flavor. But from my experience, that's usually where a Beaujolais-Villages stops, and it can be a rather dull wine after a while.
But with the Cuvée Marylou, there is a lasting minerality that I found very appealing. I had a second glass later with dinner (therefore the full review at the bottom of this article), and it struck me as highly versatile.
If you are looking for a Beaujolais to make a large table of diners happy, get four bottles of this one and you're done with your wine shopping.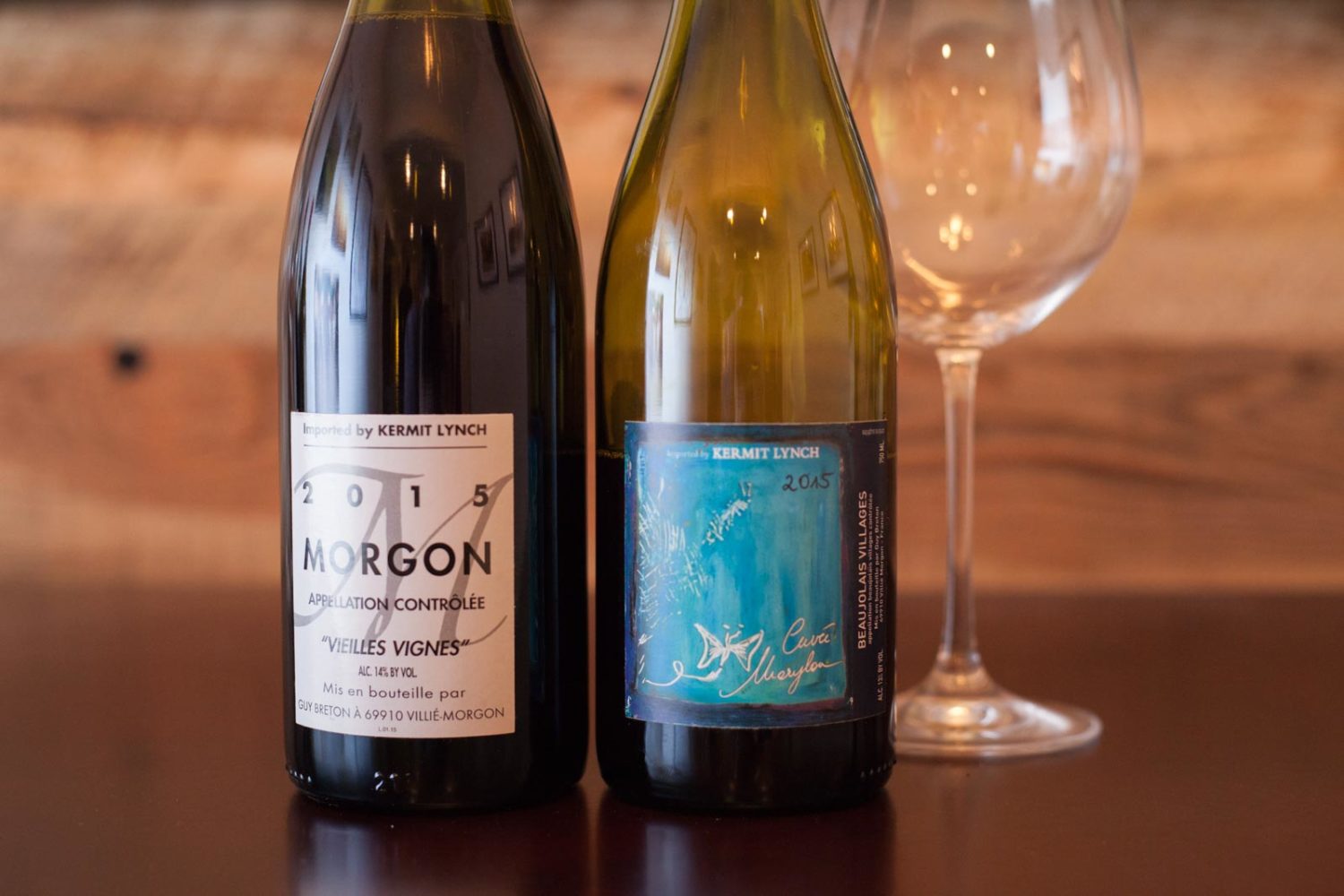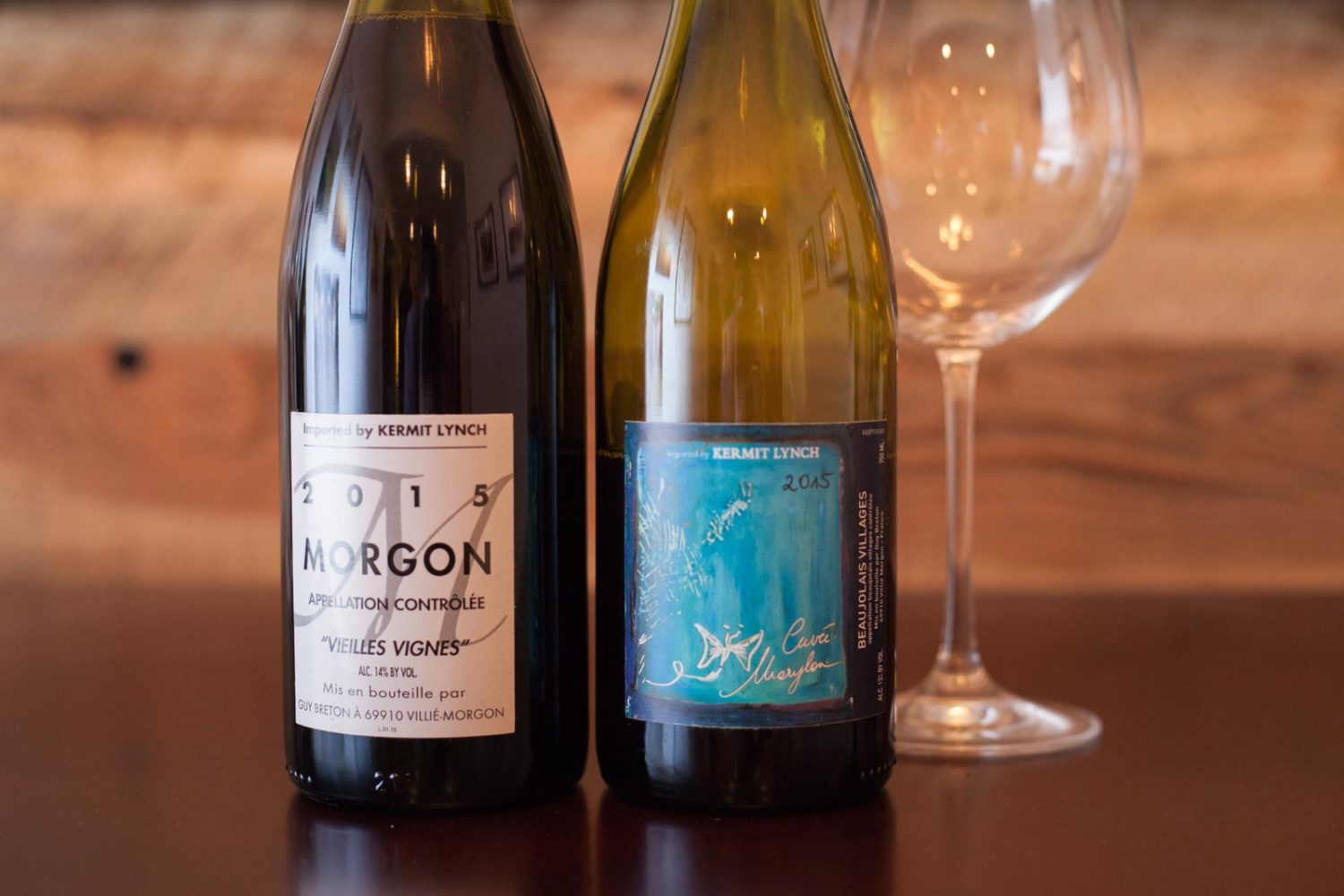 From Morgon
Next, we tasted the 2015 Guy Breton "Vieilles Vignes" Morgon (★★★★ 1/2).
Guy Breton is one of the most famous winemakers in Beaujolais. Part of Kermit Lynch's "Gang of Four," he helped resurrect the appellation by taking a more natural approach to winemaking. In many ways, he and his contemporaries unmasked the terroir beneath the juice.
His old-vine Morgon demonstrates this very well. On the nose, it had a mysterious "foresty" aroma that I couldn't quite pin down. Traces of pepper and wood rounded out its impressive bouquet, and each sip was smooth and inviting.
If you are serving a smoked turkey, this would probably be the Beaujolais to hunt down.
From Fleurie
From an icon to an upstart, we next poured a wine from Yann Bertrand. The son of a prominent Fleurie winemaking family, he has garnered so much buzz in recent years that his wines are increasingly hard to find.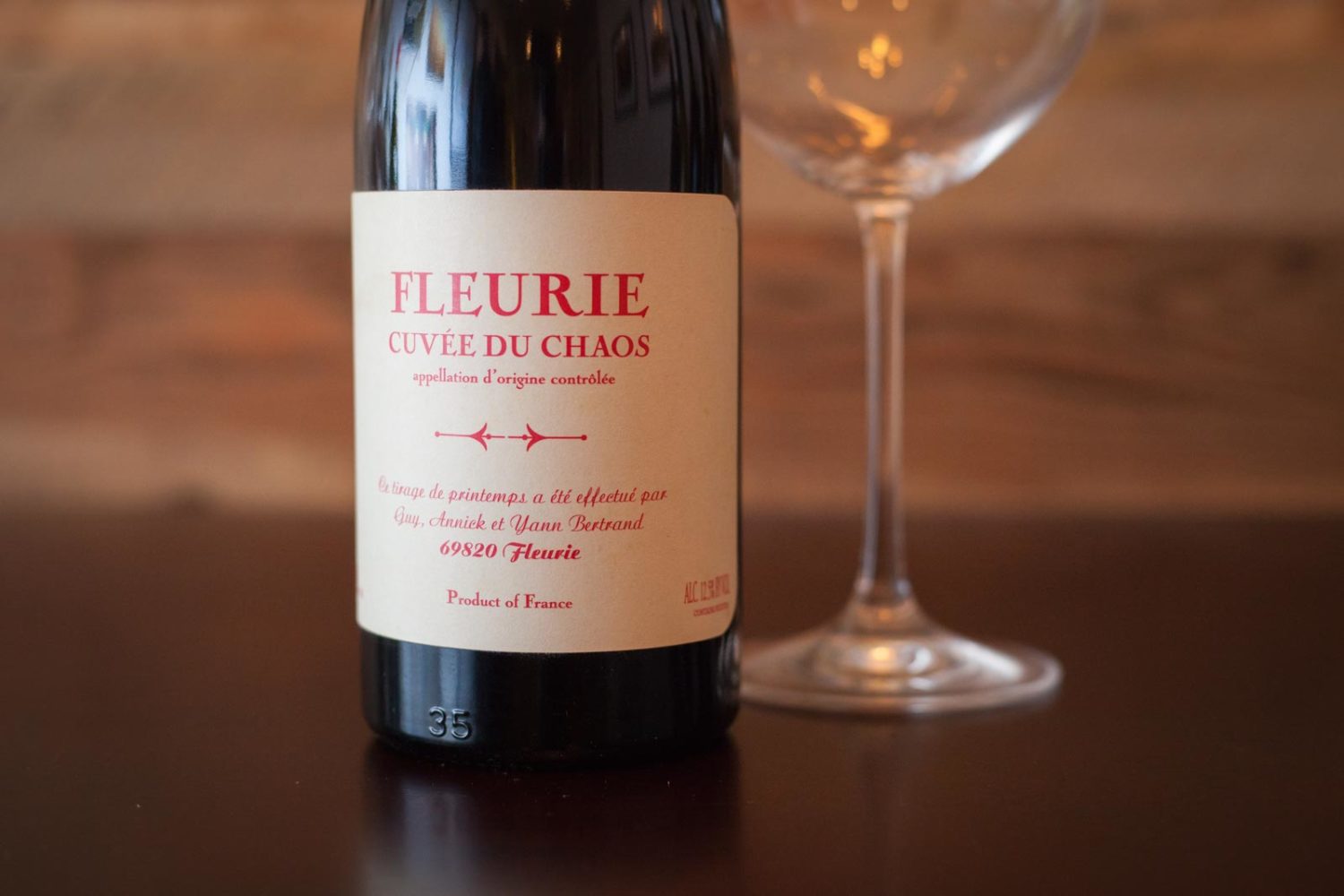 After sampling the 2014 Yann Bertrand "Cuvée du Chaos" Fleurie (★★★★ 3/4), I can see why. This is a gorgeous wine that recalls nature at every sip. It's aromas smell like a berry patch mingling with a primrose garden. That may sound ridiculous, but the power of this wine lies in its ability to trigger something from the past, and for me, it was picking berries in Oregon last summer, and hiking through wildflowers in Colorado. Both came to mind, rather suddenly, with this wine.
I've always felt that Fleurie was the lightest of the Beaujolais' Cru, but this wine upends that notion completely. I wrote down "Pinot Noir-esque" in my notes. A surprising amount of depth, yet still not as bold as you would find in most Moulin-à-Vent or Morgon.
It was only a three-ounce pour, but this guy is definitely a winemaker to watch for.
From Brouilly & Côte de Brouilly
From another Beaujolais upstart, the 2015 Pierre Cotton Brouilly (★★★★ 3/4) emerged as a personal favorite. Again, this is a wine I'd like to spend more time with.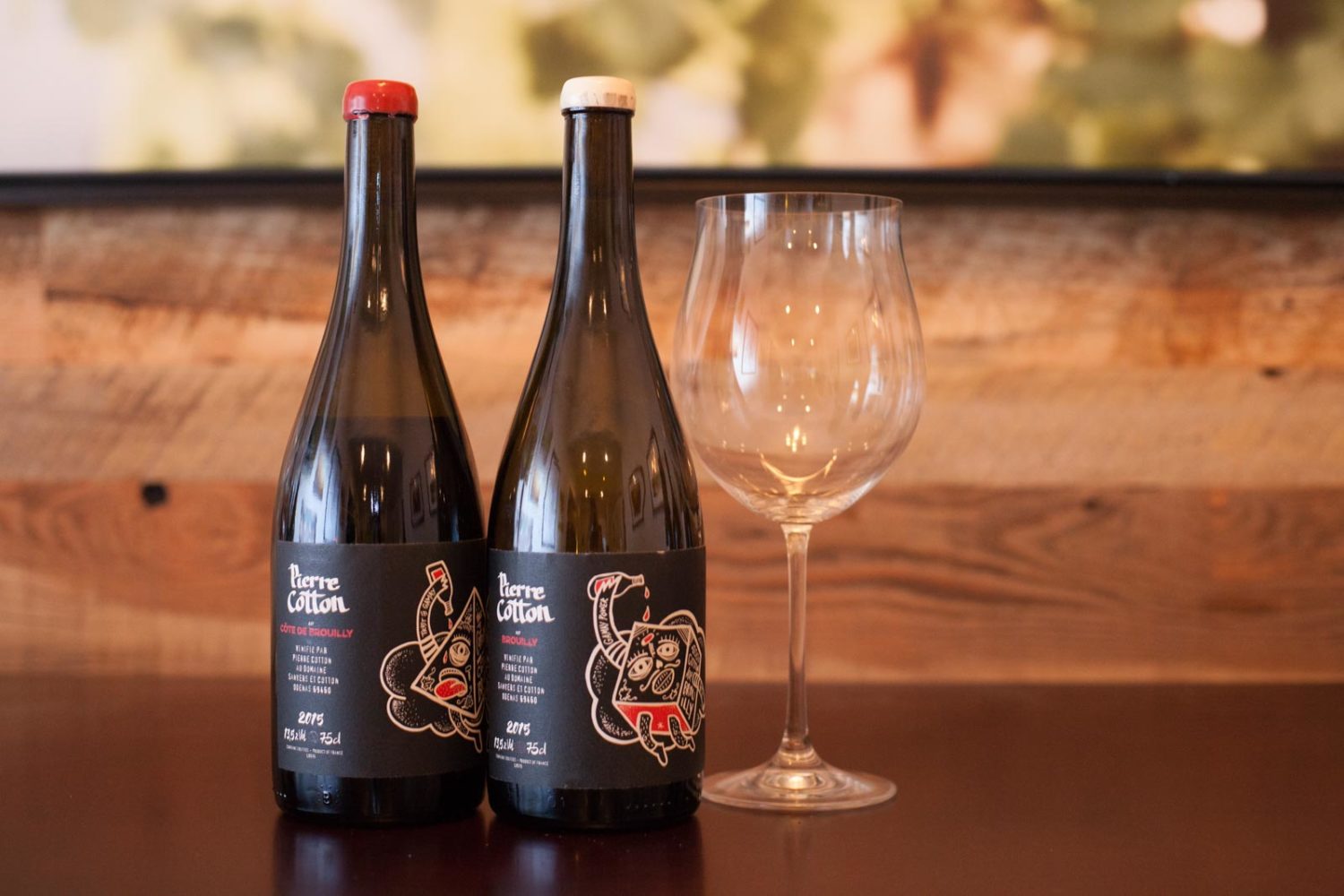 Pierre has only been making wine for a handful of years. His first vintage was 2014, and with each year, he has steadily added small holdings from around the area. His Brouilly portrays an impressive amount of tension. On the one hand, it is fun and playful, with notes that reminded us of bubblegum and almonds. But the fruit layer is deep and a bit dark: a little like mashed raspberries. I sampled a second glass with dinner, and it was a fantastic companion wine to butternut squash risotto with sausage and brussels sprouts. (See the full review below). At $40, it is perhaps on the high end for a Thanksgiving wine, but if your party is small, it's aromas and flavors will go a long way at the feast.
We next sampled a second wine from Piette Cotton, his 2015 Côte de Brouilly (★★★★ 1/4). I felt it was a little more restrained and less approachable, but the profile also recalled raspberries and almonds with a stony finish. It was very similar to the Brouilly, but probably just needed more time to open up.
From Régnié
For some time, Régnié has been one of the harder Beaujolais Crus to find, overshadowed by Moulin-à-Vent, Fleurie and Morgon. Similar to Fleurie, the predominant style is said to be lighter and more floral in characteristics.
Our second to last wine, the 2013 Domaine de Bellevue "L'Ollier" Régnié (★★★★ 3/4) did not fit this description at all. Smelling like a rainstorm had just passed through, with distinct edges reminding me of tobacco and mushrooms, this wine was easy to love. The fruit layer was deep and dark as well, and the balance between its mild tannins and zingy acidity made it a perfectly delicious wine.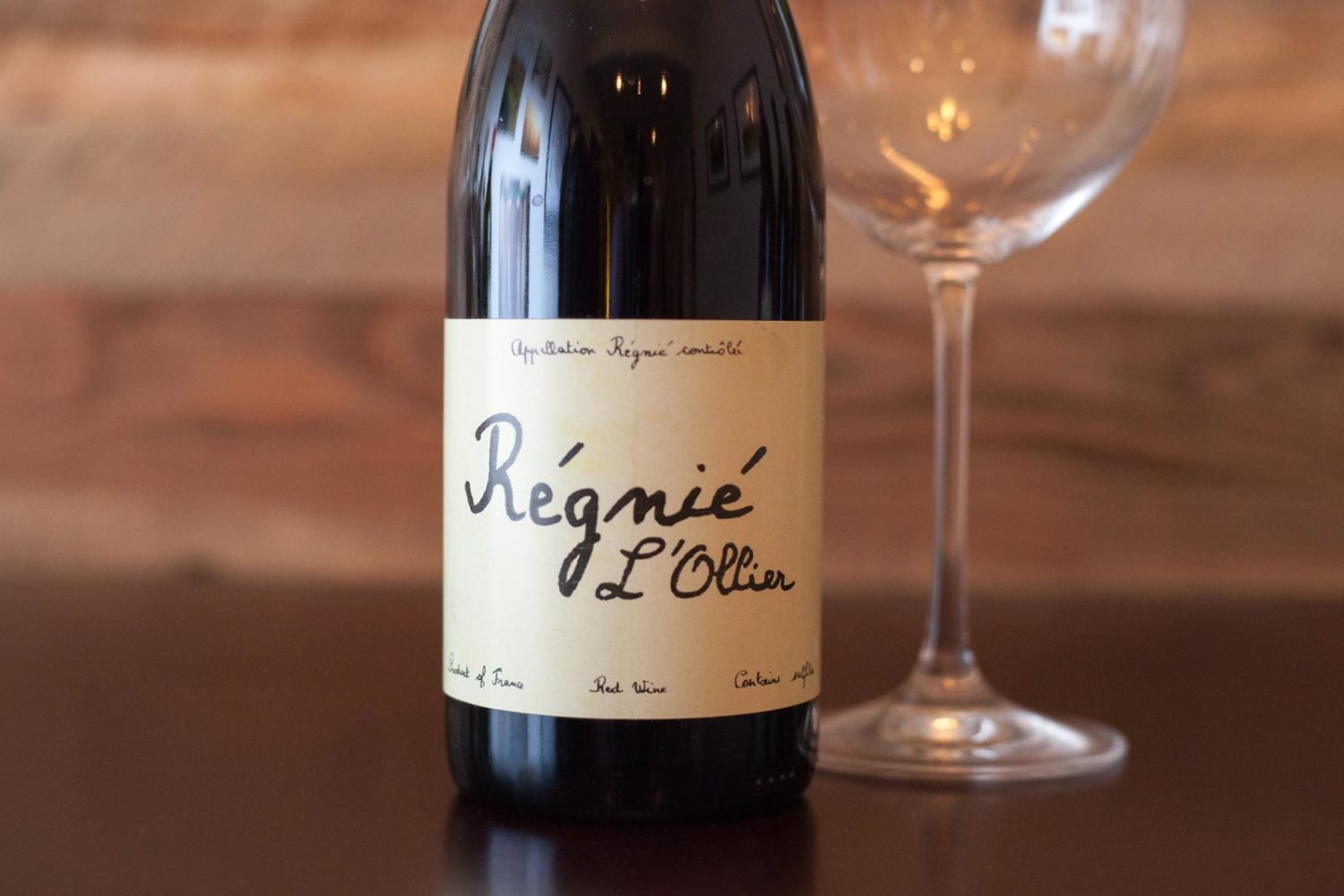 From Chénas
The final wine we opened was one I purchased a few weeks ago, the 2014 Céline et Nicolas Hirsch Chénas (★★★★).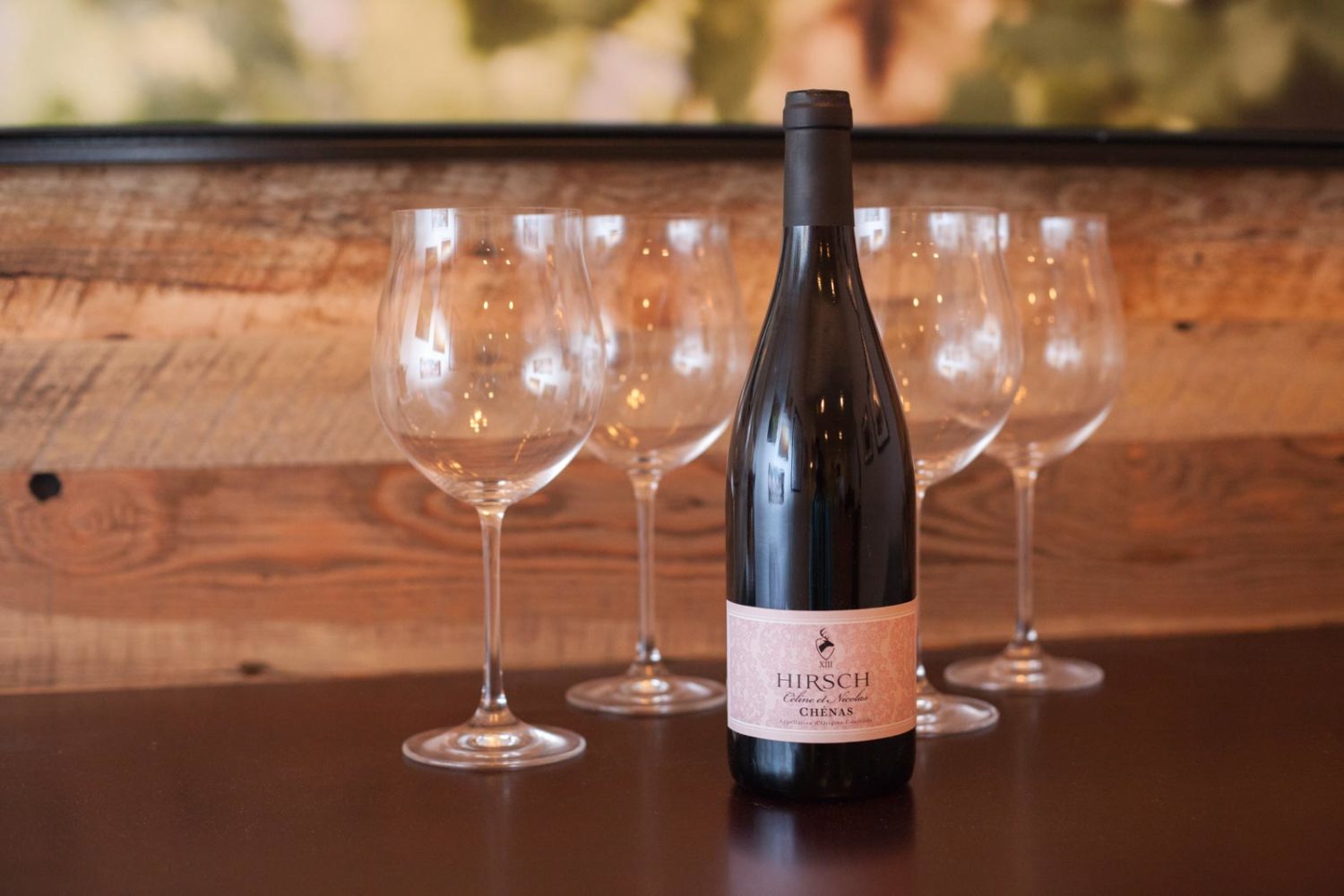 This would be another good choice for a crowded Thanksgiving table, because at $15, you can afford to buy a bunch of it, and it's aromas and profile — which reminded me of candied cherry, watermelon and stone — would really work well with roasted bird.
Like the "Cuvée Marylou" from Guy Breton, it is a playful wine, if a little simpler in tone. But what it lacks in complexity, it more than makes up for in thoughtless deliciousness.
---
2015 Guy Breton "Cuvée Marylou" Beaujolais-Village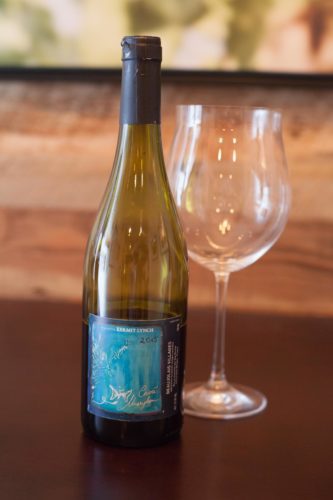 Beaujolais-Village, France
Grapes: Gamay (100%)
Alcohol: 13%
Rating: ★★★★ 1/4 (out of five)
• Aromas, Flavors, Structure: ★★★★
Food-friendliness: ★★★★ 1/2
Value: ★★ 1/2
Importer: Kermit Lynch Wine Merchants
Tasting Notes: A bright and lively Gamay that doesn't fatigue with time. Presents the usual wide swaths of red and pink fruit, and traces of candy, but also has secondary stoney aromas that make it more appealing and intriguing than most Beaujolais-Villages wine. Has a decent backbone, and is far from flimsy. Fun, energetic and not too demanding.
Recommended for: Thanksgiving dinner. This is a great wine to sip, and sip, and sip and not put a whole lot of thought into. It has the structure to refresh the palate after a bite of turkey, mashed potatoes or herby stuffing, but the playful fruitiness to handle the toughest pairing on the table — cranberries.
---
2015 Pierre Cotton Brouilly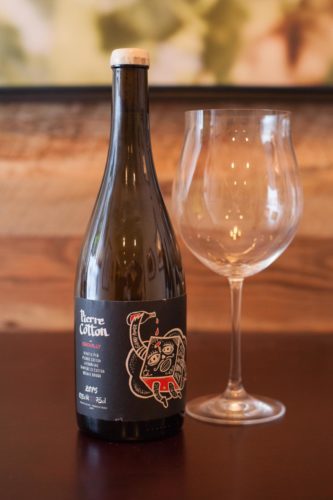 Brouilly, France
Grapes: Gamay (100%)
Alcohol: 13.5%
Rating: ★★★★ 3/4 (out of five)
• Aromas, Flavors, Structure: ★★★★ 3/4
Food-friendliness: ★★★★ 1/4
Value: ★★ 1/2
Importer: Paris Wine Company
Tasting Notes: An excellent wine, with wonderfully rich and attention-getting aromas that for me recalled smashed raspberries, cherry, brambles, vanilla and hints of bubblegum. There was also a wonderful edge to this wine on the palate — almost "almond like." Elegant and silky, and structured nicely, it manages to balance both complexity and a sense of adventure. Embodies the spirit of Beaujolais perfectly.
Recommended for: Save this wine for Thanksgiving leftovers. You know, when the house has emptied and you can pour more of it for yourself.
---
Note: Six of the wines sampled in this tasting were provided by Anvil Wine Company. A special thanks to Matthew Roesch for making it possible. Read more about our editorial policy.
---